After setting new records in 2018, Tire Technology Expo is set to be another blockbuster when it returns to the Deutsche Messe in Hannover, Germany, March 5, 6, 7, 2019. With 319 exhibitors and more square meters of exhibition space than ever before, next week's show is shaping up to be the biggest and best yet. The event, which is now entering its 19th year, and its fourth in Hannover, remains Europe's most important international gathering of tire manufacturing experts, bringing together influential figures from across the industry.
In total, more than 5,500 attendees are expected to travel to Hannover to see and discover the latest tire manufacturing and technology innovations. Highlights include the most advanced measurement equipment, such as XSensor's dynamic tire footprint sensor, and the most sophisticated factory automation technology, like Siemens' 'digital twin' concept and Sick's tracking technology. Advances in chemistry are also well-represented at the Expo, with Behn Meyer presenting a surface-modified silica that offers optimized processing and improved properties of tire compounds.
Meanwhile, the expo's impressive conference will feature more than 160 speakers from leading companies and institutions, and will investigate the wide array of issues currently facing the industry, as well as explore the trends set to dominate the tire business in the future. Expert speakers include Continental's Prof Burkhard Wies, who will present 'Physics of tire performance over lifetime: how to ensure best balance between safety and economy', Michelin's Dominique Cettour-Janet, who will discuss the development of an indoor tire wear testing method, and Maserati's Luca Dusini, who will reveal how to improve CAE vehicle development by using physical tire models.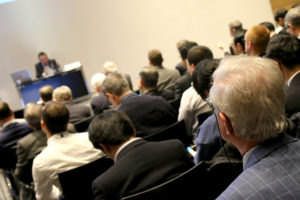 Tire Technology Expo's renowned program of short courses has also been enhanced for 2019. No fewer than seven professional development courses are available to book, with content ranging from tire modeling and simulation and refresher courses focused on tire reinforcement, through to a more intensive study of the latest developments in tire engineering.
This year, for the first time, six of the seven courses are recognized by the Institute of Materials, Minerals and Mining (IOM3) and as a result, participants will be issued a certificate proving that they have taken part in an approved continuing professional development seminar. Those attending the Tire Mechanics short course will receive a certificate from the University of Akron.
Finally, at the end of Day 2 (March 6) of Tire Technology Expo 2019, attendees will be treated to a truly spectacular gala dinner, during which the prestigious Tire Technology International Awards for Innovation and Excellence will be presented in recognition of industry achievements over the past year.
If you haven't already done so, you can register for your free fast-track entry code here.