This year's Tire Technology International Awards for Innovation and Excellence have been announced during an evening reception at the Deutsche Messe in Hannover, which is hosting Tire Technology Expo 2022. The awards are a celebration of recent advancements in tire technology, progress toward a greener industry and also recognize the personal achievements of some remarkable individuals.
The awards, which were coordinated by Tire Technology International magazine, were split into seven dedicated categories and officiated by a panel of international journalists and industry experts.
The highly anticipated Tire Manufacturing Innovation of the Year Award was won by Bekaert's BeCoFree – a next-generation tire cord coating that will enable tire manufacturers to produce high performance tires without the need to use any cobalt (or elements of similar concerns).
With issues of sustainability an ever-increasing focus for tire makers and suppliers, the Environmental Achievement of the Year Award was a fiercely contested category. Recent years have seen the trophy awarded to those leading the way in environmentally conscious development, and the 2022 jury opted to recognize a collaboration between Bridgestone, Arlanxeo and Solvay. TechSyn is a co-developed tire technology platform which combines chemically optimized synthetic rubber with tailor-made silica, interacting at a molecular level, to deliver improved performance with fewer trade-offs.
SRI won the Tire Technology of the Year Award for its HSBR – Hydrogenated Styrene-Butadiene Rubber. Judges were impressed by the advanced research on display, using synchrotron as well as supercomputing facilities. In particular, molecular dynamics simulation revealed that chemical reactions coupled with mechanical deformation exacerbates wear performance throughout mechanochemical reactions.
The Tire Industry Supplier of the Year Award was presented to Mesnac, one of the tire industry's most recognizable and widely regarded suppliers. Judges pointed out a number of reasons in their comments, including the company's willingness to invest in facilities and innovation, adapting its product offering to meet the needs of the modern tire industry.
The Tire Manufacturer of the Year Award sees the world's biggest tire makers go head-to-head for top spot. This category was, as always, a hotly contested one, with all shortlisted finalists having their admirers on the jury panel. When the scores were tallied, it was Continental who claimed first place, marking the third time the tire maker has won this award.
"We are very honored to receive this year's Tire Manufacturer of the Year Award," said Bernd Korte, Vice President, Platform Development & Industrialization, Continental. "It motivates our entire company to continue on the path we have chosen, to continuously invest in the development of our tires and to make a significant contribution to a safe, cost-effective and environmentally friendly mobility."
The Young Scientist Award for 2022 was given to Marco Furlan-Tassara, a PhD student at Loughborough University. The award's jury – which is separate to the five central categories – selected Furlan-Tassara and his work "Real-time friction estimation using neural networks".
"Marco's presentation was rated the best overall due to the interesting content, presenting a very practical approach to a complex problem, with a smooth delivery of a high-quality, well-structured PowerPoint presentation, including extensive use of helpful animations," explained head juror Jan Prins.
As well as recognizing the impressive achievements of manufacturers and suppliers, the awards are an opportunity to highlight the achievements of remarkable individuals within the industry. One such individual is Bo Persson, winner of the 2022 Lifetime Achievement Award. In perhaps the most telling endorsement of Persson's contribution to the tire industry over his decades-long career, he was independently suggested by several of his peers, each keen for him to receive the recognition his contemporaries feel he deserves.
Persson is one of the world's leading researchers in the field of friction, tribology, adhesion and contact mechanics of rubbers and rubber-like soft matter, and one of the most widely cited experts in the tire industry. After receiving his PhD in 1980, Persson went to work at FZ Jülich. In 1983-84, he spent 1.5 years as a postdoc at the IBM research lab in Yorktown Heights in upstate New York. In 1987, he spent another year as visiting scientist at the IBM research lab in Zurich. He also spent ~1 year as visiting scientist at Toyama University, Japan.
He has his own consulting company, Multiscale Consulting, and works mainly with tire companies and medical companies. In tribology, Persson regards his most important paper as his 2000 work on contact mechanics for viscoelastic solids with random roughness.
"I wrote this paper a few weeks after I started consulting with Pirelli about rubber friction," he explained. "This work turned out to be very fundamental and I have spent 20 years working out different applications of this theory. That insight has kept me occupied for 20 years!"
The 2022 awards have seen some remarkable examples of innovation and collaboration, made all the more impressive given the challenges of the last few years.
"Like other industries across the world, the tire business has faced some extra challenges over the last two years," added Matt Ross, editor-in-chief of Tire Technology International and chairman of the awards. "So it's all the more important to recognize these examples of world-leading innovation and industry-defining contributions to tire development. Obviously, the winners of these awards have all won over the judges, but it's also important to point out just how impressed the panel was with the caliber of entry from all the shortlisted entrants – there were no easy decisions this year, and the winners deserve many congratulations."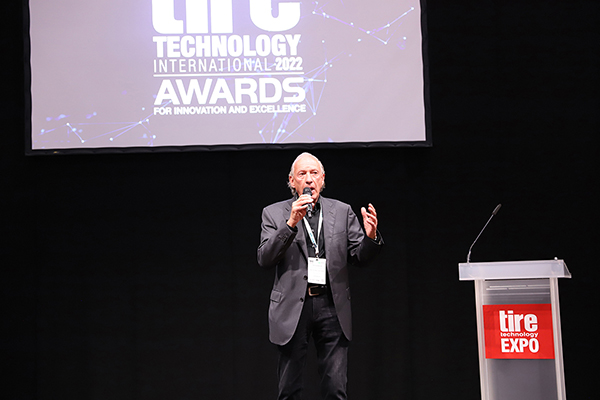 For more information about the award winners, visit https://www.tiretechnology-expo.com/en/awards.php