Tire Technology Expo returned to Hannover last week (March 21-23) to provide the industry's leading technology showcase, ensuring visitors were able to see and discuss the latest developments from 230 exhibitors spanning the global tire sector, all in one place. Some of the tire industry's largest names were in attendance, with leading exhibitors such as ContiBladders, Siemens, Eneos Materials Corporation, Steelastic, Zeppelin and the VMI Group all showcasing innovations to customers, visitors and fellow exhibitors.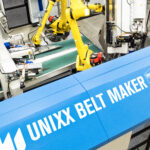 Tire Technology Expo 2023 highlights included the launch of VMI's all-new VMI UNIXX belt maker, which manufactures high-quality, endless steel belts using an accurately controlled extrusion process. The company's latest machine is capable of handling several different compounds and has been designed for 'hands-off, eyes-off production'. Advantages of the belt maker include lower energy consumption and reduced operator involvement.
Another noteworthy event was the debut of Cabot's Evolve Sustainable Solutions, a technology platform for advancing sustainable reinforcing carbons. With the launch of the platform at this year's expo, Cabot aims to develop a range of products that provide sustainable content with reliable performance at an industrial scale. The company hopes to achieve this by leveraging circular value chains and materials recovered from end-of-life tires, renewable and bio-based materials and processes that reduce greenhouse gas emissions.
Meanwhile, Bosch Rexroth displayed its CytroForce hydraulic linear drive, which the company claims sets new standards in power density, energy efficiency and quiet operation. CytroForce can be implemented where central hydraulics are not used, for cutting tire tapes or for the mixing process within rubber production. Its actuators are designed to meet IP65 requirements. The CytroForce-M (the company's first model to be launched) can cover forces of up to 1,200kN, distances of up to 1m and speeds of up to 0.8m/s. Positioning accuracy is 10µm and repetition accuracy is 5µm.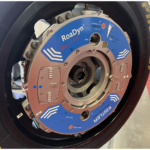 Kistler presented its RoaDyn Racing wheel force transducer (WFT) for motorsport applications. The measuring solution can be attached to a wheel to accurately measure high-resolution forces and moments to determine tire load and estimate wear. The data provided by the RoaDyn Racing WFT can help tire manufacturers and race teams improve their understanding of tire behavior, enabling the refinement of tools such as tire models to enhance tire performance on the circuit.
Intralox chose Tire Technology Expo to unveil its new demo and test center (DTC), which uses state-of-the-art technology to remotely demonstrate customers' products performing on Intralox solutions, reducing the need for travel and accelerating project timelines. Customers can revisit their demos on a personalized web page, which is easily shareable with any team members who could not attend. Their content remains on the personalized page, offering unlimited, on-demand views of their test along with relevant links to support the decision-making process.
This year's show also saw live demonstrations of HF TireTech Group's XPLORE app, which provides an overview of the health status of a factory's tire curing presses and recommends improvement measures for operations and maintenance staff on the shop floor. Every step of the process becomes transparent, providing all information needed to react, adjust and improve the process, leading to a stabilized and increased production output, according to the company.
A wide array of full-size technology was also on display across the show floor, including Color Service's small chemicals weighing system for material conveying, Mesnac's dual-size shaping drum (pictured below) and Herrmann Ultraschall's ultrasonic component for cutting tire rubber during the manufacturing process.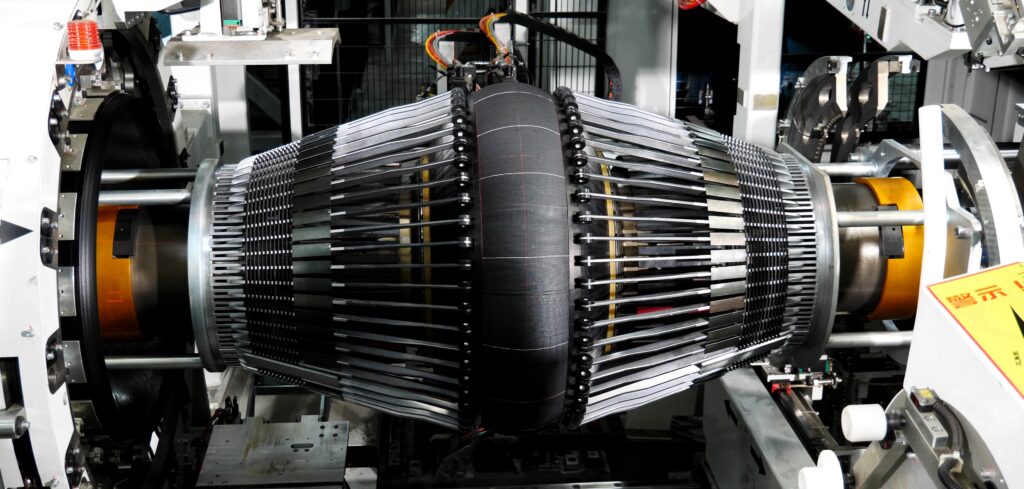 CONFERENCE
The 2023 conference opened with a welcome presentation from Tony Robinson, chairman and CEO of UKi Media & Events, and founder of Tire Technology Expo. Conference highlights included the presentations 'Lifecycle analysis, a holistic approach for tire design' by Pierre Fraisse, vice president of technical operations, passenger car and light truck tires at Michelin, and the 'Effect of tire aging and wear on wet grip performance' by Dalia Broggi, a project manager at the European Commission, during the opening plenary session, which was moderated by David Shaw, the CEO of Tire Industry Research.
Additional conference highlights included 'Tire rolling resistance: lab versus real world' by Stefan Köppen, principal engineer at Goodyear; 'A new approach to thermo-mechanical tire modeling' by Marco Furlan, senior modeling and simulation engineer at Calspan Corporation; and 'A physics-based methodology to estimate tire characteristics' by Vadiraj Patil, a research engineer at Siemens Digital Industries Software.
AWARDS
The show in Hannover once again provided the perfect platform for the Tire Technology International Awards for Innovation and Excellence, with the winners announced during an evening drinks reception on the first day of the expo. This year, the awards featured an expanded array of categories to acknowledge the scope of innovation and achievement that has been showcased over the last 12 months. Now comprising 13 categories, the awards recognize recent advances in tire technology and progress toward a greener and more sustainable industry, and are a chance to acknowledge the personal achievements of some remarkable individuals. The awards, which are coordinated by Tire Technology International magazine, are decided by a panel of international journalists and industry experts.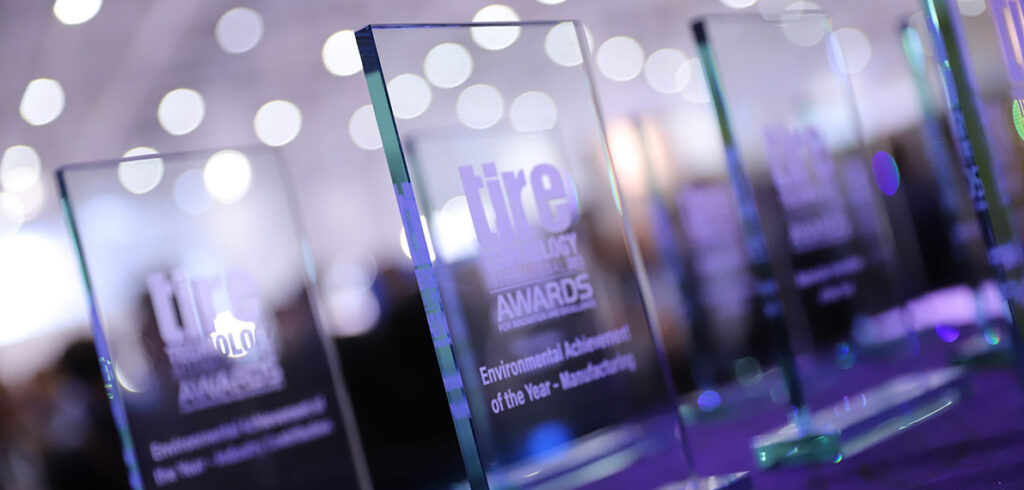 TESTIMONIALS
"We have attended Tire Technology Expo for years, and it is a great experience to be here," said Mehmet Akin Kiliç, marketing, business development and curing press sales chief at Uzer Makina. "We are seeing all of our existing customers, and new potential customers and suppliers. It is very good to be here and to be connected in the same location."
"It has been a good Expo – with interesting conferences that give a good overview of the important topics of the tire industry," said Pascal Prost, R&D senior fellow at Michelin. "The networking possibilities are also very good, with opportunities to discuss with many people."
"It has been amazing; I love coming to Tire Technology Expo," said Aatif Misbah, vice president and general manager of sustainable solutions and reinforcement materials at Cabot. "Each time I have been quite impressed by the depth of technology and the breadth of topics that are covered. It is always great to meet a lot of customers at our booth."
"It was a great opportunity to meet or catch up with everyone in the world of tires," said Jan Prins, technical group leader, Wheels & Tyre CAE, Steering Function Group, Chassis Engineering, Product Engineering, Jaguar Land Rover. "As always the organization was very thorough, and it was another fantastic event."
NEXT YEAR'S SHOW
Following the success of this year's event, the dates for Tire Technology Expo 2024 have already been announced, with the show set to take place on March 19, 20 and 21 in Hannover, Germany.