The ultrasonic tire rubber cutter from Herrmann Ultraschall enables tire production facilities to cut tire rubber cleanly and consistently. The company's solution achieves this by using high-frequency ultrasonic vibrations to reduce the resistance of rubber materials, resulting in a much easier cutting process.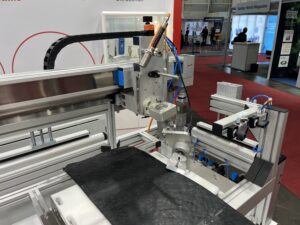 Produced from hardened steel, the Herrmann sonotrode used to cut rubber is up to five times more robust than standard titanium sonotrodes. Furthermore, the cutting edge can be reworked to extend the service life of the component. Due to its hardened steel construction, the sonotrode also benefits from excellent heat dissipation characteristics to ensure clean cuts are conducted even during busy workloads.
"The cutting edge vibrates up to 20,000 times per second and it is highly efficient because it stays cool, ensuring there is no debris created during the cut," explains Markus Haas, sales director for plastics, Herrmann Ultraschall.
To learn more about Herrmann Ultraschall's technologies, visit booth 4015.