Vittoria has released the Corsa Pro, a tubeless-ready clincher tire for road bicycles that it describes as "the most advanced cotton road tire ever made". The tire has been designed using Vittoria's latest graphene and silica compound which combines the company's Graphene research-applied knowledge with silica to deliver increased speed, puncture resistance and grip in corners and on wet surfaces.
The tire maker has also developed a new electrical vulcanization process to enable the tread to be seamlessly applied to the tire's casing. This newly developed and sustainable electrical vulcanization process ensures the rubber tread is completely embedded with the cotton casing for a seamless product with enhanced flexibility to provide adaptability on differing terrains.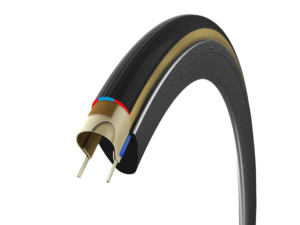 Vittoria has also engineered the cotton casing of the Corsa Pro to be more supple, flexible and lighter than nylon casings, enabling the tire to form itself around the road surface to deliver continuous contact between the tire and the ground for traction. The Corsa Pro also features a puncture-protection belt, consisting of a high-density, low-weight layer between the tread and the casing and a bead shield for improved protection.
During development, Vittoria conducted lab tests to prove that the Corsa Pro benefitted from aerodynamic drag gains when used in fast-paced road bicycle disciplines.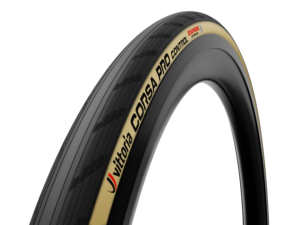 In addition to the Corsa Pro, Vittoria has also launched the Corsa Pro Control, a tire designed for use on demanding road surfaces including cobblestones and gravel. The Corsa Pro Control has been developed with a 'fishbone texture' to deliver increased cornering capability, and a thicker tread for enhanced puncture protection and longevity.
Both tires are available in tubeless-ready versions, with the Corsa Pro also being available in a tubular version.