Production of the UltraContact NXT, Continental's "most sustainable tire to date", has commenced at the company's manufacturing facility in Lousado, Portugal.
The summer tire, made with up to 65% renewable, recycled and ISCC Plus mass balance-certified materials, has been engineered to deliver "maximum safety and performance".
It benefits from 32% renewable materials, including resins based on residual materials from the paper and wood industries and silicate from the ash of rice husks – a by-product of the agricultural industry – which can be processed into silica using a less energy intensive process.
A "contains recycled materials" logo on the tire's sidewall denotes the materials used in the tire range. The UltraContact NXT uses up to 5% recycled materials, consisting of recycled rubber material from end-of-life tires and recycled steel. ContiRe.Tex technology is also used within the sustainable tire, with polyester fibers used to reinforce the tire carcass by recycling PET bottles. Approximately 9 to 15 bottles are recycled and used in each tire, depending on the tire size.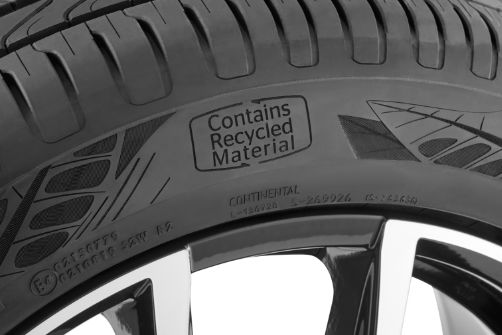 The UltraContact NXT uses up to 28% ISCC Plus mass balance-certified materials, such as sustainable synthetic rubber and carbon black made from biobased, bio-circular and/or circular feedstocks.
All sizes within the range feature an EU tire label A for rolling resistance, wet braking and exterior noise. The UltraContact NXT will be gradually introduced in Europe, with initial sizes available soon.
By 2030, Continental aims to achieve more than 40% renewable and recycled content in its tires, with a target of 100% sustainable materials in all its tire products by 2050.