Continental is to open a new dandelion rubber research facility in Anklam, Germany, costing approximately €35m (US$40m) in the first phase of development.
The facility will focus on the industrialization, cultivation and processing of the company's Taraxagum dandelion rubber and is being established in collaboration with project partners the Fraunhofer Institute for Molecular Biology and Applied Ecology IME, the city of Münster, the Julius Kühn Institute, the town of Quedlinburg, and the ESKUSA plant breeding experts Parkstetten. Around 20 new jobs will be created.
Burkhardt Köller, chairman of the management board of Continental Reifen Deutschland, and head of control in the tire division at Continental, said, "After careful consideration, we chose Anklam as the location for our new facility based on the conditions and opportunities it offered."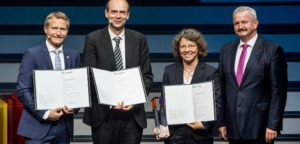 Minister for economic affairs in Mecklenburg, in Western Pomerania, Harry Glawe, commented, "The goal of this project is to achieve a sustainable usage of dandelion as a local and regional raw material basis. The investment focus will be put on research and development in the first step. Mid-term, the next milestone will be the commercialization of cultivation and use of the raw materials created out of Russian dandelion locally."
Meanwhile the tire maker has also signed a long-term option to purchase additional real estate at the company's Hefei tire plant in China.
Köller explained, "This purchase option for additional plots of land puts us in a position to almost double the amount of space available to us, which brings us in valuable long-term latitude in our planning. On this basis, we can now consider some very different scenarios and then act in accordance with actual market developments and the way our sales develop in the various product segments."