Continental has developed a new high-performance tire for the 2022 Extreme E season that incorporates materials obtained from recycled PET bottles.
In addition to performance and reliability improvements, Continental has increased the sustainability of the second-generation CrossContact Extreme E tire by using recycled and renewable materials.
Approximately one third of the tire carcass and tread compound is made from recycled materials such as polyester yarn from 60 processed PET bottles and silica from rice husk ash. This has been achieved using a technology called ContiRe.Tex, a first for the brand. Reprocessed steel and carbon black also feature. The ContiRe.Tex technology will also be used for the production of the tire maker's premium road tire range later on in 2022.
"We have incorporated the wealth of knowledge we gained on the CrossContact Extreme E from the first season into the development of the second generation, with an even greater focus on the use of sustainable and reusable materials," commented Nels von Schnakenburg, technical manager for Extreme E at Continental.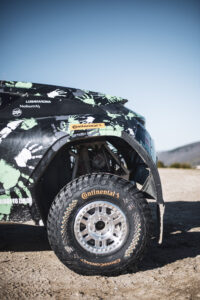 "With Extreme E, we test our latest technologies and developments under particularly extreme and unique conditions. The results will help us in the introduction of sustainable solutions for our volume production," he said.
The CrossContact Extreme E tire has been produced in the same size, width and diameter as last season (37 x 12.5 R17).
Continental will continue to be the exclusive tire supplier for the Extreme E racing series in 2022.