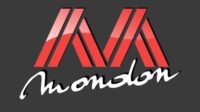 MONDON, French designer and manufacturer of machines for tire and rubber industry has been offering in-line solutions since 1983. Leading company in automatic roll change by turret technology, MONDON continuously innovates and improves its ranges of machines dedicated to hot and cold tire preparation. The company is a worldwide player in tire and rubber converting machines thanks to its strong expertise in tension control and automation.
FSL-1000 in-line slitter is one of the most efficient solution for rubber extrusion lines. The machine includes smart and fast changes of cutting width through an in-line cutting width change module. Thanks to this technology, the machine produces rolls that can be used on the downstream equipment. An off-line maxi-slitter is no longer necessary to convert rubber jumbo rolls.
T-WIN is a fully automatic spooling units with the ability to change 24 spooling heads in 15 seconds. These reliable spooling units were introduced to the market 12 years ago.
FSP series line, is a mini-slitter with automatic spooling units especially designed for new plant extensions or greenfield builds.
Many innovative solutions are included on these lines such as quality controls, maintenance and operator assistance. MONDON has seen an increasing demand in robots, to help customers to achieve fully automatic lines where operators become supervisors.
The company's range of machinery has been designed to satisfy all regulatory demands in terms of ergonomics and safety.