Michelin has launched its latest Agribib 2, Spraybib CFO and TrailXbib agricultural tires.
The Agribib 2 is an updated version of the previous Agribib, while the Spraybib CFO replaces the entire Spraybib line. The TrailXBib, however, is a brand-new line and replaces the previous CargoXBib line.
The Agribib 2 provides up to 18% higher load-carrying capacity and benefits from an optimized rubber and tread design to reduce tire stubble. It also features an enhanced self-cleaning hinge to enable maximum pulling power for vehicles used in wet conditions. Seven more sizes of the tire will be launched in September and further sizes will be added to the line before the end of 2022.
Being released in a 380/90R46 size, the Spraybib CFO delivers up to 14% increased load capacities for cyclic field operations. This enables added axle loads up to 1.3 tons depending on tire size. The Spraybib CFO is also Central Tire Inflation System (CTIS) ready, enabling it to be used at lower pressures (down to 12psi) for better traction and flotation.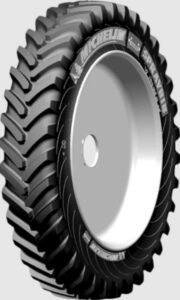 "With the new Spraybib CFO, the lower tire pressure helps to deliver traction and horsepower to the ground while minimizing soil compaction and maximizing floatation," said David Graden, agriculture global account manager at Michelin North America. "On the road, the higher pressures help to navigate quickly and safely while optimizing tire wear and fuel consumption."
The TrailXbib uses Michelin's Ultraflex technology for low soil compaction and high carrying capacity. Featuring a steel belt, the tire has been developed for use by vehicles pulling trailing implements including spreaders and tanks, hay bailers, planters and field cultivators. It is CTIS compatible and features a directional lug and tread design for a high level of cleanout.