As part of its Mastercraft Courser portfolio expansion, Goodyear Tire & Rubber has launched four new all-season tires: Courser Trail, Trail HD, Courser Quest and Quest Plus.
Designed as all-terrain tires, the Courser Trail and Trail HD are claimed to provide optimal traction, enabling use in off-road scenarios. They offer reliable wet braking and handling in addition to Winter Biters treads that are embedded into tread blocks to improve acceleration and braking in the snow.
Goodyear's Stone Armor ribs between the tread blocks deliver protection from stone drilling and rock sticking. The Courser Trail is also Three-Peak Mountain Snowflake certified, denoting that it is fit for use in wintery conditions. Noise Barrier walls between the shoulder blocks also help to reduce wind noise.
The Mastercraft Courser Trail is available for 15-20in wheel diameters in 28 P-metric sizes; the Courser Trail HD is available in 30 LT sizes.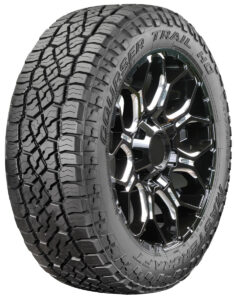 Joining the all-terrain options are the Courser Quest for passenger cars and minivans, and the Courser Quest Plus for pickups and SUVs.
Specifically developed to provide good performance in wet and snowy conditions, both tires feature water evacuation grooves to deliver resistance against hydroplaning, and an enriched silica tread compound for enhanced grip. Furthermore, an optimized tread profile delivers traction and reliability when cornering, and a reinforced internal construction leads to even tread wear across the tread blocks for extended service life.
The Courser Quest is available in 23 sizes for 15-22in wheel diameters. The Courser Quest Plus will be released in 46 sizes.
"Mastercraft continues to serve a unique need within Goodyear's multi-brand portfolio," said Michiel Kramer, general manager, consumer product marketing, Goodyear. "Tread life and enhanced all-season performance were important factors when designing our new Courser product lines, giving drivers the ability to handle whatever the day may bring, whether that's driving off-road with the new Courser Trail or Trail HD, or going about your daily commute with the Courser Quest or Quest Plus."