During 2020, Graham Heeps revisited a number of tire technologies from the past. In this edition, he asks if the airless tire's time has come at last
There aren't many futuristic tire technologies that are older than the pneumatic tire itself, but the airless tire is one of them. Naturally we don't envision a future in which autonomous pods will go bumping down the street on solid polymer donuts, but if the recent, production-intent concepts do make it to mass production then it's possible that, a few years down the line, at least some of us will no longer be riding on air.
As early as the May 1938 edition of Popular Science, it was reported that one J V Martin of Garden City, NY, had used spokes of ribbed rubber encased in rings of rubber-coated hickory hardwood to form a 'safety tire'. His airless design bears a remarkable similarity to Michelin's Tweel – which itself evolved from research at Uniroyal-Goodrich in the 1980s – in mimicking the built-in ride comfort of a pneumatic toroid, but without the risk of punctures or blowouts.
Even with considerable development behind it, it's unlikely that Martin's ingenious concept would have matched the pneumatic tire's ability to evolve to meet ever-increasing vehicle performance in the decades that followed – assuming Martin could have equaled the pneumatic's winning combination of grip and durability to begin with.
But perhaps equally as important to the fate of Martin's design and of just about every other left field concept that followed, was that any attempt to challenge the status quo has traditionally been seen off by the innate conservatism of the automotive industry. For as long as the pneumatic tire has been able to perform so comprehensively for such a low price, there has been little incentive to take a risk on changing it.
CASE for adoption
Fast forward to 2020, and tire makers are looking seriously at the non-pneumatic idea. As detailed at the 2020 Tire Technology Conference, Michelin has the Uptis in development, with General Motors on board as a development partner with a view to a fitment on the future Bolt AV. At the Consumer Electronics Show (CES), Bridgestone revealed an "air-free commercial truck tire concept trailer tire" with a recycled thermoplastic web at its heart. Other manufacturers including Goodyear and Hankook have been exploring the concept, too. So, what's changed?
We're still a long way from mass production for on-road use, but safety and reduced maintenance are top of the list for why airless tires now have more credibility than ever.
First, there's a strong argument to suggest that in order to ensure the safety of their occupants at all times, all CASE (connected, autonomous, shared and electric) vehicles will require either a permanent monitoring of their tires' condition through enhanced TPMS (see Looking back to go forward, July 2020, p22-24) or a more maintenance-free tire concept altogether.
That second option could be achieved at last with the benefit of modern materials and tire development technologies to overcome the performance challenges of the past. Michelin for example spent 10 years developing a resin-embedded fiberglass reinforcement for the Uptis (see Michelin Uptis, TTI July 2019), as well the industrial process solutions around it, to create a stronger and lighter structure than that used in Tweel.
Even if all of the performance challenges can be overcome, cost is likely to remain a barrier to airless tires' adoption on private cars for some time – perhaps forever. But the much-touted rise of fleets of urban autonomous vehicles, and the all-new ownership and maintenance models they will entail, does at least open the door for a component price based on total cost of ownership (TCO), rather than primarily on the purchase cost.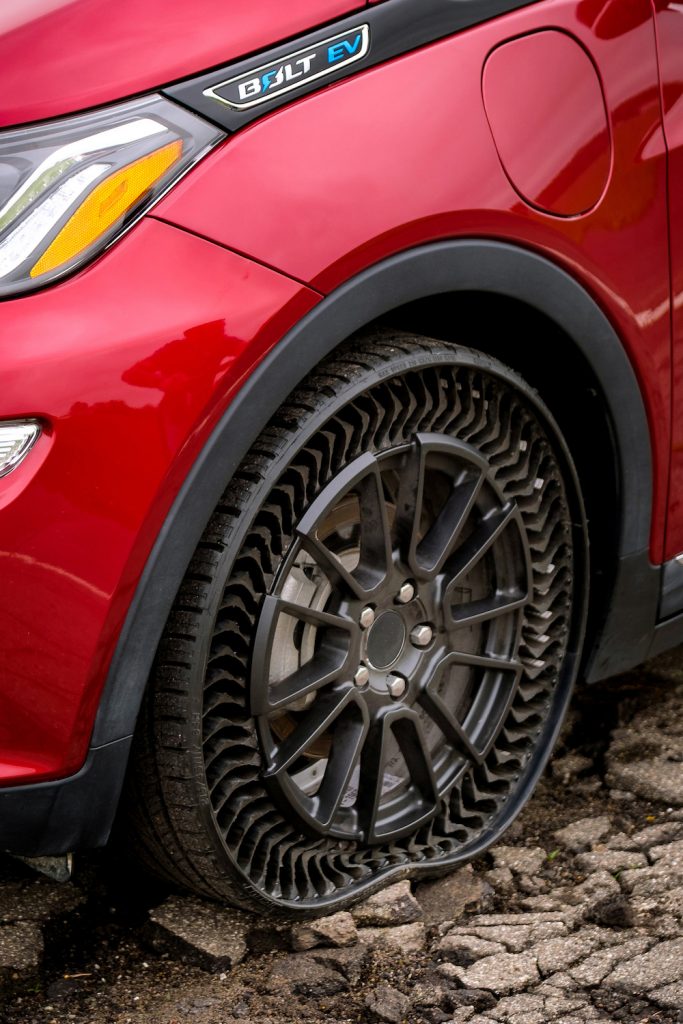 Retread and recycle
The TCO model is well established in the uptime-focused commercial trucking industry, which is where Bridgestone is targeting its airless research.
"Commercial fleets are increasingly looking for ways to maximize uptime and reduce emergency roadside events," comments Jon Kimpel, executive director of new mobility solution engineering, Bridgestone Americas, in a statement that also cited research indicating that trailer tires account for 40% of all truck tire failures. "When tires don't need to be filled with air, this essentially erases the downtime associated with a flat tire, improving safety and making mobility more efficient."
Designing the airless tire for high retreadability means that Bridgestone checks the sustainability box, too. The Uptis is similarly designed for retreading while the Vision airless concept of 2017 showed that Michelin is working long-term towards a tread that could be 'recharged' through 3D printing.
Materials science likely holds the key as to whether airless designs emerge as more than a niche player in the future tire market – and in particular, whether the performance expectations can be met and mass produced at an acceptable cost. But Michelin rarely commits publicly to a production timeline – in this case, 2024 – unless it's done its homework. The company also has a track record of industry-changing innovations to its name. Will Uptis be the next?