We look back at Marc Noordeloos' interview with Michelin's senior technical product manager, Dave Cowart. As restrictions on international travel continue – and undertaking testing at different locations is deemed less favorable due to environmental concerns – Cowart reveals how he unites a global team
Dave Cowart, Michelin's senior technical product manager, is au fait with the demands and difficulties of developing tires in all shapes and sizes, with three decades of experience under his belt across product design, advanced research, process development and manufacturing. Based at Michelin Americas Research and Development Corporation in Greenville, South Carolina, he was recently tasked with guiding the engineering for a new studless friction winter tire, X-Ice Snow.
As Cowart explains, the generic development process is pretty much the same whether it's for a summer or winter tire. While Michelin doesn't have a dedicated winter tire development team, it has various facilities that it uses for test and evaluation work, each with their strengths and purposes. "For example, our center of excellence for [testing] ice traction and cold weather performance is in Japan," he says.
In general, key team members who are heavily involved with a new tire regime will usually be engaged to develop the successor product as well. Design and engineering must be performed in unison across groups and locations. For the X-Ice Snow, it was a true around-the-world project, which is a little different from typical development programs, Cowart notes.
"It was a collaborative effort between [Michelin's] ice and snow experts in Japan, the design group in Clermont-Ferrand, France, and the design group in Greenville. All three worked together in what we call a 'collaboration space' using computer tools."
Having multiple centers of excellence enables Cowart to capitalize on a range of tools and specialisms within the firm.
"[Experts in] Japan did the initial designs—the pure conceptual work. [Team members in] Greenville [then] took over and did the market design. [My team] worked with the focus groups [to make changes] to the tread pattern. It was a combination [of expertise] between the Asian team, which worked mainly on the aesthetics, and the North American team, which worked on incorporating all the technology into the tire."
According to Cowart, focus groups were an important part of the evolution of X-Ice Snow. "[Its predecessor] X-Ice Xi3 was perceived in the marketplace as an excellent ice tire, but perhaps not so much of an all-round performer or a snow performer.
"We worked on the aesthetics of X-Ice Snow with the focus groups. We asked them to give us a look that spoke to them and gave them a feeling of rounded performance. We wanted to improve the perception that [the tire is] not an excellent snow performer and back it up with reality," he continues.
Testing took place all over the world. Winter evaluation was conducted, to begin with, in Hokkaido by the team in Japan and then further analysis was carried out in Ivalo, Finland. Winter testing was also done in North America at Michelin's contract facility in Houghton, Michigan, and in Quebec, Canada.
Wet and dry performance was assessed at the tire maker's facilities in Ladoux, France and in Greenville. Advanced wear analysis took place in Thailand in the scorching hot temperatures and on aggressive surfaces.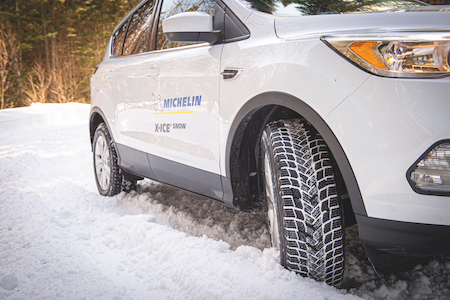 Sustainable operations
In order to decrease Michelin's carbon footprint, Cowart says that traveling has become less favorable company-wide, and more simulation and calibration tools have been implemented at different sites globally.
On the X-Ice Snow program, engineers relied heavily on Microsoft Teams to communicate. The chat platform enabled them to stay connected while working in three time zones, change design elements efficiently as well as share files with ease.
"Without the advent of some of these calibration tools, X-Ice Snow would have been a regionally focused design. [The team was able] to design the tire using standardized practices and materials that are available at all the sites. I was able to [effectively] divide the workload among the three regions. We have developed a tire that is suitable for every manufacturing location and set up," Cowart says.
The senior technical product manager underlines Michelin's commitment to protecting the environment: "We aim to reduce our industrial footprint and the energy we put into building tires. We also work to improve the performance of our tires. Even with the X-Ice Snow, we did not disregard rolling resistance."
As an example, the newcomer features the French outfit's EverGrip technology, designed to significantly lengthen the life of the tire.
Variable thickness sipes with bumpers as well as undulating sipes have also been utilized. Cowart explains, "This enabled us to reinforce the blocks and sipe the blocks to full depth, so it's a monoblock tread. [As the tread] wears away, microcavities are revealed that help with water evacuation and ice contact. There are also microgrooves across the top of the [tread] block.
"We've also worked on the wear profile and wear rate to ensure a long life and even wear throughout. The tire maintains all of its features in snow and ice, throughout the life of the tire."
Describing the X-Ice Snow as a "white road tire" for Arctic weather conditions, he suggests that in future, due to climate change, these conditions may not be found as frequently. But for now, Cowart and co continue to tackle the challenges presented to them on a daily basis in the realm of tire development.