TTI's regular series asks industry experts to talk about their careers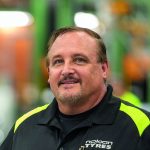 Eric Wogomon
Quality and technology manager, Nokian Tyres
What was your career path to the position you hold now?
I've been with Nokian Tyres for a year and before that I worked in the automotive industry for close to 30 years on the supplier side. I've been to Honda, Toyota, Nissan and Mercedes-Benz to see their production lines. During my time there I developed contacts and I saw an opportunity arise and went for it.
Please describe a typical day.
Every day is different; there's always something new happening. Nokian Tyres has really driven us to make sure that we're just as community focused as we are focused on tires, so we get involved with a lot of community and charity events. We could be doing community service one day and the next looking at the limitations of a quality system.
How long does a typical day last?
We ensure the staff who are on an hourly rate and the salaried staff are on the same level, so we all start at 7am. We park at the same time and walk in together. It's a team mindset; we all have different responsibilities and there is a hierarchy, but we're all a team. We're usually done in 10 hours, Monday to Thursday. Friday is management catch-up day. There are no meetings and everybody leaves us alone so we can do our paperwork, and we try to make that half a day. The company ethic is get on, do your job, but don't live there. My boss has walked past my office before and said, "Eric, it's time to go!"
How many projects might you be working on at once?
We're dealing with new machinery, so [at any one time] we will be doing analysis work on each of the machines to fully optimize operations, we will be doing training work and then we will be working with the support groups such as maintenance, purchasing and logistics on different projects.
How do you document your work and provide feedback?
We use a computerized system called Work Day to evaluate goals. Day-to-day there is a strong open-door policy. Any member of staff can use their key card to enter any of the offices. This includes the hourly paid team members, who can access any office from 7am to 4pm. This gives people the opportunity to come in and ask any question he or she may have.
What is the organizational structure at the factory?
It's a very team-oriented structure. In my group I have engineers and technicians who at the same time work with some of the other departments. Individuals work across multiple teams, it depends what hat the person is wearing. There's the management team and the quality team, and then there are the manufacturing teams – the tire building team, the curing team, the mixing team and the components team. I have three engineers, one from each of the departments – mixing, components and tire building – and there's a technician from each one. There are also individuals who work in the lab. I have a direct line to the plant manager. And every individual can stop a machine if they see something is wrong.
What are the best and worst parts of your job?
The best part and the worst part is that every day is different! This can be a great thing because I never experience the same day twice, but it can also be a negative because I don't know what I'm coming in to the next day. It's enjoyable, but sometimes I do sit there and think, 'Wow, this really is something I've never experienced before!'
Please tell us about the equipment at the factory in Dayton, Tennessee.
When we set up the plant, we used the same tried-and-tested processes as in Russia, but with the latest and greatest equipment. We used many of the same suppliers as for the Russian plant. Nokian Tyres strives to be the most technological tire manufacturer in the world. Our machines are some of the best. However, as a new plant, sometimes these machines don't work together effectively and we have to figure out the bugs. Colleagues from the Nokian factories in Finland and Russia have visited the plant in Dayton and helped us to understand all the systems. There are still a few mentors based in Dayton and we also have a resident R&D expert. We test tires in Dayton, we send some to Finland and we also send some to a lab elsewhere in Ohio for further testing, to calibrate the tires we produce.