Test World in Finland has lifted the covers on its new ASTM Traction Truck, an all-electric test vehicle designed to conduct tire testing programs for customers.
It is primarily intended for testing tires according to the ASTM F1805 test standard for single-wheel driving traction in a straight line on snow-covered surfaces. The standard was formulated to help drivers to identify tires that provide a higher level of snow traction. Tires meeting the standard are branded with the three-peak mountain snowflake (3PMSF) symbol. The test method employs an instrumented, rear-wheel drive test vehicle to measure average longitudinal and vertical forces acting on the test tire under acceleration.
Speaking to Automotive Testing Technology International, Jukka Antila, technical director at Test World, explained, "It is quite an interesting machine, which we have developed together with Helsinki University. The idea is to have two different motors on each axle. At the front of the vehicle, the motor is driving the vehicle, the rear motor is used to spin the test wheel. The idea is to drive at a constant speed using the front wheels, then try to accelerate the vehicle by spinning the rear wheels and measure the forces. Using electric motors means we can conduct the test very accurately, with good control over the motor speed. Though we developed it mainly for snowflake certification testing, it can also be used for development testing, including on ice."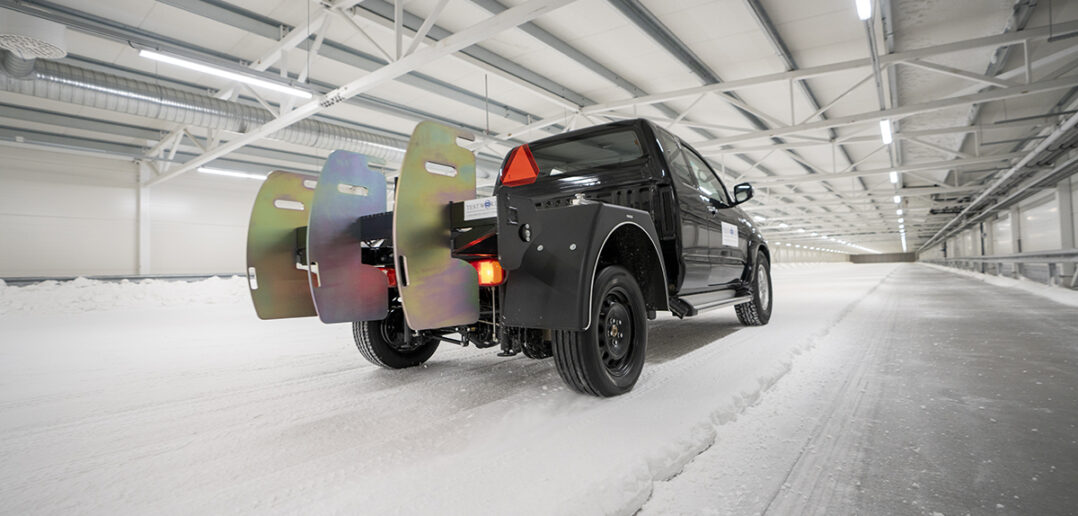 Not only is Test World the first European provider to offer ASTM F1805 testing, but its Traction Truck is also claimed to be the world's first all-electric iteration of such a test vehicle. The facility highlights that the electric powertrain set-up is ideally suited to manufacturers looking to test their tires in a more environmentally friendly way, and in line with shifting market trends. The electric drive truck also provides more test options over the traditional internal combustion engine vehicles, as it is easier to fine tune the test parameters for different tire sizes.
Antila added, "We are delighted to introduce the Test World ASTM Traction Truck to our facility. Customers no longer need to send their tires to the USA if they wish to test to the ASTM F1805 standard, and, thanks to Test World's indoor facilities, it is the only venue globally that can provide year-round testing."
Furthermore, thanks to Test World's parent company, Millbrook, merging with French company UTAC CERAM, the group now boasts an even more comprehensive tire testing capability. Test World's year-round snow and ice testing will be complemented by the UTAC CERAM Millbrook laboratory tests and soon-to-be opened proving ground in Morocco.