If you're looking to upgrade your tire testing capabilities, head to Hannover in just a few weeks' time to Tire Technology Expo, where you will be able to find a wide range of innovative testing equipment on display from leading suppliers drawn from across the globe.
Visit Hankook Engineering Works on Booth 8029 to find out about the company's range of testing equipment for PCR and TBR tires. Its machines are able to simulate a wide range of conditions, such as loss of grip, cambers, high speed and high load. Rapid acceleration and deceleration can also be simulated.
Its rubber block friction evaluation equipment (pictured, above) can evaluate the friction properties of tires in dry and wet driving conditions using various surfaces such as asphalt and concrete. It can combine these with weather conditions such as snow- and ice-covered roads year-round, and allows friction testing for temperatures as low as -20°C.
Meanwhile Metravib (Booth C238) will display a new fatigue crack growth module that can be added to a dynamic mechanical analyser (from the Metravib DMA+ series), in order to deliver a quantitative and productive advanced testing instrument. It includes a motorized microscope, equipped with a CCD video camera and a dedicated multi-test software crack growth module.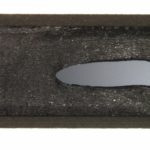 The camera scans the entire width of the specimen, and then follows up to four cracks on the same specimen in one single experiment, without the need for operator intervention. Various excitation wave forms may be applied in the frequency range 1Hz to 1kHz under various controlled excitation waveforms. Tests can be performed under controlled temperatures in the range 0°C to 300°C, and in a control atmosphere.
The module ensures a non-operator-dependent, advanced testing method with many benefits in terms of accuracy, productivity and cost-efficiency. It dramatically extends testing capabilities by combining DMA, fatigue and crack growth testing in one single instrument.
TMSI (Booth 4018) will showcase its Dynamic Footprint Machine (DFPM), which makes it possible to measure the interaction between the contact patch and the roadway in a laboratory environment. It can perform a range of tests on a tire, reducing the need for technical personnel to move the subject tire between machines.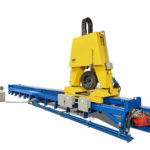 The system features a moving-carriage loading frame, a stationary load plank, a precision force-and-displacement lateral probe array, and an optical bench with a video camera. Roadway plates with user-specified surface treatment can be swapped in and out to perform ply-steer residual aligning torque tests. The DFPM can also perform four common stiffness tests.
The rolling contact test allows the operator to select vertical load, velocity, slip angle, camber angle, rotational angle, tire inflation pressure, driving torque, braking torque, longitudinal slice interval and lateral slice interval while it precisely locates the tire for each slice without human intervention.
Finally, the data acquisition system measures and records the tire's forces and moments, as well as the forces and displacements at the tread block. The built-in optical bench records the tread block motion using frustrated total internal reflectance (FTIR), as the tire rolls over the glass plate.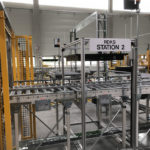 Bartec Auto ID (Booth 6016) will present its all-new Generation3 TPMS test antenna for wheel and tire TPMS testing. It supports not only all current TPM sensors, but also all the new requirements of the latest sensors, including the writing requirements needed for RFID and QR data functions.
In addition, the Generation3 has been improved with faster processing to enable shorter cycle times. Bartec antennas offer multiple receivers and multiple low-frequency activation coils to offer high-performance and robust operation with excellent first-time-through figures. If you need to read, test and write multiple types of TPM sensors, this technology can be a big help.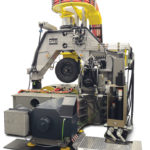 A new simulation technique from MTS Systems (Booth 5040) combines computational inputs from a vehicle dynamics model with data from a physical tire under test. For this data, the Iterative mechanical Hardware in the Loop (ImHIL) technique uses data from MTS's Flat-Trac CT Plus Force & Moment Measurement System. According to MTS, ImHIL has already proved to be a quick and effective means for evaluating the effects of tires on vehicle handling well in advance of vehicle prototypes and without the need to optimize tire models.
Another novelty for MTS is the addition of force and moment measurement capabilities to the Truck & Bus variant of the MTS Tire Tread Wear Simulation System. This system applies tightly controlled forces and motions to replicate complex tire wear patterns in controlled laboratory settings, allowing users to test around the clock with a broader range of testing scenarios than can be achieved through outdoor testing alone.
Finally, Applus IDIADA (Booth 2012) has widened its range of tire testing and engineering services to include the recreating of extreme winter driving conditions at Test World in Ivalo, 300km north of the Arctic Circle in the Finnish Lapland – the latest available location for IDIADA's customers to run tire dynamics testing and characterization of specific parameters of tire behavior.
On the one hand, IDIADA's own skid trailer will be offered for tire adherence testing, as well as for the characterization of specific parameters of tire behavior. On the other hand, Test World will provide its outdoor and indoor test tracks, which are capable of recreating extreme winter driving conditions.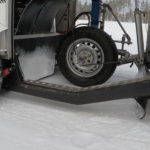 IDIADA's skid trailer is part of the tire testing equipment used for tire characterization, which feeds the tire model generation process. Thanks to the trailer, IDIADA was able to develop two tire models for further tire virtual integration in vehicle simulation: the Magic Formula tire model (MF-tire), a pure parametric tire model based on Pacejka formulation used for handling performance prediction, and FTire, a physical tire model that allows the study of the tire frequency response as well as the tire handling response.
The skid trailer's tire dynamics characterization capabilities can register tire response when exposed to forces and motions, both in free rolling and braking. Besides MF-tire and FTire parametric models, the skid trailer allows tire characterization by means of lateral, longitudinal and combined slip testing.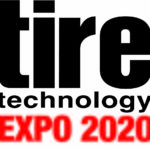 Register for your free fast-track entry code to Tire Technology Expo, here. Meanwhile, the Tire Technology Expo Conference features a dedicated session on the latest tire testing developments. Stream 10 – Tire Testing for the Next Generation of Vehicles – will feature presentations on an improved test method for all-seasons and winter tires; and a novel methodology to determine the hyperelasticities of tire rubber constituents.