After more than half a century of making only radial tires, Pirelli has reintroduced traditional crossply tires again for classic cars.
Urged by manufacturers including Ferrari, Pirelli has created a new tire in the Collezione family, the Stella Bianca, which was Pirelli's longest-lived tread pattern and the first modern tire in the Italian firm's history, introduced in 1927.
Today the Stella Bianca looks identical to how it was, but with modern technology inside. The compounds used reflect the best of Pirelli's technology to guarantee efficiency, safety and environmental sustainability.
Producing the cross-ply has presented a huge challenge for the company's Izmit factory in Turkey where Pirelli's motorsport and Collezione tires are made, as they effectively had to re-learn the techniques of the past.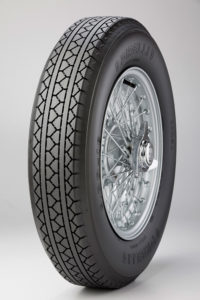 The tread pattern of the new Pirelli Stella Bianca, famously featured on numerous vehicles including the Ferrari 166, the Jaguar XK120 and the used in motorsport, has been redesigned with the help of the Pirelli Fondazione archive, where all the company's historic documents are kept.
The sidewall markings as well as the Pirelli logo of the time have been recreated.
The Stella Bianca comes in the most common size for classic sports cars – 6.00-16 – while the tread echoes that of the original Corsa variant, which offered specific characteristics to ensure optimal grip and resistance to stress, which also made it suitable for competition use.