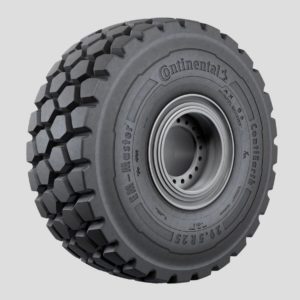 The new ContiEarth range of earthmover tires from Continental has been designed to meet the specific needs of construction machinery.
ContiEarth is a series of OTR tires, each equipped with a thoroughly developed tread pattern tailored for the specific needs and requirements of loaders, dump trucks or bulldozers used in mining and construction projects.
The portfolio has two tire lines. The EM-Master has been designed for articulated dump trucks (ADTs), loaders and bulldozers, and is available with two different tread patterns, while the RDT-Master has been created for use on rigid dump trucks (RDT).
ADTs, loaders and dozers are used in extreme conditions ranging from soft and muddy soil to gravelly and rocky terrain on construction or mining sites, and require durability, excellent traction, and superior resistance to rock cutting and heat. Continental's EM-Master is customized for these specific demands and is available in two versions with different tire tread designs.
The EM-Master E3/L3 features a normal tread depth and wide spacing between the blocks. This results in good self-cleaning characteristics, traction and maneuverability, even in soft and muddy terrain. The open tread design offers better cooling characteristics and therefore low heat build-up, resulting in a long service life.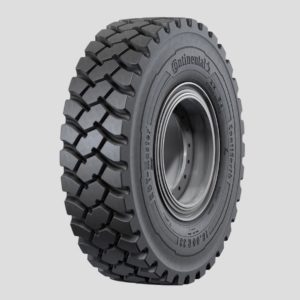 Compared with the E3/L3, the EM-Master E4/L4 features a greater block size with less spacing between the blocks. The tire therefore offers a high level of carcass protection and good cutting resistance, minimizing the risk of punctures and downtime.
The smaller tread block spacing of the five-edged block design results in smooth running and good traction even on hard and rocky surfaces. Due to its deep tread design and high-wear volume, the EM-Master E4/L4 also offers excellent service life.
Both tires are available in sizes 23.5R25, 26.5R25 and 29.5R25. The EM-Master E3/L3 is also available in size 20.5R25.
The RDT-Master, meanwhile, is designed for rigid dump trucks that transport heavy loads over long distances in rough terrain. In these severe conditions, tires have to offer high stability and good traction even at high speeds. In addition, they need to be extremely resistant to cuts and tears.
The RDT-Master's special tread design with a deep tread depth and a wide, flat tread radius offers high loading capacity and cutting resistance. The angled tread edges, in addition to the open shoulder design, ensure good self-cleaning capabilities and facilitate high lateral stability, which results in better driving behaviour.
Maximum traction is guaranteed even on winding terrain and while driving at high speeds. The RDT-Master E4 is available in sizes 18.00R33, 21.00R33 and 24.00R35.
Both the EM-Master and RDT-Master come with integrated tire sensors when shipped from the factory. The sensor constantly monitors the inflation pressure and temperature of the tire and transmits the information in real time to the ContiPressureCheck tire pressure monitoring system (TPMS).