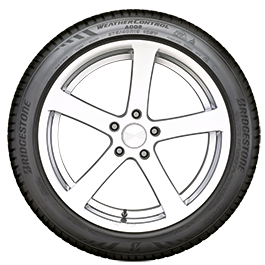 Bridgestone has launched its first all-season touring tire, the Weather Control A005. The new product was developed by experts at the company's R&D facility in Rome to perform especially well in wet weather. The specifications were outlined based off the back of extensive market research into the needs and expectations of 15,000 end users, who were also questioned about their day-to-day driving challenges.
Independently tested and certified by TÜV SÜD, the Weather Control A005 achieves an A grade for wet grip on the EU label, and a C for rolling resistance – with selected sizes even achieving a B in rolling resistance.
The tread design features a V-shape layout, innovative 'Z' side shape, and high-volume slots in the shoulder of the pattern. It works with the optimized body construction and contact pressure distribution to ensure the tire performs to the expectations in terms of grip, fuel efficiency and wear. Application of Bridgestone's Nano Pro-Tech technology and the high silica content in the tread also enhance the tire's performance.