Returning to Deutsche Messe in Hannover, Germany, on May 18, 19 and 20, Tire Technology Expo remains Europe's most important tire manufacturing technology exhibition and conference. With exhibits from many of the world's leading suppliers to the tire manufacturing industry, plus a major conference, Tire Technology Expo is quite simply a must-attend event, providing visitors, exhibitors and conference delegates with a highly valuable networking opportunity that is unrivaled within the sector – and unique to the staging of a live show.
New product launches
With just two weeks to go, Tire Technology Expo 2022 is once again on track to offer visitors Europe's premier technology showcase, with live demonstrations of equipment and new materials covering the complete spectrum of the tire manufacturing process. Many booths will feature fully functioning setups of machinery, enabling you to review the latest manufacturing systems and material handling solutions; and there will be a full range of chemical and tire material companies on hand to enable you to explore the next-generation tire science and opportunities being driven by the world's leading tire industry suppliers.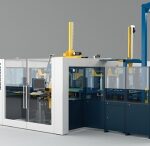 For example, Hofmann Maschinen- und Anlagenbau GmbH will reveal its new ATG-EVO automatic tire grading line (left) at the expo in Hannover. The newly developed machine has a multitude of technical innovations and focuses on Industry 4.0, as well as ecological considerations. With a short cycle time and without the intervention of operators and/or maintenance personnel, the machine can perform fully automated final inspection across a wide portfolio of tire types.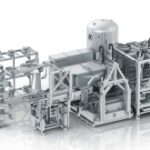 Expo visitors will also be able to check out ZF's new final-finish tire test equipment for the inspection of truck and bus radial tires, ZF LUB6 TBR, which can measure both uniformity and dynamic unbalance. The Low Speed Uniformity Balancing Machine (LUB) test system enables users to measure all conventional uniformity, static and dynamic unbalances and geometry characteristics within one cycle at a single station of the test equipment, in less than 60 seconds.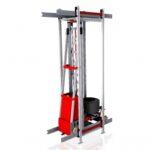 Cassioli will unveil a new tire storage machine, designed to store different types of materials and products, from green tires to finished tires. The Cassioli Multilevel Shuttle is made of individual mini stacker cranes with reduced dimensions but high performance. These can be stacked in the same aisle, increasing throughput.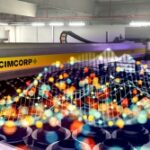 Cimcorp will showcase the latest evolution of its proven Dream Factory solution, which offers an end-to-end automation system specifically developed for the tire industry. Designed to ensure maximum output, traceability and flexibility in production with real-time quality control, Dream Factory focuses on achieving maximum productivity from a tire plant's most expensive and vital equipment – the presses – by optimizing material flows from raw materials through to shipping to ensure that scrap, bottlenecks and buffer storage are minimized.
Further familiar names exhibiting at the show include VMI, HF Group, Bartell and Mesnac, while leading chemical suppliers include Versalis, Kraton, Indorama and Synthos. Click here to read all the latest show news; and click here to see the full exhibitor list.
Industry conference
Meanwhile, the expo's prestigious conference, which features more than 120 expert speakers from leading companies and institutions, will highlight the issues and trends set to dominate the tire business in the future. Key presenters include: Jukka Antila, technical director at UTAC; Frederic Biesse, senior fellow tire physics and performance modelization for Michelin; and Jorge Lacayo-Pineda, head of expert field for materials evaluation for Continental Reifen Deutschland – and many more! Book your pass (rates apply) here.
Finally, don't miss the Tire Technology International Awards for Innovation and Excellence, which recognize key industry achievements over the past 12 months, and will be presented from 17:00hrs on Day 1 (Wednesday, May 18) during the exhibitor hall drinks party. All visitors, exhibitors and delegates are invited – there are no formalities: feel free to grab a drink and enjoy.
Don't miss the networking opportunity of the year – register for your free exhibition entry pass, today, by clicking here.