Tire pressure monitoring systems (TPMS) have become commonplace in passenger vehicles, but their widespread adoption in commercial applications is yet to be realized. Unlike a car or van, tractor-trailer units rarely stay together and as such, any TPMS system fitted to trailers must easily interface with whichever tractor unit is pulling it.
In an effort to bring the safety benefits TPMS offers to the freight market, Mercedes-Benz Trucks UK and Continental Tyres have developed a new system specifically for trailer use, including multideck units, which have grown in popularity with hauliers thanks to the versatility they offer. However, these trailer configurations are not without issues. A heavier load and greater frequency of use can lead to tire pressure challenges and temperature build up in wheels and tires.
The Mercedes/Conti system harnesses the latter's ContiPressureCheck TPMS coupled with Mercedes's Truck App Portal to provide drivers and fleet managers real-time tire data, without the need for separate in-cab displays. The system can provide an alert when either a tire is losing pressure, or temperatures are rising outside of a safe operating range. It has also been designed to be highly adaptable and will work on any trailer configuration, as well as multideck units.
The Continental standalone trailer system includes pressure/ temperature sensors mounted in the tires, a control unit (CCU) positioned on the trailer chassis, a warning lamp fixed to the under/nearside of the trailer in sight of the driver's rear view, and a monitoring screen fixed to the bulkhead of the trailer. This additional display enables the driver to check the status of all the trailer tires very easily during daily checks. When connected to a Mercedes-Benz Actros tractor unit, data is continuously fed to the multimedia dashboard via a Bluetooth connection (facilitated by a high-power Bluetooth dongle on the trailer) with the Truck App Portal. This information can also be sent in real time to fleet managers, using the cloud-based ContiConnect portal.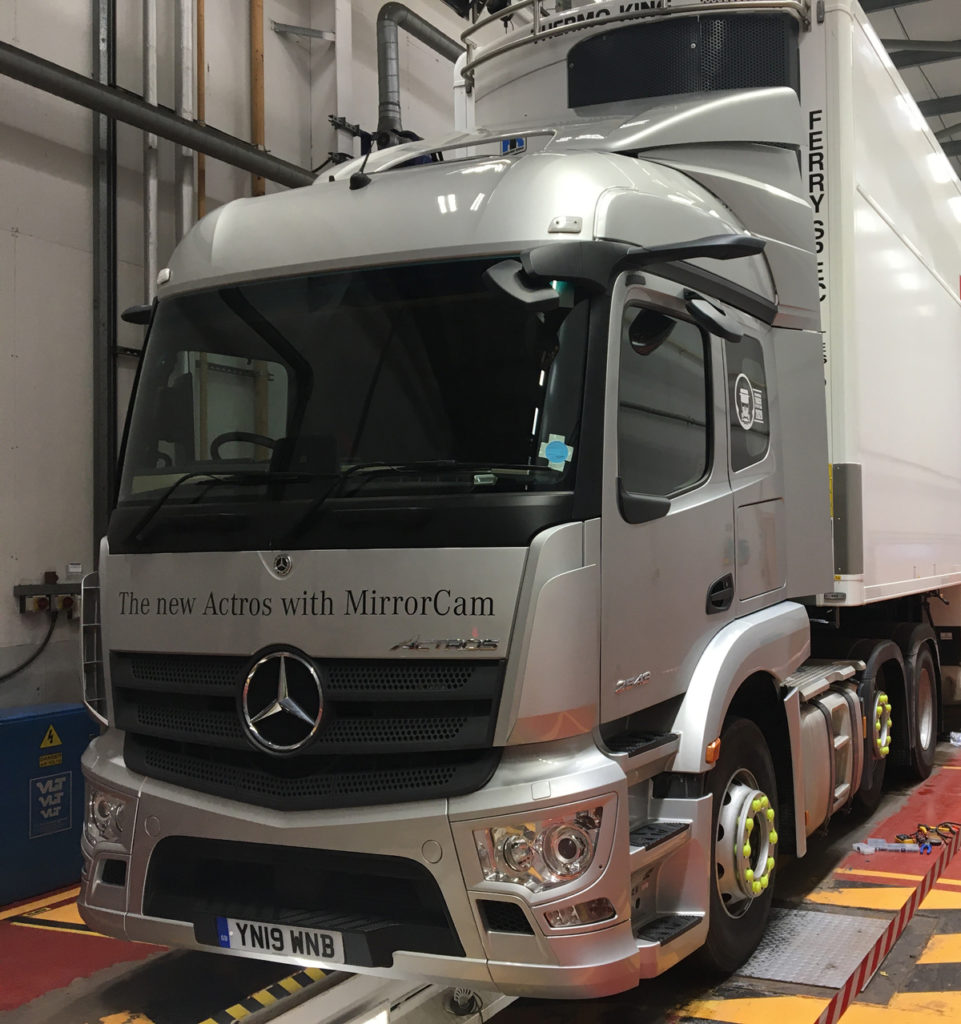 The Mercedes cab display will show a schematic of the trailer with live pressure and temperature readings. If an issue arises, an audible warning is sounded through the truck speakers, fading out any additional radio noise while it does so. The driver is then able to see the tires affected marked by an amber or red color on the multimedia display, highlighting the priority of the warning. Tapping an alerted tire on the in-cab display will provide more details and enable the driver to take appropriate action immediately.
Richard Skidmore, head of connectivity, Mercedes-Benz Trucks, said, "By integrating trailer tire pressure visibility into the existing digital architecture of the truck we vastly reduce the cost to the operator to fit extra screens or additional telematics boxes, maximize uptime and improve safety for our drivers and the public on our roads."