Goodyear has introduced two of its digital platforms in the OTR arena.
Goodyear Proactive Solutions TPMS Heavy Duty is a data-based solution enabling real-time monitoring of tires. It helps prevent tire-related incidents, resulting in reduced machine down time and breakdown costs and up to 15% more working hours as tires have the correct pressure at all times.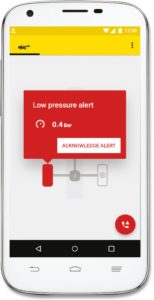 Goodyear is also launching an enhanced version of its EMTrack OTR tire performance monitoring system. The updated and enhanced system enables faster, even more accurate collection of critical tire data like tread depth, inflation levels and other indicators, helping optimize tire service life and assist with OTR tire forecasting and budgeting.
"Recent advances in connectivity give us the ability to help our customers optimize their tire usage and cut their costs. OTR machines operate in some of the most hostile environments and tires are an essential part of them," said David Anckaert, VP Goodyear commercial tires Europe.
"Goodyear Proactive Solutions TPMS Heavy Duty, for example, can help prevent tire inflation loss which is very common. A tire that is 50% under-inflated can reduce tire life by 72%.
"Goodyear Proactive Solutions TPMS Heavy Duty provides real-time temperature and pressure monitoring. This information is then used by the Goodyear predictive algorithms to predict tire life. This new solution means peace of mind for our OTR customers and helps ensure a much greater return on investment
from tires."