Europe's most important tire manufacturing technology exhibition and conference, Tire Technology Expo, opens this week (May 18, 19, 20), at the Deutsche Messe (pictured), Hannover, Germany. Avoid any queues at the door by registering for a free fast-track entry code now – it takes just a few seconds and guarantees instant access to all the latest innovations and companies set to define the future of the industry.
Many booths will feature fully functioning setups of machinery, enabling you to review the latest manufacturing systems and material handling solutions; and there will be a full range of chemical and tire material companies on hand to enable you to explore the next-generation tire science and opportunities being driven by the world's leading tire industry suppliers. The following examples are just a snapshot of what's on display:
See Mesnac's new P-PRO2 Extra tire building machine, ready for fully automatic production of passenger, light truck and off-road tires. The technology ensures automatic production, total control of produced tires, self-analysis functions, predictive communication with operators and maintenance staff, environmental functions and a new range of tire building functionalities. Customization options include double let-off stations using large-capacity (truck) cassettes, universal three-carcass servicers ready for ply-up and ply-down technology, the ability to produce high-ply tires, application of two reinforced materials from two automatic servicers, and more.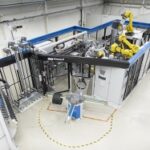 Check out REVOLUTE, designed to complement VMI's existing bead apexing solution. It speeds up production time per item (double that of the next best-performing system) while reaching new levels of performance (higher apex than any other system on the market according to the company, greater variety of compounds). Its enhanced use of automation ensures changeover times are shortened, with much less operator intervention and greater use of recipe-driven methods. Waste is reduced, quality is more consistent and processes are made more efficient, resulting in increased flexibility and improved competitiveness. Meanwhile VMI's MENTRIXX brings higher-level machine intelligence to the factory floor, permitting central control of multiple machines and offering the ability to change specifications across different machines from a single location and, in future, use self-tuning algorithms based on historical data.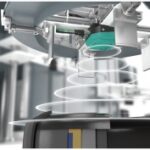 The F190-B40 read/write head from Pepperl+Fuchs is designed for reliable identification of green tires. Typically, the UHF reader is integrated into the gripper of the curing press. This compact solution enables an especially space-saving installation. An onboard industrial Ethernet interface allows easy PLC integration. The tag in the green tire is automatically detected via RFID with absolute reliable identification. This validates the green tire and verifies the tire shape, production order and production parameters (pressure, temperature, process time). A high antenna performance enables identification even under harsh conditions. Automated documentation of the manufacturing process ensures the traceability of production parameters along the complete tire lifecycle.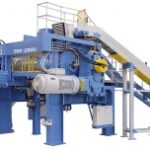 UTH will present its innovative TRP Reworker based on the two-roll plasticizer (TRP) with an integrated roll-ex gear pump. This resource-saving system is designed to rework the unvulcanized rubber (treads, sidewalls, profiles or sheets) generated in the tire manufacturing process. The system consists of three zones along the length of a roll, which in combination give rise to a fully automated, continuous and reproducible process. Advantages include reduced energy consumption, very gentle processing during the refinement process, temperature control, and a modular structure, which means the material can be formed into almost any shape by an integrated roll-ex gear pump with an optional fine strainer.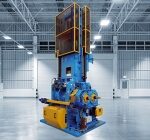 Using virtual reality, G3 Mixing Technologies will offer live demos of its hydraulic hopper ram group G3 type HHR-Powder Free, which has exceptionally compact dimensions in order to facilitate assembly on existing mixing lines with limited spaces. The group is engineered to have a reduced maintenance requirement and better access to the main components both in the lower part (hopper) and in the upper part (hydraulic ram), and features two engineered systems for perfect powder sealing. The first, located in the loading door, is a scraper system called Powder Free Door (PFD) and equipped with a continuous spring preloading system and pneumatic actuators that increase the pressure of the scrapers on the shoulders and on the (closed) loading door shaft. Meanwhile, the hydraulic ram group's upper steel plate is engineered to house the second Powder Free Rod system, which is composed of a cardan joint, complete with seals/dust scrapers for the piston rod. The cardan joint unit can move completely free, compensating for the oscillations of the shaft, allowing the system of seals/scrapers to be kept efficient, reducing dust loss. The HHR PF integrated with G3 tangential and intermeshing body mixers (also with variable clearance) is engineered to be installed on new or existing mixer bodies of other OEMs.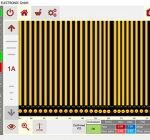 Roland Electronic's SIS XP and SIS G3 measurement systems for steel cord processing offer high process reliability and easy handling in the field of online quality monitoring, ensuring the detection and verification of material defects, such as double and missing wires. Its new high-resolution Roland SIS VISION system allows the location and type of defect (double, missing or crossed wires) to be verified online. Wire spacing, wire offset and EPDM/EPI can also be determined and displayed in a user-friendly manner. Moreover, all this is carried out non-destructively and at full production speed. Like an x-ray, the operator can experience and assess the arrangement, position and course of the wires in the rubber, which can drastically reduce costs, particularly with regard to the production of oversized tires (OTR).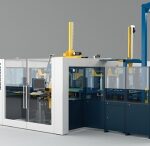 Hofmann Maschinen- und Anlagenbau GmbH will reveal its new ATG-EVO automatic tire grading line (left) at the expo in Hannover. The newly developed machine has a multitude of technical innovations and focuses on Industry 4.0, as well as ecological considerations. With a short cycle time and without the intervention of operators and/or maintenance personnel, the machine can perform fully automated final inspection across a wide portfolio of tire types.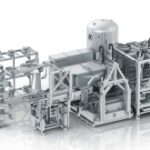 Expo visitors will also be able to check out ZF's new final-finish tire test equipment for the inspection of truck and bus radial tires, ZF LUB6 TBR, which can measure both uniformity and dynamic unbalance. The Low Speed Uniformity Balancing Machine (LUB) test system enables users to measure all conventional uniformity, static and dynamic unbalances and geometry characteristics within one cycle at a single station of the test equipment, in less than 60 seconds.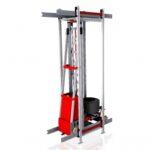 Cassioli will unveil a new tire storage machine, designed to store different types of materials and products, from green tires to finished tires. The Cassioli Multilevel Shuttle is made of individual mini stacker cranes with reduced dimensions but high performance. These can be stacked in the same aisle, increasing throughput.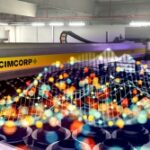 Cimcorp will showcase the latest evolution of its proven Dream Factory solution, which offers an end-to-end automation system specifically developed for the tire industry. Designed to ensure maximum output, traceability and flexibility in production with real-time quality control, Dream Factory focuses on achieving maximum productivity from a tire plant's most expensive and vital equipment – the presses – by optimizing material flows from raw materials through to shipping to ensure that scrap, bottlenecks and buffer storage are minimized.
From the latest in test and analysis; tire labeling; tire inspection; belts; mixers; RFID chip lamination; new, more sustainable chemicals and materials; through to high-efficiency curing, cutting and extrusion, you can find all the best new solutions under one roof in Hannover, from Wednesday (May 18).
Click here to read all the latest show news, and click here to see the full exhibitor list.
Industry conference
The expo's prestigious conference, which features more than 120 expert speakers from leading companies and institutions, will highlight the issues and trends set to dominate the tire business in the future. Key presenters include Jukka Antila, technical director at UTAC; Frederic Biesse, senior fellow tire physics and performance modelization for Michelin; and Jorge Lacayo-Pineda, head of expert field for materials evaluation for Continental Reifen Deutschland – and many more! Book your pass (rates apply) here.
Finally, don't miss the Tire Technology International Awards for Innovation and Excellence, which recognize key industry achievements over the past 12 months, and will be presented from 5:00pm on Day 1 (Wednesday, May 18) during the exhibitor hall drinks party. All visitors, exhibitors and delegates are invited – there are no formalities: feel free to grab a drink and enjoy.
Don't miss the networking opportunity of the year – register for your free exhibition entry pass today, by clicking here.