UK tire maker Davanti has expanded its Protoura Sport range with the launch of the new Protoura Sport DSP Runflat. Following an extensive testing and development program at industry-leading proving grounds in summer conditions, the new tire offers runflat capabilities while retaining, the tire maker claims, high levels of grip, endurance and comfort.
The tire has been developed and tested to vehicle manufacturer OE standards, equal to that of a premium runflat tire. In addition to standard requirements for runflat testing, such as the standard drum test, Davanti tested the design's pop-on pressure, ensuring the tires are easy to mount onto and dismount from the rim, while maintaining sufficient force on the wheel for reliable operation.
In addition, the new tire was subjected to the RPA sensitivity test, ensuring the tire is well within the tolerance bounds of TPMS sensors. This test determines the variance in circumference between inflated and uninflated states, for vehicles that rely on this technology to detect that a tire has deflated.
Davanti also opted for a rim roll-off test, to ensure that the deflated tire stays mounted to the rim when undergoing lateral forces, a factor that cannot be determined by the standard drum test alone. This test was carried out by performing J-turns with a tire with zero pressure to ensure it remains mounted to the rim as required for OE standards.
Thanks to the tire's self-supporting internal sidewall (to support the weight of the vehicle and retain tire structure when it loses air as a result of a puncture), and lateral and transverse load support when operating at zero inflation pressure, the tire can continue to operate safely at speeds of up to 50mph (80km/h) while deflating or deflated.
The Protoura Sport DSP Runflat also features integrated rim protection to prevent wheel damage.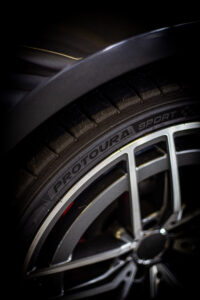 "Expanding the Protoura Sport range to include runflat technology means drivers can enjoy our ultra-high-performance tires with the peace of mind that should they suffer a puncture, they have time get to a garage or find a safe, level area to change the tire," said Davanti general manager Peter Cross.
"Also, thanks to the team's incredible work to engineer a UHP tread pattern alongside runflat technology which has been developed to a premium standard, means we have a tire which is a leading benchmark for runflats that offers performance you can trust."
The Protoura Sport DSP Runflat will be available in sizes from 17in to 21in.