Exploring the challenges, opportunities and new technologies being developed in the field of machine vision and inspection
Machine vision is a vital resource for manufacturers to ensure the quality and consistency of their products. But machine inspection facilitates more than just accurate measurement and detection. Advanced machinery can now provide autonomous inspection, reduce running costs and contribute to sustainability targets.
This technology is now assisting manufacturers with waste management, detecting defects early and minimizing scrap material produced from manufacturing errors. Machine vision hardware and software are evolving to cope with more complex tire designs, and software is set to be the key to the next generation of machine vision.
Quality control
At Continental, a combination of visual and sensor-based inspections is required throughout the manufacturing process, and the internal tire structure is examined x-ray. Sahil Agrawal, head of manufacturing technology digital solutions, manufacturing technology engineering tires, explains how machine vision assists with quality control.
"Mandatory inspections include the checking of tire uniformity and geometry with the help of parameters such as radial and lateral force variation, radial and lateral runout, conicity, ply steer and sidewall bulge as well as indentations," he says. The ultimate goal is to automate these inspection processes.
As Agrawal explains, sensor performance has improved thanks to higher resolutions and frame rates.
"We rely increasingly on the economies of scale and increased accuracy coming from sensor-based vision and measurement technologies, as tire specifications and tire variations get more complex." He notes that although increasing the complexity of tire designs often decreases rolling resistance and improves sustainability credentials, it can also make the inspection process more challenging.
Advanced machine vision also contributes to Continental's sustainability goals. "We continuously focus our R&D activities on the improvement of tire mileage, wear rate and rolling resistance of our products," says Agrawal. "With machine vision as part of the quality process, we ensure that specified quality and product requirements are met."
Precise inspection capabilities ensure the consistency of more complex designs, with higher levels of automation reducing the influence of human error. "Machine vision, image processing and artificial intelligence are increasingly important pillars for Continental's tire production," adds Agrawal. "They support our team in managing and inspecting the growing complexity of tires."
Continental plans to continue adding more optical measurement and monitoring solutions to provide a consistent high quality for intricate designs.
"Vision systems have evolved to become more accurate and innovative," continues Agrawal. "For example, in cases where the tire's outer designs are more sophisticated, we involve machine vision to compare the sidewall lettering finesse with the specified design."
Adapting systems
Optical measurement technology creates a feedback loop where data can be evaluated to establish areas of the production process that require improvement. This helps with long-term consistency and keeps tires to the strict specifications and tolerances defined by Continental.
The required machinery varies depending on the type of tire that is being assessed. "For car tires we use different systems, such as fixed-point laser sensors and sheet-of-light laser systems to check the tire uniformity and geometry characteristics," says Agrawal.
In conjunction with these systems, "truck tire inspection requires, for example, additional x-ray technology to check several steel breaker and reinforcement layers". Regardless of the application, a key priority for Continental is machinery that's robust enough to operate in a tire factory.
"The imaging hardware must be adapted to black surfaces as this is crucial for quality control of a tire."
In addition, for tires with sensor technology installed, machine vision helps Continental "re-ensure the positioning and effective placement of the respective sensors in the tires".
Digital goals
Much like Continental, Hankook relies on a combination of human and machine inspection, with machine vision enabling operators to analyze internal structures. Jae Hee Kim, the company's vice president of the machinery and digital engineering department, discusses the tire maker's balance of machine vision and human inspection.
"Even in the case of instrumental inspection, human interpretation is required to read the images captured by the device. This reliance on human involvement increases the likelihood of human error and prolongs the inspection time. To address these challenges, Hankook has integrated digital technologies such as vision and AI."
Kim believes the introduction of AI will minimize human error and increase the efficiency of inspections. To evaluate the finished product, Hankook employs an interferometric tire tester (ITT) and an x-ray machine to inspect the exterior and interior of the tire. The internal stiffness and uniformity are also tested to detect irregularities through visual or image analysis.
Hankook is currently developing an ITT and x-ray system to check for air bubbles within the tire. "This is expected to play a large role in the automatic reading system and defect detection in the future," says Kim.
At each stage of the production process, vision technology is tailored for the specific requirement: "Such as vision barcodes to foolproof semi-finished products, cameras for centering, inspection of semi-finished product attachments and machine vision for finished product inspection."
For Hankook, Kim believes reliability is key. "The recent adoption of high-speed and unmanned facilities in the tire industry has emphasized the need for cost-effective and reliable inspections to guarantee quality assurance for consumers and prevent the mass production of defective products resulting from missed defects."
Accuracy is key not only to ensuring that products comply with company and industry standards but also with sustainability efforts. The production of tires with defects consumes excess energy and results in waste material that requires recycling.
Some of Hankook's long-term sustainability goals to reduce waste and costs will be facilitated by machine vision. "The use of big data and AI allows for greater accuracy in identifying defects, reducing the need for human involvement and ultimately leading to lower costs and a more sustainable manufacturing process," Kim adds. "It is expected that optical machine vision systems will replace inspectors within 10 years."
Before such time, machine vision has to satisfy the ever-growing list of inspection requirements as tire designs become more complex.
"With the increase in the number of attachments and SKUs, machine vision technology can be used to inspect a wider range of external elements, ensuring that all parts meet the necessary standards," says Kim. "Additionally, with the complexity of tire exteriors, the use of optical character recognition (OCR) systems for automatic inspection of letters and patterns engraved on the tires has become more important."
As vision technology has adapted and evolved, it has enabled tire makers to develop more intricate designs.
"By utilizing this technology, tire manufacturers can enhance their production processes, improve the quality of their products and keep pace with the rapidly evolving tire market," Kim adds.
Spotting defects
For Fredrik Nilsson, head of machine vision at sensor solution specialist Sick, "The role that machine vision plays is crucial." It helps manufacturers identify defects early in the production process, reducing scrap and keeping costs down by preventing the manufacture of faulty products.
To maximize machine vision's capacity to swiftly identify defective tires, Sick's strategic industry manager, Alain Klein, says, "The number of machine vision applications throughout the whole production process has increased, starting in the mixing area until final finishing." Increased oversight provides the opportunity for earlier intervention if a fault is detected.
Given the main application of machine vision is to assess black rubber, 3D technology can overcome the challenges of detection on a dark surface.
"3D sensors are constantly evolving with increased measurement accuracy and better data quality," Nilsson says. Therefore, sensors with high light sensitivity are better suited to black rubber.
"For continuous flows of material, line scanning technologies such as laser triangulation have clear benefits," Nilsson continues. "For palletizing of finished tires, a 3D snapshot technology, such as stereo or time-of-flight sensors, is useful."
Inspection technology has become more flexible and digital, Klein explains: "With the advances in image capturing and image processing, the automated quality control systems are more frequently used to solve tasks that haven't been possible until now, such as inner tire inspection." This enables manufacturers to create products of a consistent standard, inspecting various aspects of the tire that were previously inaccessible.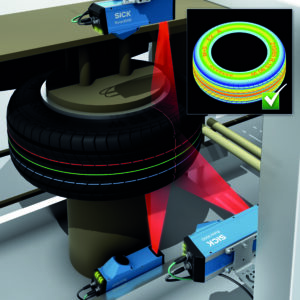 Working with AI
Thanks to the application of new analysis techniques and strategies, Nilsson explains, "Modern image-processing technologies and the vision sensor, 2D or 3D, combined with new software possibilities like AI and DL, have opened new and limitless possibilities in the inspection process."
The development of AI software to accompany sensor technology has improved efficiency and reduced reliance on human input in the manufacturing process, he argues. Traditional rule-based machine vision "has been about applying a selection of image-processing algorithms to the image and then optimizing the results by adjusting the 'rules' or input parameters to the algorithm".
Nilsson explains that AI now enables operators to "train the solution by good and bad examples and then the AI – in this case, a process to teach a neural network – will derive the decision criteria on its own". This facilitates applications that would have been more challenging with a rule-based approach as the technology extends beyond human input.
Automation is a key element that reduces the number of human operators required, and AI is key to this process. However, adoption of a rule-based approach requires skilled staff to input the correct parameters to conduct accurate inspections.
"I see AI and deep learning as a great complement to the rule-based approach – which is still needed and has its benefits – that will make machine vision more accessible to a larger customer group and address a larger application scope," concludes Nilsson.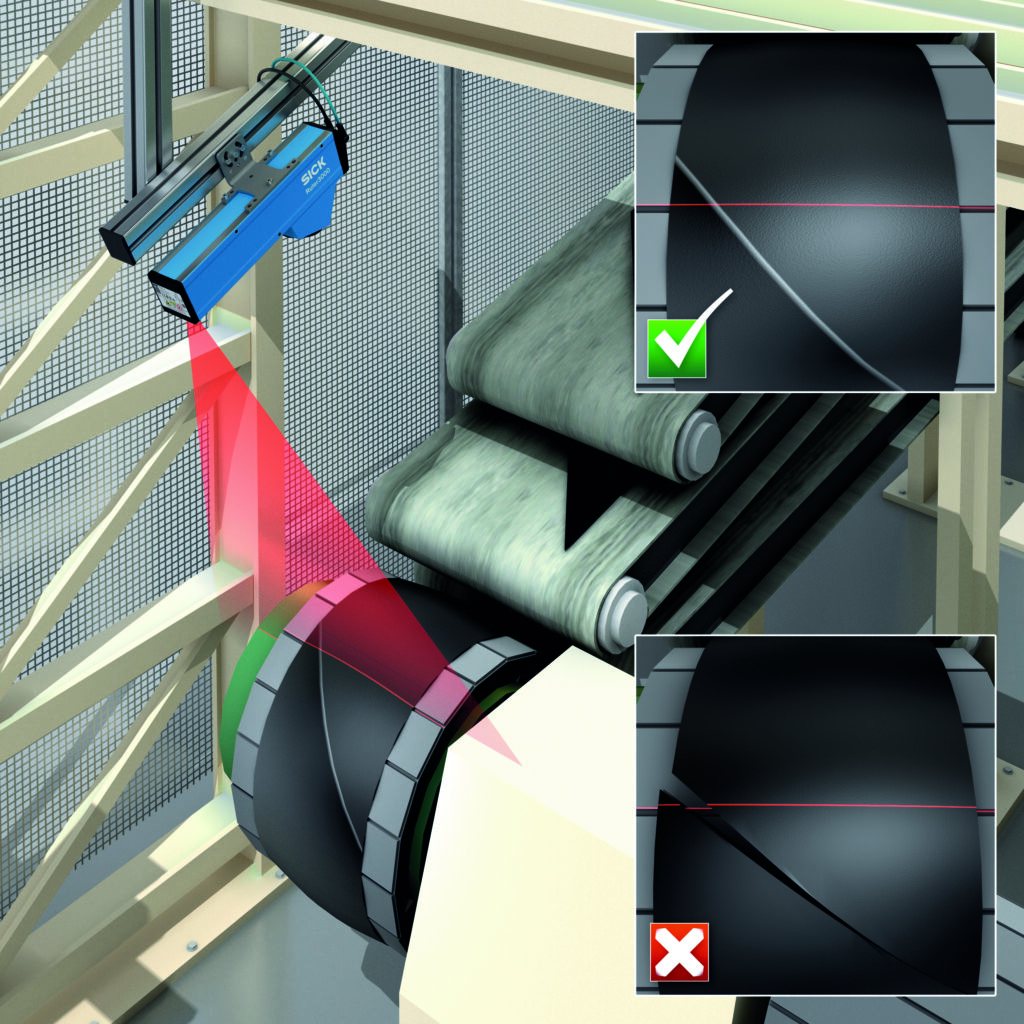 This article was first published in the March 2023 issue of Tire Technology International, available to read for free, online, here.