Yokohama is venturing into new territory with its RS02 radial snow tire, an offering that has been developed to give G2 graders optimal winter performance. Two years in development, the RS02 is designed to provide superior grip on snow and ice as well as durability in extreme conditions.
For civil and utility services, harsh winter conditions can present significant challenges, as Tom Clauer, Yokohama Tire senior manager of commercial and OTR product planning explains, "There are road-service agencies, such as 'county shops' and municipalities in the upper states and Canada, that need to maintain and clear non-interstate roads and city streets in winter months. This service is vital to residences and businesses where snow/ice accumulation can be a challenge. The RS02 addresses the needs these entities require to be efficient and effective in performing these duties."
Key features of the RS02 (below right) are its new compound and tread design, with biting edges for improved traction and grip in snow and ice, alongside a large bead bundle in a hexagonal design created for additional strength and reduced slippage.
Reliability has also played a significant part in the development of the tire, with a high turn-up construction for maximum lateral stability and additional sidewall protection. The Yokohama-specific OTR belt wire is designed for improved puncture resistance, while an omnidirectional tread pattern saves time and effort during fitment.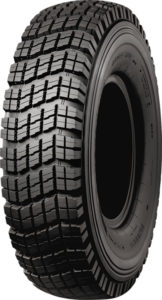 At the heart of the RS02's performance package is a compound designed specifically for the unique challenges that extremes of weather present. This was a significant challenge during the development process, as Clauer explains, "In cold temperatures, the product can become harder and less flexible. Because of this, we needed to develop a compound that reduced this effect. The RS02 was designed to stay supple so it does not need to rely on warming up to achieve optimized performance."
Another significant challenge during the program for the RS02 was creating an effective tread pattern. With an OTR tire requiring outsized tread blocks for traction, durability and strength can be compromised as a result. Combine that with the difficulty of designing a pattern that is simultaneously capable of shifting large quantities of soft snow and biting into solid ice, and there are clear obstacles.
"The tread design is unique because it allows the tire to be able to grip on ice, evacuate snow and slush, and at the same time, be able to resist damage," comments Clauer. "The compounding has to be very specific, as well as the tread design. The conditions in which these products are used are unique. In the past, operators have had to make do with products that were designed with other targeted performance goals but would perform somewhat satisfactory at best. The RS02 is designed to address those performance gaps, providing companies with increased efficiency in terms of man-hours as well as equipment usage."
While the RS02 is a viable option for individuals that want the security of harsh weather performance, the need to provide a tire for essential services that have to operate whatever the conditions brings its own pressure – lives could depend on a particular vehicle making it through.
The RS02 has been developed with this in mind, and it is something that Yokohama has plenty of experience in. "Yokohama products have a reputation for durability: this is paramount in any and all products we develop. The compounds and tread designs are unique and come from years of experience in severe-weather condition operations across the globe. They also provide a certain level of safety and security for the users while operating in harsh conditions," Clauer says.