Visualization of tire force using AI/digital technology
Japanese tire giant Toyo Tire has achieved a breakthrough in tire sensing with a newly developed technology that works in real time. The system uses artificial intelligence and digital technologies to detect information on the tire's condition, including tread wear level, load and road conditions. 
The technology estimates the tire grip limit via sophisticated arithmetic processing of an array of acquired information. This makes it possible to detect and visualize data to ascertain whether the tire can handle the road it is traveling on based on its performance and the forces being exerted. The tire's performance is estimated based on air pressure, temperature, road surface detection, load, frictional wear and irregularity. 
In this manner, the sensing technology transforms the tire into an information acquisition device, and makes it possible to detect the tire performance limit as well as performance in real time for individual vehicles. This information could potentially be linked to the vehicle to achieve higher-precision cruising stability and support to avoid dangerous situations on the road.
Toyo Tire plans to push ahead with open innovation to integrate the tire sensing technology with various external detection systems.
Toyo believes it is possible to calculate tire performance with its new tire force estimation model. Developed in partnership with the SAS Institute Japan, this revolutionary technology uses data analysis and AI.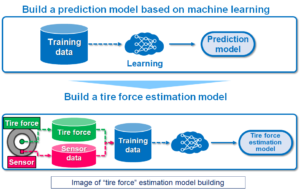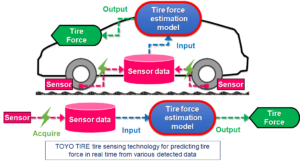 To build the model, Toyo used training data attained by synching the tire sensors with various measuring devices attached to the vehicle and its tires/wheels.
The model approximates the output in the form of tire force by inputting the information acquired from the tire sensors into this model. The company plans to link this to the vehicle by combining the tire force estimation model with other devices in the car. 
A proof of concept has confirmed the possibilities of the tire force estimation model. This process involved gathering a training data set under various conditions, and repeating the trial-and-error learning methods. 
Toyo has successfully used it to estimate and detect tire force during testing on the company's test course and it is now gathering real-time tire force data using sensors mounted on vehicles that are being driven on public roads.