It's 30 years since Tire Technology International launched. To celebrate this remarkable achievement, we're reconnecting with those who have shaped the magazine over its lifetime, and asking them to revisit some of their favorite memories. In this first anniversary look-back, we hear from Graham Heeps, who edited TTI from 2004 until 2008, and from 2012 until 2018. Look out for more anniversary content throughout 2023.
I'd been offered a rare chance to visit a cutting-edge tire manufacturing plant. It was quite a scoop. "We'll show you around but we'd like to fact-check your copy before publication," said the tire maker. Fair enough. It was 2005 and as newly appointed editor on Tire Technology International, the last thing I wanted was to betray my lack of expertise with an obvious mistake.
The visit went well. The company's representatives couldn't have been more welcoming. The proud factory manager was happy to show me as much as I wanted to see. I wrote the story up right away and carefully checked the details with my notes. And there was a lot of detail. Keen to make a good impression, I put it all in.
I sent the draft over to my contact for checking. "No problem," they said. "We'll get right back to you." Late in the afternoon on press day, they did. "You can't run this!" What? But we agreed! "This has gone all the way to the top. If this story runs, the factory manager will lose his job."
Welcome to the wonderful world of tire technology journalism. Before I joined the magazine in 2004, I had little idea of the complexity of a tire, let alone the surprising levels of secrecy to which the industry is prone. Writing for and editing this magazine has always involved walking a tightrope of revealing enough absorbing detail to keep our knowledgeable readers engaged and entertained while not saying more than the source was comfortable sharing in the first place.
Thankfully, the above story was the only time a tire maker threatened to get the lawyers involved, and even then we were able to reach an amicable compromise. Since that day, I've visited R&D or production facilities owned by Continental, Giti, Goodyear, Nokian, Pirelli, SRI and more, without further incident. Bridgestone, Hankook, Kumho, Michelin, Toyo and Yokohama remain on the bucket list, so if you're reading this, give me a call!
I never imagined I would enjoy writing about tires quite as much as I have these past 19 years. Naturally, certain articles stand out. In 2015, I wrote a cover story about the challenge of protecting IP – in particular, for western machinery makers doing business in China. It was interesting to see that VMI, one of the suppliers quoted in the piece, recently won a patent infringement case against Safe-Run. The best stories are the ones that are as relevant today as when they were written.
Others were memorable because of where I went to research them. I was on a visit to the Nürburgring for a Falken race-tire story when I was offered passenger laps around the Nordschleife during a live VLN (NLS) practice session. If ever there was an illustration of the marvel of a tire generating incredible grip in appallingly wet conditions, that was it. I'll never forget the GT3 Porsche that sailed past our E30 M3, only to sail into the barrier two corners later.
On another occasion, Falken's parent company, SRI, was kind enough to show me around its Kobe R&D base while I was on a family vacation in Japan. Don't ask, don't get! Of the many companies I've worked with, SRI stands out not just for its innovation culture but also for its readiness to share its progress with the world. It's a textbook example of what I referred to earlier: how to generate interest by talking in depth about what you're doing, without revealing how you're doing it.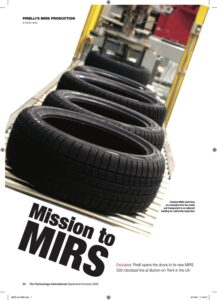 During my time as editor, Tire Technology Expo was always a highlight. It's there that I was able to speak face to face with the people who gave me my grounding in tire technology and the wider industry: Joe Walter and Roger Williams in particular, but also engineers and executives like Kozaburo Nakaseko, Chuck Yurkovich, Eric Vinesse and Stefan Fischer. It was remarkable, too, to meet legends like Toshio Nishi, Jacques Noordermeer and the late Hans Pacejka. All were generous with their time and patient with the gaps in my knowledge.
Another expo conversation that led to a memorable article was with Prof. Meng-Jiao Wang in 2016, when he discussed his research into liquid-phase mixing with silica. Six years later, the technology finally made it to mass production in Sailun and Maxam tires – just one of many examples of how covering tire technology often involves playing the long game.
That applies to sustainability, too. We were writing about green materials when I joined the magazine in 2004 but almost two decades on, examples of wholly sustainable mass-production tires remain elusive. With the buzz around connected and autonomous vehicles subsiding of late, sustainability has emerged as the clear number-one technology challenge facing the tire industry today, in my opinion, but it could be at least another decade before sustainable tires are the norm. Hopefully I will still be writing about them when this magazine marks its 40th anniversary. Happy birthday, TTI.