As tire manufacturers strive to increase the efficiency and sustainability of their production processes, automation will be key to bringing facilities into the modern age
As Industry 4.0 continues to gain purchase in multiple sectors around the world, tire manufacturers and suppliers are exploring ways to improve production capacity and sustainability by implementing an array of connected technologies. By utilizing smart technologies such as artificial intelligence, machine learning and analytics software, tire makers are overhauling their manufacturing techniques, product-handling processes and distribution operations.
"Tire manufacturers are more focused on automation in the whole process chain," says Gerlof Korte, vice president of research and development at VMI Group. "If you look at a tire plant, you have the mixing room, component preparation, tire building, curing and a final uniformity check. We are seeing a focus on the reduction of the number of activities in component preparation and manufacturers are trying to merge more component preparation into tire building."
By Korte's estimations, labor makes up around 50% of the total manufacturing cost of a tire. He says that if a tire manufacturer runs a small facility that produces 20,000 tires a day, it needs approximately 750 employees.
"It will cost you around €25 [US$25] per tire in labor, as an indication, which is high. Everybody is looking for a higher degree of automation, and what we are doing with our machines is trying to limit the amount of labor as much as possible."
Implementing automation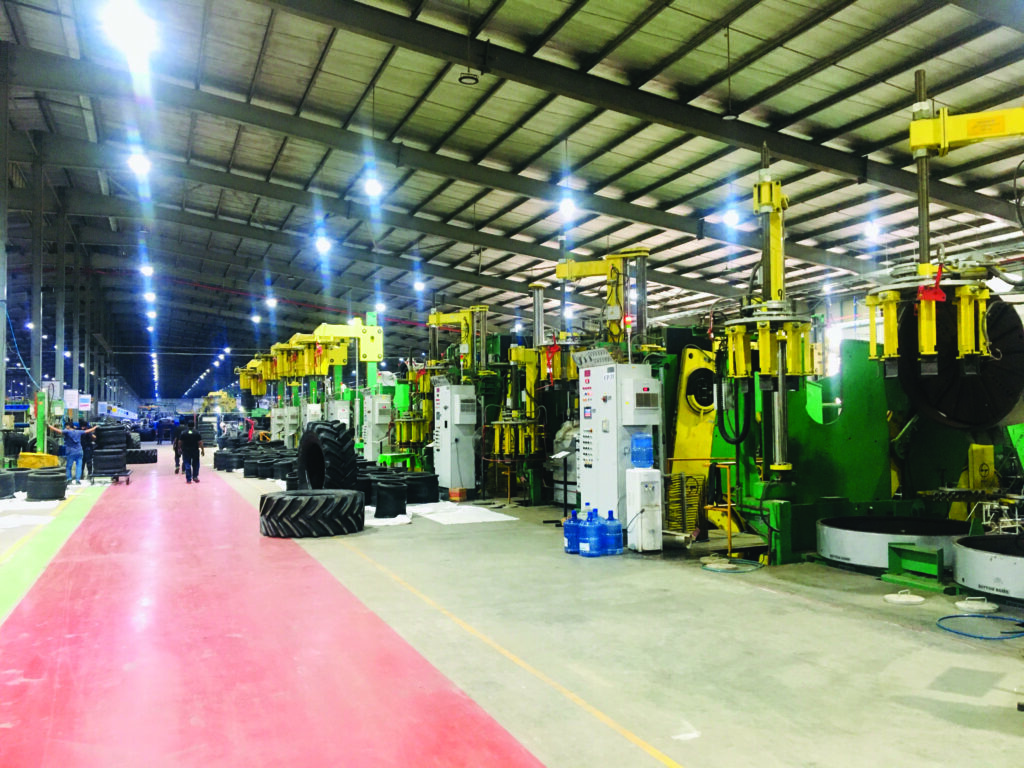 The latest Global Rubber Industries (GRI) facility in Badalgama, Sri Lanka, manufactures a wide range of tires that required the company to install an array of versatile, automated equipment at the production site.
"We have a very large product mix here, so all of the [automated] machinery we use must be suitable for all the types of tires we make," says Ananda Caldera, executive director at GRI. "This is different from a normal car tire factory and we have been very conscious in selecting machinery for these automated processes.
"We have a Comerio calender from Italy that is fully automated with computer systems," Caldera continues. "Once you [input] the formulation, the calender will operate; it is simply a matter of loading the material. This is required to ensure quality and sustainability."
These modern machines benefit from advanced robotics, software and highly accurate sensors capable of collecting and analyzing data for improved and autonomous decision making. This results in increased efficiency and better product quality with a reduced requirement for human interaction.
"We do not depend on people and practically everything is controlled by computers," says Caldera. "We only have to put our data [into the machine] and do the setting up at the beginning of the operation."
He adds that GRI also uses a fully automated Marangoni tire building machine (TBM) at its newest manufacturing facility.
"All the tire tread profiles are put into the computer and then the computer does all the tire building," says Caldera. "The operator only has to select the type of the tire by pressing a button. It is fully automated and doesn't depend on the operator's skill."
Talking about GRI's plant in Badalgama, Caldera adds, "This particular tire plant is less than five years old, so we were able to get the latest technology. We are trying to digitalize all of the data for each and every material. For example, when we make a tread in the extruder, [we measure] the width, length and weight of the tread. Some are automatically recorded and some are not, so we are now trying to develop that to capture all of this data."
Spot the difference
Although the initial investments in automated machinery are costly, many systems use machine learning algorithms that can save manufacturers money. These solutions can detect production errors early in the process, enabling changes or repairs to be made before more expensive mistakes occur further downstream.
"We talk about usability, responsive design and especially diagnostic and condition monitoring," says Andreas Ott, product owner of the Innovation Center Automation & Digitalization at Zeppelin Systems. "In our product NamiQ Analytics, we [focus] on condition monitoring. For example, when it comes to the project implementation, we define, together with the customer, what the most important measurement points are. We will animate this within NamiQ Analytics based on [certain] boundaries; when these boundaries are passed, we will inform the operator."
Ott continues, "We can send an alert via email or message and then the operator will have to do something manually. Here we go in the direction of predictive maintenance, so we can inform the operator of a possibly critical situation, and now it is up to them to react."
Jae Hee Kim, vice president of the machinery and digital engineering department at Hankook Tire, outlines his company's approach: "The Hankook Condition Monitoring System Plus (CMS+), a facility abnormality prediction system, is an automated system that is implemented in our monitoring process. The CMS+ uses a three-step AI algorithm that collects and analyzes data to predict abnormal conditions of the facility in advance. It is equipped with a real-time alarm system based on wireless communication technology so that the system immediately alerts the manager in case of anomalies."
When asked about material handling and how it may have changed over the past decade or so, Ott explains that although Zeppelin still has highly accurate solutions – in terms of quantity and tolerances – other things have changed.
"There was not a big change in our dosing or conveying [ability], it's more about a change in visibility and how we can show the customers different set points and parameters," he says. "First of all, they can understand which points within the system can be optimized, and afterward how we [conduct] commissioning and how we can optimize our conveying systems.
"For example, we have diagnostic modules and one of them is called 'Out of specification'. Here, we can see if something was outside the tolerance, to analyze the impact and see what we can improve to resolve the situation."
Safety in numbers
By introducing smart processes within the production line, safety is improved – not only for employees working within their respective facilities, but also for consumers using the products in real-world applications.
"We incorporated AI to automate the tire-testing process," explains Kim. "The automatic inspection system examines the inside of the tire in detail, and accurately detects whether air bubbles – a critical defect – exist inside tires or not. This is applied to our Interferometer Tire Tester process, and it independently and systematically detects and reports irregularities in products by comparing samples of the scanned product cross-sections."
Kim says that Hankook plans to expand this technology to the entire product inspection process.
Increasing sustainability
The vast majority of tire manufacturers and suppliers are still very focused on greener operations. Caldera explains how the use of highly accurate, automated machines has enabled greater levels of sustainability within GRI's facilities: "The main thing is accuracy. Accuracy means [the machines] automatically consume only the exact formula and material costs, so there is no waste from over consumption. Tires are made from three main components: fabric, tread and the bead where the steel is. To make these three components, there are certain processes, and if these processes consume more than what is specified – if the machinery is not set up to control the usage – then the tire weight will go up. The customer only pays for the tire, and we lose.
"One of the major advantages of this system is that it controls the tire specifications and makes a very good tire consistently, [making it] a sustainable process. It also reduces or avoids over or under consumption and makes tires to the correct specification, without wasting materials."
At VMI, Korte adds, "Tuning your spec and making more accurate tires means you have less scrap. Our customers are pushing hard to improve the accuracy, based on data out of the machine and based on the automatic tuning of your processes. Artificial intelligence is the way it will go in the future."
He explains that his company is currently working on new projects related to automatic material changes within smart machines: "We are in the process of automating the material supply in the machine as well as reducing waste and scrap during the building of the tire, in addition to changing over from spec one to spec two."
The complexity and ability of automated machinery within production facilities are still growing. If the implementation of Industry 4.0 is anything to go by, manufacturing sites will continue to increase their production capacities year on year, with a significantly reduced amount of hands-on labor.
However, automation does not just offer advantages at the manufacturing stage. Benefits brought about by clever working practices trickle down to the consumer, ensuring that products delivered to consumers and fitted to vehicles are fit for purpose, aided by advanced levels of uniformity and safety checks.
Workforce flexibility
Automated practices mean improved working conditions
By introducing a multitude of advanced automated processes, tire manufacturers can enhance many operations within their facilities.
"Since introducing greater levels of autonomy in tire production, we have been able to witness increased productivity as well as a great reduction in time loss," explains Jae Hee Kim at Hankook Tire. "Furthermore, we have been able to secure improved quality in our products as well as uniformity in output quality."
Furthermore, by removing or reducing human interaction in many of the manufacturing steps, additional staff hours can be redistributed and used to a company's advantage in other areas, ahead of bringing products to market.
"From the mixing process to the finished product shipment process, workers' labor intensity is gradually reduced and the quality of the environment or work is steadily improved so that more creative work can be done," says Kim. "Machinery automation and production digitalization are continuously developed and applied in the direction that consumers can feel. Through factory automation, we are able to provide better, safer and improved working conditions."