Top-class international kart racing presents a host of design and development challenges for tire manufacturers. TTi gets the inside line on creating tires for the stars of tomorrow
Karting is where household names like Lando Norris and Max Verstappen cut their teeth in motorsport. It's also a thriving form of racing in its own right, with its own junior and senior FIA World Championships. Kart tires are highly specialized products that balance the needs for outright grip and consistent performance. In this article, TTi is focusing on race tires that are homologated by the FIA's karting division, the Commission Internationale de Karting (CIK-FIA), as opposed to the less sophisticated rental kart tire market – but many of the principles apply to both disciplines.
Performance demands
Most major karting competitions – whether they are national championships, FIA international and world championships, or one of the many private championships such as WSK – have a single-supply arrangement with a tire maker. Italy-based LeCont has numerous supply contracts, including providing tires to the FIA's KZ (top-end gearbox karts) and Academy Trophy (for young talent) and the WSK's OK Senior category. Meanwhile, Mojo tires (below), which are produced for Austrian firm BRP-Rotax by Reifenwerk Heidenau in Germany, are used by thousands of competitors in Rotax MAX Challenge (RMC) championships in more than 60 countries.
"Our target is an equal opportunity for every driver in every class," says Marcel Schander, Heidenau's head of development. "For that you need consistency, longevity and a high-quality product. The tires must be developed according to the specific characteristics of the drivers and engines in each class. There isn't that much to a kart – a driver, chassis, engine and tires – so it's important to have the best package."
CIK-FIA racers may have more tire sets available to them than competitors in the more recreational-level RMC, but consistency and durability remain essential in these single-supply formulae.
"Performance is not limited to lap time," says Sergio Cont, one of the two brothers who founded LeCont in 1993 and responsible for compound development. "At the design level, LeCont has always attached great importance to tires that develop the best performance with great consistency. Research into compound formulation therefore focuses on the search for consistency and temperature containment to avoid sudden and rapid drops in performance levels while also ensuring the longest-possible tire life.
"LeCont tires may sometimes need a couple of laps longer than competitor products to reach the correct operating temperatures and express their full potential," he continues. "However, we believe that once this peak has been reached, the tire performance remains stable for a very long time."
Cont explains that lateral adhesion in a kart tire, which determines cornering speed, is developed through theoretical research and thousands of kilometers on the test track. The goal, he says, is the best lateral grip without going beyond the point where excessive grip would stop the kart sliding through corners, slowing it down.
"Regarding longitudinal adhesion, it is essential to find the correct traction, avoiding both wheel spin and excessive grip," he continues. "A kart has neither suspension nor differential and this complicates the work of the tires. In addition, the high number of tire rotations, combined with the small size of the wheels and tires, means that they are often subjected to greater stresses than those experienced in major race-car formulae."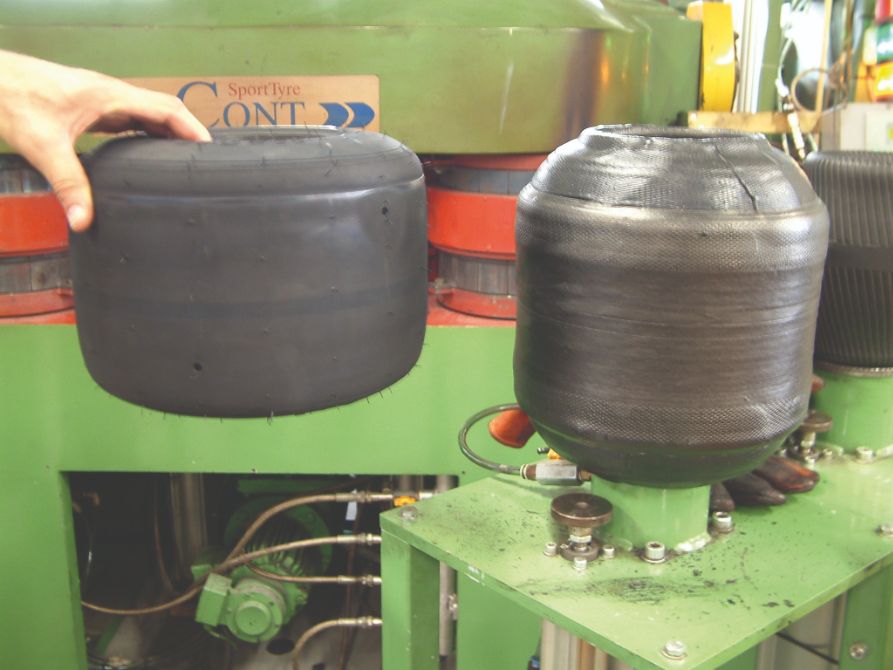 Construction and compound
Bias-ply tires have been mandated in kart racing since the CIK outlawed radials in 1983, when a driver with bespoke Michelins caused a stir in a race at Le Mans. According to Cont, polyester plies are predominantly used for all slick tires. For wets, LeCont and many of its competitors use nylon fabrics, although some use other types of polyester here as well. Aramid is sometimes used in development tests but would lead to significantly increased cost if adopted in a production tire.
"There is a reinforcement under the first layer of cross-plies in the slick-tire carcass, at the height of the buttress," Cont explains. "This is for safety reasons, to prevent the fabric cords in the most heavily loaded area of the tire coming off. LeCont uses a secret construction technology that enables it to affix the tread band to the carcass without it being cut and pasted. This technology prevents any possibility of open plies or delamination of our tires, for which we do not even indicate a direction of rotation."
However, the role of the bias-ply carcass in karting is complicated by the lack of suspension.
"Karts exert many gs of lateral force," observes Heidenau's Schander. "For me, carcass reinforcement – the overall stiffness of the tire – is just as important as the compound. Because the only spring-damper system is in the carcass and the kart chassis, you have to choose what lateral force the tire will hold and how fast you can corner, before the spring-damper system fails."
Bead stiffness (and therefore sidewall stiffness) is also critical in a 5in tire subjected to extremely high levels of rotation: the 125cc Rotax engines reach 14,000rpm and power is transmitted to the wheels via a solid axle.
"The beads are special too – very small but still able to transfer high loads from the tire to the rim, chassis and driver," adds Schander, who identifies the sidewall-bead interaction as a critical part of tire behavior. "You must also screw the bead to the rim. There is so much load on the tire that without the beadlock screws, in some cases the bead might be pushed from the rim."
Identifying the right combination of compound ingredients is the other major tuning variable for a kart tire. Experts are cagey about the exact materials involved beyond the usual mix of synthetic rubbers, oils and carbon black. Silica is used in wet-weather tires and, as in road car tires, high-aromatic oils are prohibited by the CIK regulations.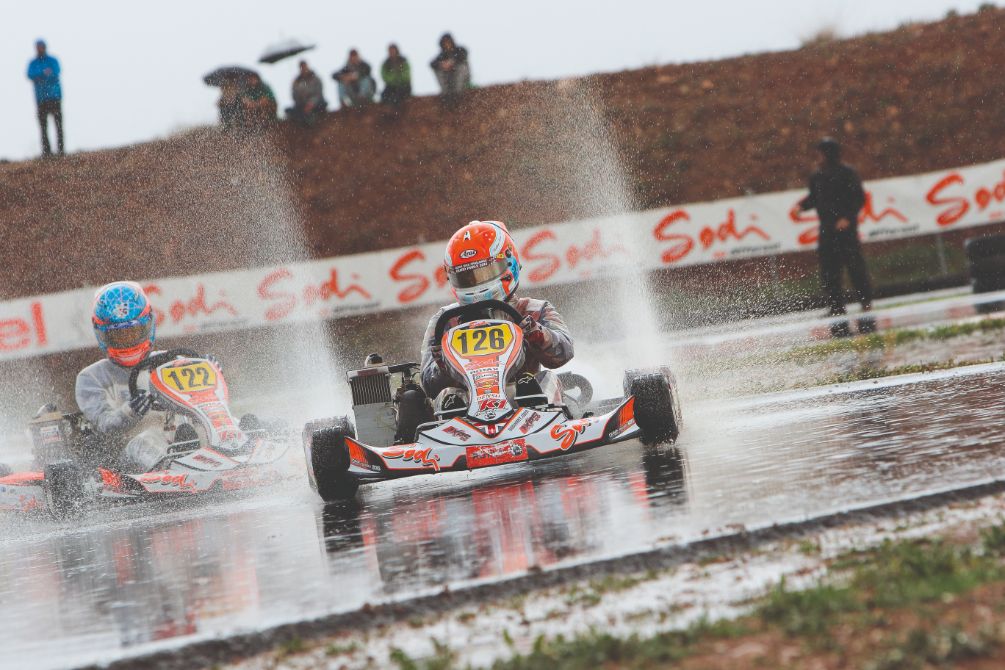 Development and testing
Kart race tire development is made more difficult by the CIK-FIA's cost-reducing, three-yearly homologation cycle. Their specification now fixed, homologated tires must work well in all conditions.
"Experience is particularly important in this sport," says Cont, who is part of a five-strong development team that's been in place at LeCont for more than a decade. He notes that a new design can take anything from a few weeks to a couple of years to create. "Development never stops. Between one homologation period and another, the team continues to conceive, test and develop new prototype products."
Conventional, Flat-Trac-style test benches are not suitable for the kart tire's small size, but LeCont believes it is unique among kart tire manufacturers in developing and building its own dynamic test bench. "It is a great tool for checking tire behavior in critical and extreme conditions, like running at very high speed with very low inflation pressure, that are not possible to check safely on the track," says Cont.
As the homologation date approaches, LeCont freezes its designs and defines which Option, Prime and Wet tires are considered at that juncture to be the most complete from a construction and performance point of view. These are then produced in the required quantities (500 tires per model in the case of 5in slicks, for example) to be taken by the CIK for the laboratory and track homologation tests.
"In the meantime, development continues in parallel even before this homologation has been obtained," he continues. "Perhaps another interesting avenue had already been identified but needed further confirmation or more precise fine-tuning. Between homologation periods, six or seven other versions of Option and Prime, and maybe a couple of Wets, might be designed and tested with continuous improvements, as a development base for the final versions of the subsequent homologation."
A design that provides a particularly big step forward might be introduced under a new name as a non-homologated tire in a market that does not require CIK homologation, so that experience can be gathered in race conditions. "Races are without doubt always the best-possible test bench," says Cont.
At Heidenau, Schander agrees that there's no substitute for track testing when developing new iterations of the company's Mojo tires.
"You can do a lot of laboratory tests or simulations, but the best validation of all the work and knowledge you put into development of a racing tire is on the racetrack. For us, it validates the performance/lap time, wear rate, durability, long-term performance and quality we can deliver to the customers. Most of our final [design] decisions are made at the track."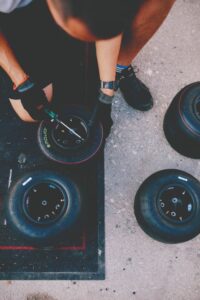 Manufacturing
Overall, Heidenau produces around 800,000 tires for different applications and vehicle categories, with production numbers on the rise. Schander highlights the elevated quality requirements for kart tires as marking them out from other categories. Consistent high quality is a prerequisite for any racing tire, but the small size, high loads and absence of suspension amplify the impact of any imbalances or material problems in a kart tire.
"It really is a whole other level of quality control in manufacturing," he says. "In racing, bad news travels fast. You must take care during the entire manufacturing process. There are checks at every step until the final curing, but afterward, every tire is again checked manually before it goes in the box.
"At certain stages we also go on the racetrack to check the performance. We track all the data, comparing many tires over years [of production]. Each Mojo tire is equipped with a unique barcode label so we can track a tire during its whole lifecycle. We even know when and by whom each tire was manufactured.
"Karting isn't typical mass production," he concludes. "You must keep your quality as high as possible because the customers are drivers: they see and feel it on the track and have to trust the product. To be successful, you have to make them happy."