TTI explores the tire maker's new advanced tire testing facility at the company's Global R&D Center in Chennai. The facility, which opened in December 2022, aims to improve efficiencies in developing tires for passenger vehicles and two-wheelers, with a specific focus on electric vehicles.
The testing facility is aligned with the auto industry's shift toward EVs, and highlights Apollo's desire to strengthen its capabilities in tire design in this growing segment. The facility is also part of Apollo's 2026 vision, which includes technology as one of its key pillars. India's EV registration hit the 1,000,000 mark for the first time in 2022 and Indian tire producers are now increasingly focused on this emerging segment.
"The major challenge pertains to the surging sales of EVs and the future being with autonomous vehicles," explains Daniele Lorenzetti, Apollo Tyres' chief technology officer. "This evolution will require more focus on tire dynamics characterization at high torque and on comfort and noise, which requires continuous focus on an effective and efficient tire development process to enhance competitiveness in both OEM and replacement projects."
In light of the major market disruption caused by the emergence of EVs as modes of personal mobility, Indian manufacturers are reassessing their strategies to produce EV-specific tires. The focus is on producing EV tire ranges that offer ultra-low resistance, improved wet and dry traction, greater durability and lower levels of road noise.
Apollo also believes that regulations and sustainability will drive innovation, and that future tires will need to be produced with more sustainable materials and less weight while also delivering robust performance with longer tire life, improved durability and extended mobility.
The advanced tire testing facility will focus primarily on testing passenger vehicle tires, EV-specific tires for passenger vehicles, and motorcycle tires. Apollo operates a separate test facility for bus and truck radial tires.
The company has declined to comment on the annual cost of testing tires in overseas facilities. However, the in-house facility will likely slash the time involved and the costs of hiring testing sites abroad.
"More than spending on testing in overseas facilities, the time taken for testing at international facilities was the major concern, which greatly impacts product and technology development cycle time," says Lorenzetti.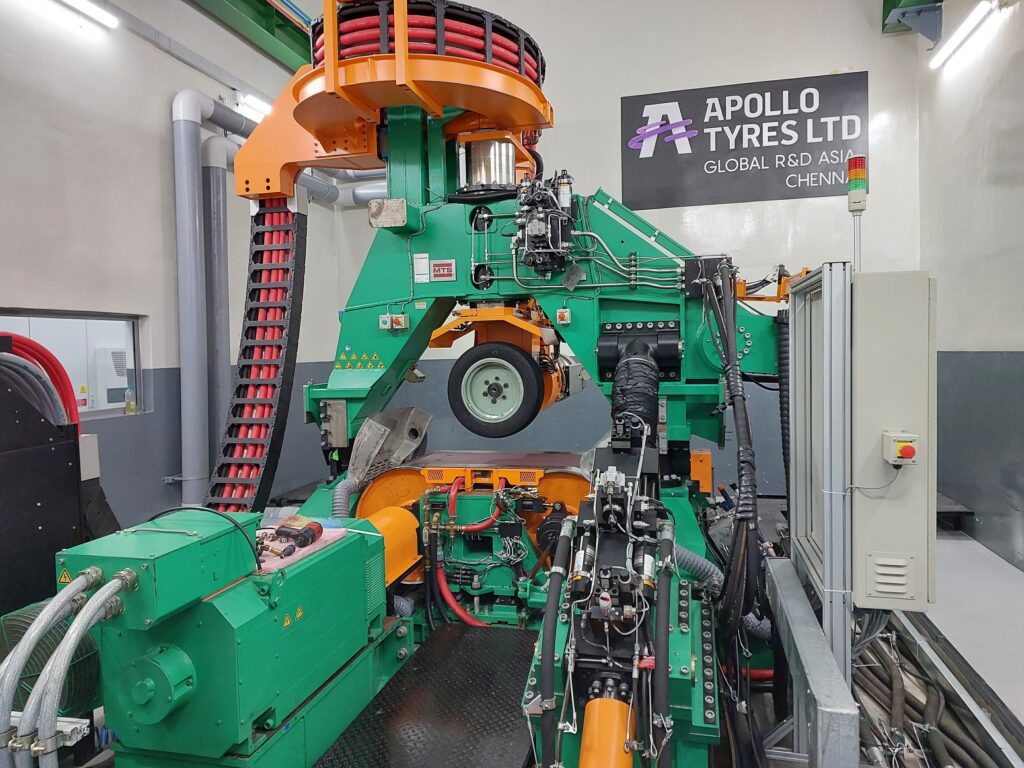 One-stop facility
OE tire development is a complex process with multiple design iterations generated in collaboration with vehicle manufacturers. For replacement tires, versatility is critical as the same tire is used for many vehicles. Apollo's aim with the new facility is to considerably reduce the number of iterations, helping to develop tires in line with OE and replacement market needs.
"Earlier advanced tire testing was scattered at multiple locations, but this one-stop facility supports faster development of tires," explains Lorenzetti. "In addition, it is unique, with advanced features to closely mimic real-world needs."
One of the advanced tire testing facility's main features is a Flat-Trac machine, which is used to characterize handling parameters and tire models and measure the force and moment properties of tires.
"It is important to address the OE needs of ride and noise performance tuning to vehicles to reduce the development cycle times," Lorenzetti adds.


Customized testing machines
Apollo collaborates with leading international suppliers for custom-designed testing machines with advanced features. The Flat-Trac machine is customized to address tire characterization and simulation needs for future vehicles, such as EVs and autonomous vehicles. Compared with earlier setups, the customized machine replicates real-life situations, including emergency vehicle maneuvers and the high slip angles that are important in the development of tires for sport and performance cars. The machine also offers high torque ramp-up rates to simulate tires on vehicles with electric powertrains. For two-wheeler tires, the Flat-Trac machine can also create severe inclinations, making it possible to simulate tire conditions for premium motorcycles.
Another key feature of the advanced tire testing facility is a high-speed uniformity machine combined with an anechoic chamber to study mechanical and acoustic conditions. The machine tests tire NVH performance via the generation of different road profiles, which helps tire and vehicle developers collaborate on tire development.
Global and domestic certifications
The new facility is accredited with the required global and domestic certifications, which is vital because Apollo exports to territories including the EU and USA.
"We handle testing of pneumatic tires as per ECE regulations, GSO standards and so on," says Lorenzetti. "We also carry out all test requirements as per the international standards. Our laboratories are also designated by RDW, one of the government bodies for ECE [Economic Commission for Europe] certification."
Apollo has the option to expand the facility in the future if new opportunities emerge in the Indian tire market. "As of now, we are self-reliant with our existing capabilities," Lorenzetti explains. "Yet, technological evolution being a continuous process, we may have
to expand in the future."
India's NABL (National Accreditation Board for Testing and Calibration Laboratories) has already accredited the facility in line with ISO/IEC 17025 for wet grip and coast-by noise tests on the track for C1, C2 and C3 tire categories, which are covered by the tire labeling program.
The new facility is also open to domestic and global vehicle OEMs that have a presence in the Indian market, as part of a collaborative approach to the development of advanced tires.
ELECTRIC DRIVE
Advanced testing will build on Apollo Tyres' current EV portfolio

Apollo has entered the EV tire space with the 2022 introduction of EV-specific tires under two new brands – Amperion for electric passenger cars and WAV for electric two-wheelers.

The Amperion range was launched in two tread sizes – 195mm and 215mm – both targeted at SUVs with R16 and R17 rim size profiles. The new range also features five-star BEE (Bureau of Energy Efficiency) certification for low rolling resistance, wet-grip performance and road noise.

The WAV two-wheeler range is designed to offer low rolling resistance and high traction, given the initial torque typical of electric powertrains.

By the numbers

India's EV registration hit the 1,000,000 mark for the first time in 2022 and Indian tire producers are now increasingly focused on this emerging segment.
This article was first published in the March 2023 issue of Tire Technology International, available to read for free, online, here.