Earlier this year, Jack Roper spoke to leading manufacturers about re-entering the bicycle tire market, going head-to-head with proven developers with a history of race-winning technologies
Generally speaking, the Covid-19 pandemic has presented the tire industry with many challenges. Cycling, however, has flourished as locked-down populations rediscovered a childhood love of two wheels and dreamed of a greener, post-pandemic future. The Covid bike boom is a happy coincidence for manufacturers Pirelli and Goodyear, who have recently re-entered the bicycle tire market after a decades-long break.
"We're the smallest but fastest-growing Pirelli business unit," says head of Pirelli Cycling, Matteo Barbieri. "Our passion for performance corresponds completely with Pirelli's value proposition. Consumers can buy the exact product running in the Giro D'Italia." Pirelli dismantled bicycle operations in the 1980s, leaving a residual presence in Brazil, but its 2017 relaunch sits squarely in its Italian heartland. "We're converting our Bollate factory outside Milan to be dedicated to cycling," explains Barbieri. "We will customize machines to achieve a level of automation, safety and quality unavailable in the market today."
One name that has never left the market is Vittoria, which made its name in bicycle racing and has been the tire of choice for numerous winners of Grand Tour and Olympic events. "We've expanded into mountain bike and emerging gravel markets while maintaining premium status," says senior product development VP Ken Avery. The company makes bicycle tires only. "Automotive tires are radial, but bicycle typically uses bias-ply construction," explains Avery. Cloth plies are perpendicularly overlaid at 45° to rolling direction. "Bias-ply [or cross-ply] provides a durable, easy-to-produce structure with dynamic properties of acceleration, braking and cornering in a lightweight package."
Pirelli bicycle technologist Filippo Galli explains more. "Radial construction prevents deformation under high-speed centrifugal forces, but cyclists don't reach automotive speeds. Cross-ply is a structure we know well from motocross." Heavy-duty urban or downhill bicycle tires have rigid steel beads, but road-racing tires sold in boxes have foldable beads of aramid or carbon. Clincher tires attach bead-to-rim and are held on by air pressure when inflated. "Clincher manufacturing involves similar processes and materials to car tires," Galli continues. "What differs are the material dimensions.
"Producing bicycle tires is a jewelry process requiring dedicated machines. Our thickest material is thinner than the thinnest motorbike-tire material." But the tubular tires traditionally favored in road racing have no beads: tires are sewn around a tube then glued to the rim. "Tubular is a completely different technology," Galli adds. "Much more manual and nothing to do with car or motorbike tires." 
Back in the race
Goodyear began making bicycle tires in the 1890s. This ceased in the 1980s when global production moved to Asia, but the company has now re-entered the arena with Rubber Kinetics as its global licensee. 
"We design, manufacture and sell Goodyear bicycle tires,' says Rubber Kinetics' president, Luke Musselman. "We launched our products in 2018 and, within three years, have tires performing at World Tour level." He identifies four categories of premium tire – road, urban, mountain bike and gravel – with divergent attributes shaped by intended usage. For road tires, low rolling resistance is paramount.
"We also want a tire that is comfortable, puncture-resistant and manages vibration. In automotive, you press a pedal, the engine turns and provides consistent power. But pedaling is never consistent." Whereas low rolling resistance increases a car's fuel economy, in cycling it economizes leg power, optimizing the translation of human wattage into forward motion. The same principle applies when pedaling is underwritten by electrical assistance. "For e-bikes, rolling efficiency increases battery life at the same aspect," Musselman continues. "It maximizes usage, whatever the fuel."
In 2019, Rubber Kinetics opened its dedicated bicycle tire plant and R&D center in Taiwan. "The facility allows us to capitalize on qualitative and quantitative field-based test results, including Team Qhubeka ASSOS rider feedback, and lab results like rolling resistance coefficient measurements," Musselman explains. This process produced the Dynamic:GSR, a proprietary blend of natural and synthetic rubbers enhanced with graphene and amorphous spherical silica. It expands the magic triangle of tire properties, delivering gains of 10.1% in rolling efficiency, 8% in traction and 7.2% in durability over a standard compound.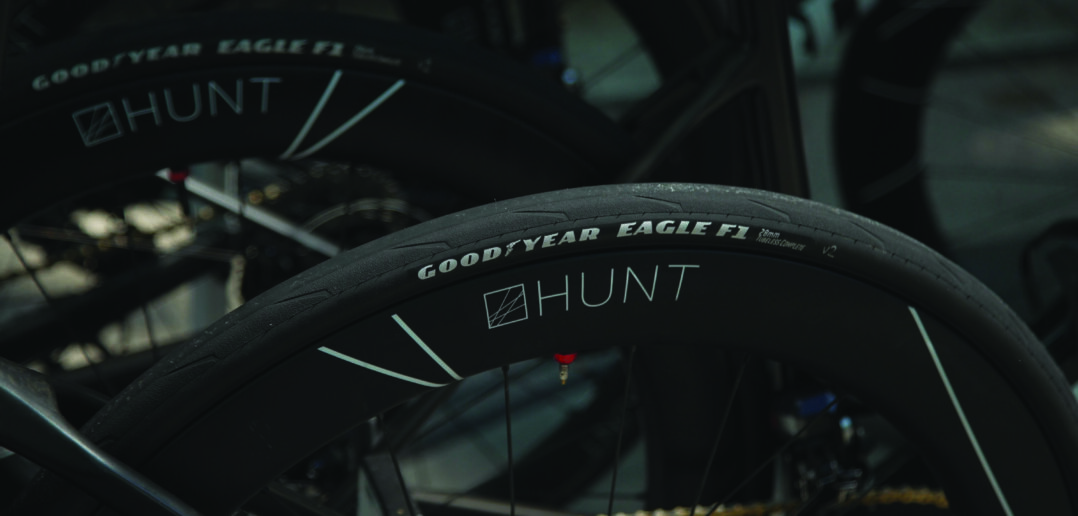 Tech gains
"We respect procedures defined for Pirelli at corporate level," says Galli. "We share testing facilities with the motorbike department and tune the same methodologies and tooling for bicycle." Drawing on motorsport expertise enables innovative compound chemistries like SmartNet Silica. "Instead of spherical molecules, we use nanorod silica molecules with one dimension predominant," he explains. "It provides anisotropic behavior: fast, stiff and precise in the rolling direction, but soft and grippy when leaning."
Pirelli introduced functionalized polymers to cycling, and its Armour Tech system, which provides the Cinturato Velo with best-in-class puncture resistance, uses a compound with Kevlar microfibers to repel damage from spikes. "One department in Pirelli formulates compounds for bicycle, motorbike, motorsport and passenger
car," Galli reveals. "Working on every aspect of consumer tires creates compound and material synergies."
Vittoria, meanwhile, was first to introduce graphene to bicycle compounds, according to Avery. Graphene changes rubber's elastomeric properties, creating faster-rolling compounds without the usual compromise on durability or grip. "It meant we could create the fastest-rolling bicycle tire ever made: the Corsa Speed TLR," Avery explains. 
Vittoria 4C is a process that layers four compounds in one tire. "Forces at the center of a tire are different to those on the side, especially off-road on different sorts of dirt," Avery explains. 4C combines a firm base and softer surface compound both side and center. "Progressive flexing means the tread won't tear off the casing," he adds. 
Goodyear recently announced its partnership with Switzerland's aforementioned Team Qhubeka ASSOS. "The difference between winning and losing a three-week Tour de France can come down to mere seconds," says Musselman. "It's an ideal testing ground because professional riders push tires to the limit." 
For Pirelli, World Tour teams such as AG2R Citroën, BikeExchange and Trek-Segafredo are integral to product development. "Our products are born from their needs and they provide final validation," says Galli. "Feedback from different teams using different materials is [a form of proxy testing] for the robustness of our design."
The P Zero Race Tub SL, a tubular tire used in the 2021 Giro D'Italia, represents a response to racing imperatives. "In uphills, every gram must be carried up the mountain," says Galli. "Rotational inertia is perceptible and every gram on rotating masses is one you have to brake or maneuver." The Race Tub SL replaces the standard latex inner tube with thermoplastic polyurethane, providing equivalent speed and puncture protection at significantly lower weight. Simon Yates finished third in the Giro D'Italia and Geoffrey Bouchard won the Mountain classification on the tire. "Tires are the first component that riders complain about," says Galli. "Any solution where riders are confident in all conditions is a success."
Follow the numbers
Pirelli's corporate methodology entails data-driven development. "We conduct indoor and outdoor tests, both subjective and objective," says Galli. "At each phase, we combine that data to define the next loop, until we reach industrialization." Collaboration with Politecnico di Milano has enabled Pirelli to exploit the potential of simulation. "We developed a CFD model to simulate the wheel's overall aerodynamics and study the tire-wheel coupling, a crucial interaction for professional riders."
Elsewhere, although Vittoria uses finite element analysis, Avery sees limits to the applicability of virtual development. "For the driver, automotive tires are comparatively muted," he says. "You don't lean your car over at corners, or adjust your air pressure every time you drive." Variations in terrain, rider weight and riding styles all affect performance but are hard for models to replicate. "We use FEA as a baseline, but virtual development that spits out a perfect product is difficult in cycling," Avery concludes. "Our best-quality data comes from lab simulations and athlete testing."