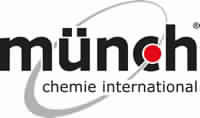 Since its founding in 1948, the family-run company Münch Chemie International GmbH, with its headquarters in Weinheim, Germany, has specialised in high-quality release agents and processing aids for various branches of industry, particularly for the tyre industry.
Due to its high level of flexibility, its speed and its range of customised solutions, Münch Chemie has established itself as one of the market leaders in the field of release agent technology. Thanks to the strong development team, an international sales network and licensed production in Asia and South America, the products are used worldwide and are very much appreciated by customers.
Release agents are an indispensable part of many modern production processes. As an auxiliary material, they contribute to efficiency and effectiveness within the scope of production – their actual value is however frequently underestimated. Although release agents were merely a necessary measure at one time to prevent mould sticking, today they increase productivity, accelerate the entire process, ensure perfect product quality and increase the service life of the machinery involved.
All this is particularly emerging in the tyre industry because various release agents are used for crucial steps in the manufacturing process and have very special tasks to fulfil.
For decades, Münch Chemie International GmbH has dealt with the further development of these special release agents. The German company offers a very extensive product range of innovative and high-quality solutions for all fields, comprising semi-permanent and permanent release agents for press moulds, inside and outside tyre lubes, bladder coatings, lubricants for tyre fitting and tyre paints.
In addition to tried and proven standard products, Münch Chemie also offers innovative and customised solutions for specific customer requirements.
[caption id="attachment_17874" align="alignleft" width="720"]
Product portfolio for the tyre industry[/caption]
[caption id="attachment_17873" align="aligncenter" width="702"]
Tyre tread marking paints[/caption]
[caption id="attachment_17872" align="aligncenter" width="702"]
Bladder[/caption]