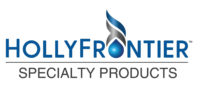 HollyFrontier and its world-renowned Circosol® rubber process oils have a long and close history with the rubber industry. The company helped introduce the use of rubber process oils for natural rubber. Working with leading chemical companies, it assisted in the invention of Styrene Butadiene Rubber (SBR), the first synthetic rubber polymer. It followed this by introducing aromatic rubber process oils specifically for use in tires and SBR. It continued its pioneering work by introducing, a low fog, low volatility process oil for the first patented Thermoplastic Elastomers (TPE) using Ethylene Propylene Diene Monomer (EPDM) and Polypropylene. And, in recent years it introduced Circosol® 8000EU, HollyFrontier's non-labeled, low PAH, high aromatic RAE Clean Aromatic Oil™ for tires.
Circosol 8000 EU also provides up to a 43% shorter dry stopping distance, and up to a 25% shorter wet stopping distance compared to other oils in tires tested by an independent testing facility. It also meets the European Standard for non-carcinogenicity, helping build a safer, more marketable tire. In keeping with this history of innovation, we continue to work side-by-side with the industry by maintaining the only fully equipped and professionally staffed Rubber Lab in the oil industry, an invaluable asset for customers seeking more efficient and productive compounding.
About HollyFrontier Corporation: (NYSE:HFC)
HollyFrontier Corporation, headquartered in Dallas, Texas, is principally an independent petroleum refiner that produces high-value light products such as gasoline, diesel fuel, jet fuel, specialty lubricant products and specialty and modified asphalt. HollyFrontier produces process oils and other specialized lubricants in the U.S., Canada and the Netherlands, and exports products to more than 80 countries.
For further information, please contact ProcessOilTeam@ HollyFrontier.com