Evonik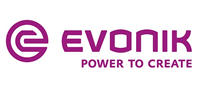 The continuous expansion of Evonik's existing ULTRASIL® precipitated silica production sites as well as the construction of new sites in close proximity to tire manufacturers aims to ensure the timely and sufficient supply of precipitated silica for tire production sites around the globe.
Following the continuous expansion of capacities at the company's nine production sites around the globe in past years, Evonik recently opened a new production facility in Americana (São Paulo), Brazil. Furthermore, the specialty chemicals group is currently building a facility close to the production plants of large US tire manufacturers near Charleston, South Carolina, which is scheduled to be completed by mid-2018.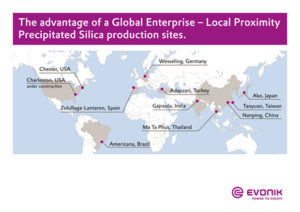 The local presence of Evonik offers local as well as global customers all the advantages of a global high-quality silica provider for resource-efficient applications, while increasing supply security and flexibility. Last but not least, Evonik is able to support its customers with mandatory tire energy consumption labeling—with high quality products, reliable service, and custom-tailored solutions. At its largest global production site in Wesseling, Germany, the company maintains a modern competency center for application technology and development, which communicates with tire experts at the local sites around the globe.
Evonik is the only manufacturer worldwide to offer both conventional and high-dispersion precipitated silica as well as silanes. The market for fuel-efficient low rolling resistance tires is growing significantly faster than the market for standard car tires. The use of silica in combination with silanes, which Evonik also produces, allows for manufacturing tires with significantly reduced rolling resistance, which can save up to eight percent of fuel (compared to conventional car tires).
Moreover, the specialty chemicals company continues to research the development of fuel-efficient and abrasion-resistant tires for trucks and buses, cooperates with tire manufacturers to find solutions for more efficient and energy-saving manufacturing processes, and involves additional products of the Group in the search for options to further improve tire performance.
Up to 20 percent of every tank of fuel goes to overcoming a vehicle's tire resistance. Reducing rolling resistance by 30 to 40 percent enables a reduction in fuel consumption by approximately 8 percent. For a passenger car with an average consumption of 8 L/100 km and an annual mileage of 25,000 km, this corresponds to savings of up to 160 L of fuel or 380 kg of CO2. Accordingly, there is strong interest in further reducing rolling resistance. However, the magic triangle, a basic principle of the tire industry, states that improving one of the core characteristics of rolling resistance, wet grip, and abrasion resistance always affects at least one of the other properties.
This explains the success of Evonik's silica/silane system in the past two decades. The combination of precipitated silica (ULTRASIL®) and rubber silanes such as Si 69®, Si 266® or Si 363TM reduces rolling resistance by more than 30 percent, while at the same time significantly increasing wet grip without compromising the life expectancy of the tire. The silica acts as an active, reinforcing filler and the silanes serve as a link between non-polar rubber and polar silica.