Martin von Wolfersdorff of Wolfersdorff Consulting gives an overview of the current state of play in the recovered carbon black market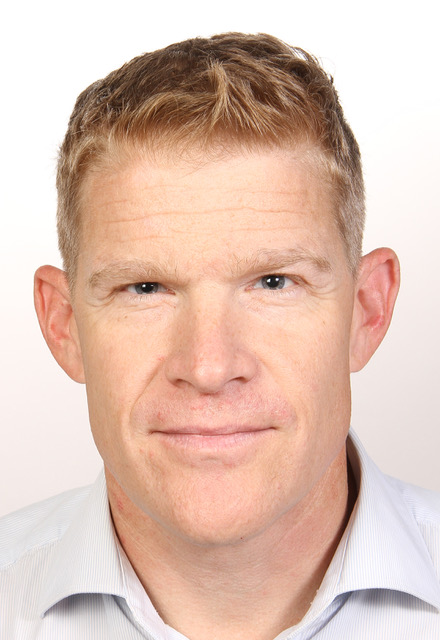 I appreciate it when carbon black Tier 1 companies talk about recovered carbon black (RCB). All the top carbon black makers attend my RCB workshops, presentations and conferences. There are ample opportunities for collaboration between the RCB and the CB industry, some of which I highlighted in my Carbon Black World 2018 presentation in Düsseldorf (see image below). There is still some way to go though. 
I even get it when carbon black makers bash RCB for its many weaknesses. It is not carbon black (1), it might not be consistent (2), and today it certainly cannot be used in passenger car radial treads (3). We have not even talked yet about the RCB industry's low production volume and low security of supply. During my time in the carbon black industry, I have said 'no' to many inquiries from questionable little startups that claimed to produce recovered carbon black. Once I had my team test such a sample. It was smelly and performed poorly. That was in 2013. 
Since then, the tire pyrolysis industry has evolved. The most impressive proof of that was the first Recovered Carbon Black Congress in Berlin on May 21 and 22, where 172 participants from all over the world met to discuss the current state of RCB technology, and which had a keynote from Michelin and presentations from rubber industry leaders like Hexpol and Semperit. This event will now be organized annually to follow the rapid developments in the industry.
So, I was a bit surprised about the recent interview with Cabot Reinforcement Materials president Bart Kalkstein in which he talked about recovered carbon black (4) in the context of ERJ's Special Report about sustainability. I wonder what the intention was to defend carbon black as fiercely against recovered carbon black.
All five US carbon black makers are currently passing on EPA and IMO2020 compliance costs as price surcharges to their carbon black customers. Obviously many US customers are looking for alternatives, but I reckon that major movements are to carbon black imports rather than to RCB. The Tier 1 carbon black makers already lost part of this market to import players from Russia, China and Latin America.
I think Bart meant to say that RCB cannot currently substitute reinforcing virgin carbon black when he said, "RCB cannot currently serve as a substitute for virgin carbon black", because today's good quality RCB can replace close to 100% of N772 semi-reinforcing carbon black and sufficiently large amounts of N660 and N550 semi-reinforcing carbon blacks.
Striving to produce reinforcing RCB, many RCB companies think they have to reduce RCB ash content, but this is only half of the story. Some RCB inactivity is due to contamination of RCB particles with inorganics and char from carbonized polymers.
But the major reason for inactivity of RCB is the composition of the end-of-life tire feedstock. Due to silica fillers in tread compounds, European PCR tires can contain as little as 4% reinforcing carbon. Other regions like North America and Asia have lower amounts of PCR tread silica and hence higher amounts of reinforcing carbon blacks in their tire pyrolysis feedstocks.
While reinforcing RCB might seem like the holy grail of tire recycling for many, I recommend tire pyrolysis companies to first establish a stable operation of sufficient scale with normal and semi-reinforcing RCB. The market for this type of carbon black is big enough and companies can gain credibility by building a solid business in the semi-reinforcing market segment.
Semi-reinforcing RCB is already used in tire applications today, for example in solid tires, agri and mining tires and Asian PCR sidewall, innerliner and carcass compounds. Reinforcing RCB is in development and will require tire feedstock selection, special pyrolysis technologies and optionally post-treatment processes.
I believe that the recent drone attacks on the Aramco refinery will keep carbon oil feedstock – and hence carbon black prices – on a relatively high level. In this environment, RCB can be a good economical and ecological alternative, not in all, but in a sufficient number of rubber applications.
Alongside its extensive RCB consulting with more than 20 clients, Wolfersdorff Consulting will collaborate with global industry leaders in the definition of DIN SPEC RCB specifications. This will help potential RCB buyers to specify what they want to buy and it will help RCB producers to know what product quality they need to produce.
Footnotes:
1) RCB ash content typically is 15-20%, about 10 times higher that the ash content of (virgin) carbon black.
2) If tire feedstock is not controlled and if feedstock or RCBs are not blended.
3) Because of its lack of reinforcement, especially if whole PCR tires are pyrolyzed.
4) Bart talked about "reclaimed carbon black"; I reckon he meant "recovered carbon black" as defined by the ASTM D36 working group.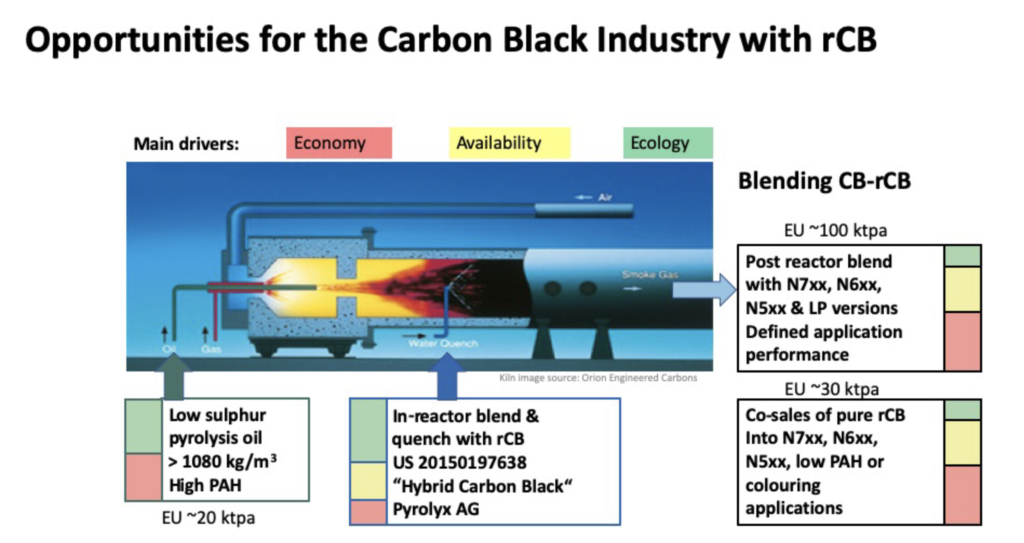 Graphic copyright: Wolfersdorff Consulting 2018