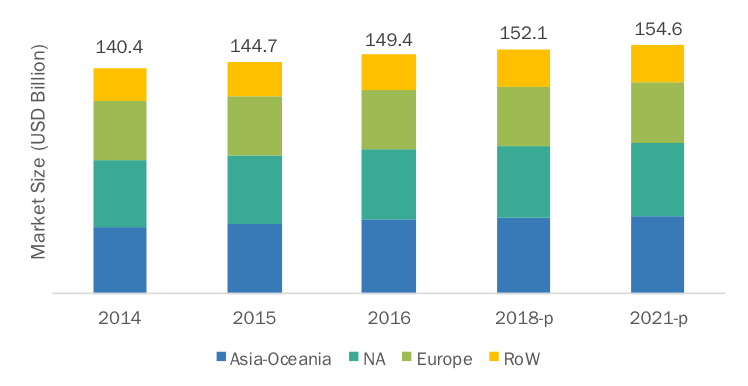 Global vehicle sales have shown a significant increase in the past six to seven years. They increased from 18.8 million units in 2010 to 20.1 million units in 2016. Of these, passenger car sales were 17.3 million units in 2016. Owing to the increased global vehicle sales, there has been a potential growth in the OE demand for tires.
According to a study, with 10% decrease in rolling resistance, there can be a ~1% to 2% improvement in the fuel economy. Hence, in order to meet stringent fuel economy as well as emission reduction targets and tire labeling norms, there has been increased investments in the technological development of tires. Also, manufacturers are focusing on the development of eco-friendly tires.
According to Markets and Markets Analysis, the global OE market is projected to grow at a CAGR of 5.48% from 2016 to 2021. However, the OE market for automotive tires is just the tip of the iceberg. With the increase in vehicle sales, there is an increase in vehicle parc. The global vehicle parc grew from 892 million units in 2005 to 1.3 billion units in 2015. Additionally, there has been a potential increase in the average miles driven per year per country in the past few years. All these factors have boosted the aftermarket for tires, which is projected to show significant growth in the near future.
While tire retreading is a challenge for commercial vehicle tire manufacturers, it can act as an opportunity for local aftermarket players. Presently, the retreading potential for light duty passenger cars is ~0.5% to 0.7% of aftermarket tires, and for light trucks that is ~1.5% to 1.8% of aftermarket tires.
The retreading of passenger car tires is minimal due to various reasons such as safety concerns, negative customer perception, improperly maintained core owing to below optimal inflation pressure, and higher tire rejection rate of 80% to 85%. For a light duty passenger car, single tire manufacturing consumes, on an average, 26.4 liters of oil. However, retreading of the same tire consumes only 9 liters of oil, which is almost 34% of the new manufacturing process. Hence, this can be a key opportunity for tire manufacturers.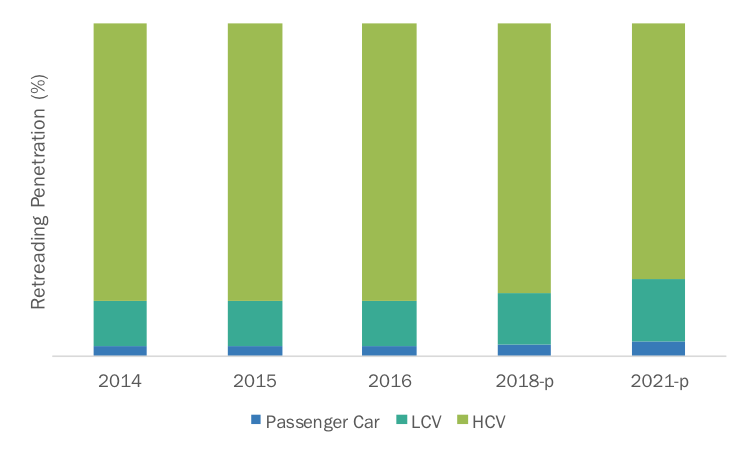 Asia-Oceania, as a hub of vehicle production and sales, is also the leading market for automotive tires OE as well as aftermarket. China is the global leader in vehicle production and sales and is known for its economical tires. Owing to the economical labels, these tires are gaining popularity in Europe and Asia-Pacific, posing a challenge for global tire manufacturers, which are focusing on vehicle safety, comfort, and fuel economy.
Also, China is a major influencer for the prices of raw materials, which helps it manufacture tires at economical costs. For instance, the country has surplus capacity of steel production, which is not only exported but is also influencing the global steel prices. Additionally, China is a leading consumer of oil and natural rubber, and its economy impacts the oil and natural rubber prices.
The global demand for OE tires is dominated by 16in to 18in rim size tires, followed by 19in to 21in rim sizes. The majority of SUVs and light/medium trucks use 16in to 21in rim size tires. Likewise, 19in to 21in rim size tires are used in heavy trucks. Alternatively, the aftermarket tire demand is dominated by 13in to 15in tires, which are used in hatchbacks and sedans.
Thus, owing to increase in vehicle parc and average miles driven per year, it is estimated that the aftermarket segment for automotive tires will be a leading segment in the near future. The demand for economic cars, especially from Asian developing countries, will continue to dominate the global passenger car market, which will create a significant demand for 13in to 15in rim sized tires. Alternatively, with increase in sales of SUVs/MPVs and light trucks in recent years, the demand for 16in to 18in rim size tires will experience a increase in coming years.
Amey Amanaji, automotive and transportation research expert, Markets & Markets