Italian farming company Nodari notes the continually evolving requirements in today's farming world, as operators prepare for Agriculture 4.0.
Farming company Nodari uses BKT tires on much of its equipment. The well-established company from Brescia in Italy provides services to local companies, operating mainly as a contractor, especially for biogas plants.
According to the company, as highlighted through its first-hand experiences, needs have changed on a clear course over the last few years. Martino Nodari, the founder's son, gave BKT an invaluable insight into the evolving world of agriculture.
"Equipment has changed, and the spread of biogas has undoubtedly played an important role in this change," Nodari says. "This kind of activity requires large lots of land in order to continuously feed the plants; some pieces of land are located at quite a distance from each other. This means that tractors and trailers have to cover greater distances. As a result, tires are subject to major wear, and there is a noticeable increase in the fuel consumption of the vehicle.
"Nowadays, farmers require more and more specialist equipment. As a contractor we have to adapt to all their requests. Today, every single operation is marked by Agriculture 4.0 – from land mapping with drones to varied ratio seeding. In order to adapt to such changes, we have had to invest in new machinery, taking our equipment fleet to a total of 40 vehicles. Using the right equipment and the right technology, it is possible to perform the same task while spending less money, but still obtaining excellent results," Nodari continues.
"For example, two main players in the field of 'smart farming' technologies have performed mapping and analyses on fields of 30ha. From the collection date we are able to establish the areas that need to be fertilized and those where seeding is needed. As a result we have been able to maximize crop yields, avoiding waste. It is important to know every detail of a field in order to maximize its potential. Today, we can obtain and analyze large data quantities, including real-time operations in the fields and land satellite pictures. This enables us to do our job more effectively than ever before," explained Nodari.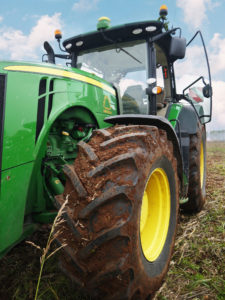 "Equipment must be chosen carefully and according to the tilling needs, as well as the requirements of other operations. Now more than ever, special tires are needed for these unique applications. For transporting goods certain tire features are desirable, while for preparing the land, there are a completely different set of requirements. Today, one single tire cannot do everything perfectly. Using the wrong tire for road transportation, for instance, significantly increases hourly operation costs."
Nodari continues, "Furthermore, just four or five years ago, we did not check the inflation pressure of the tires as we didn't have the adequate knowledge – plus it was the culture – about the impact on total operating costs. Now the inflation pressure of the tires is adjusted for each application – especially important for soil tillage. For instance, inflating the BKT tires with VF-technology, i.e. very high flexion, according to the Indian manufacturer's recommendations gives a better weight distribution, increased traction, no sliding, and reduced fuel consumption."
In six years of working with BKT, Nodari has gradually moved over to BKT tires on around 80% of its equipment fleet.
Nodari explained why the company selected BKT as its supplier: "There were some issues with the tires we were previously using on our trailers. Upon looking for a solution we tried BKT tires in size 560/60 R22.5. The tires have shown an improvement over the previously used tires and subsequently, we have started to equip our tractors too, one after the other.
"We mainly use the Agrimax model in size 710/70 R42, 600/70 R28 and R30. For some pieces of equipment we use the tire in size 800/70 R38 because it is larger and does not compact the soil.
"We chose BKT tires because they are quieter than competitors and they are often able to offer something more in terms of output compared with the premium brands.
"We regularly monitor all our tractors and have recorded a reduction of US$2.28 (€2) per hour in operational costs. BKT is also very reliable. Its distributor, Univergomma, is highly qualified and extremely professional, able to provide consultancy in identifying the right tire for the application, in addition to other services."