Electric bus tires need to be able to support an unusually high vehicle weight and withstand the instant torque delivered to the wheels. As such, they must be high grip, robust, and have a high load carrying capacity.
The new Conti Urban HA3 all-axle tire, which is offered in size 315/60 R22.5 154/148J (156/150F), is designed to give good grip and have a high load carrying capacity of 8 tons per axle – 0.5 tons more than the standard for this tire size.
Thanks to its extremely robust casing with high wire density and thickness, it can easily carry the loads of a bus. It also has a sturdy and durable tread containing a large proportion of natural rubber, which increases resistance to cuts, cracks, chipping, chunking and abrasion.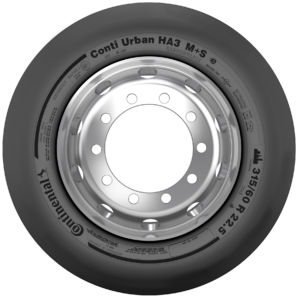 A special urban bus tread contour layout enhances durability and ensures wear is even, while the wide tread ensures excellent cornering stability and handling. The high-density interlocking sipes are designed to provide good grip and lane holding capability, even in extremely wet conditions, throughout the tire's service life. The staggered sipes, meanwhile, are said to reduce noise for increased ride comfort. Reinforced sidewalls ensure that the Conti Urban HA3 reliably withstands frequent curbstone contact.
"The new Conti Urban HA3 optimized for electric buses brings to fruition the valuable experience we've gathered from our recent collaboration with commercial vehicle manufacturers and municipal bus companies," said Lutz Stäbner, head of product management for Continental truck and bus tires EMEA.
"Thanks to its balanced performance profile, it provides a safe, comfortable, and cost-effective solution for enabling e-mobility in challenging stop-and-go traffic."