With sustainability top of mind in every business, TTI spoke to several leading lights within the tire industry to learn more about their latest strategies and technology to protect human health, conserve resources and safeguard the environment
Sumitomo Rubber Industries joins RE100
SRI has recently joined the RE100 initiative and committed to sourcing 100% renewable electricity by 2050.
 "Joining RE100 was a natural next step for our group, as this initiative perfectly aligns with one of the key targets to achieve carbon neutrality (Scopes 1 and 2) by the year 2050," the tire maker said in a statement.
RE100 is a climate initiative piloted by The Climate Group, and its members include large corporations aiming to reduce their carbon footprints by sourcing clean electricity. The scheme has more than 380 members who have set realistic dates for when their operations will be entirely run by renewable energy sources.
The initiative works with governments and local authorities to make and change renewable energy policies. The scheme also highlights areas of the world where access to clean energy sources can be more challenging. To keep businesses accountable and track progress, members of RE100 are required to report their use of renewable energy annually. The initiative's latest report shows that Japan is one of the most difficult markets in which to procure renewable energy. Overall, Japanese member corporations reported 15% procurement of renewable energy compared with 32% in China and 85% in Europe.
"Every industry must play its role in accelerating the net zero transition and the tire industry is no exception," says RE100 senior impact manager Maris Tebecis. "Sumitomo Rubber Industries isn't alone in the tire industry, and we've been proud to call Continental a member since 2020. This growing group of members from the wider manufacturing industry are accelerating global demand for renewable electricity and showing climate leadership."
Continental introduces sustainable vacuum solution
Continental has installed a new vacuum setup from Busch at its production plant in Aachen, Germany. The site previously had three side channel blowers that constantly ran at full speed; these are replaced with two Mink MV Synchro vacuum pumps.
The vacuum supports three textile cutting machines to ensure the material is precisely positioned. The previous system created noise levels around 94dB whereas the new vacuum unit operates below 72dB, comparable with ambient noise in the factory.
The new system also reduces energy consumption. Instead of consistently operating at full power, the vacuum is demand-driven, so can operate at a lower rotational speed, using less energy when full power is not required. When no textile strips need to be held, the system automatically turns off.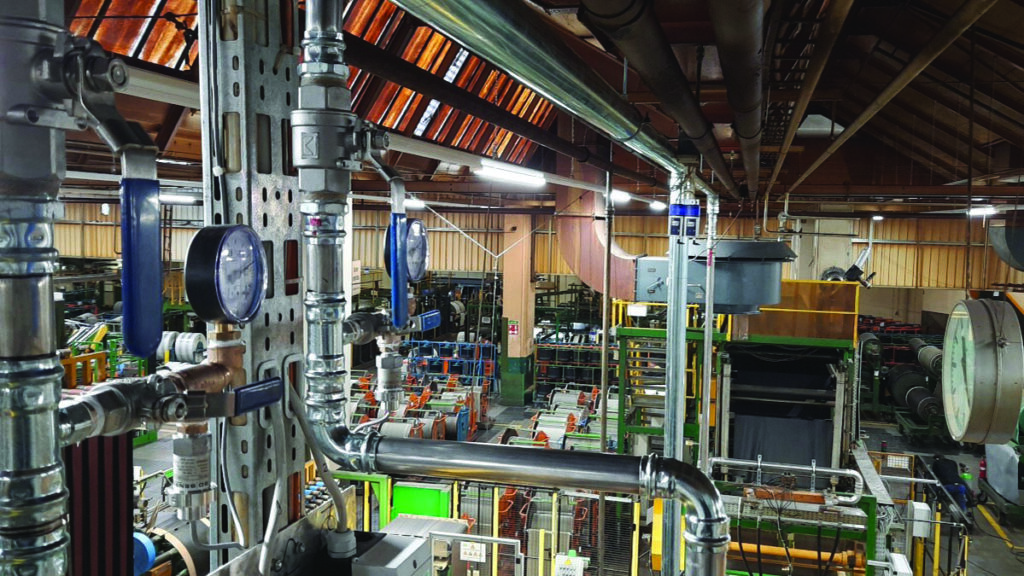 Although three blowers were required before, the new system now centrally supplies a vacuum via stainless-steel pipes. The previous vacuum consumed around 15kWh of electricity on average, whereas the new system uses 800Wh. This results in an energy saving of over 90%. The claw vacuum pumps require minimal maintenance. By providing dry compressed air, the system can work without operating fluids such as oil and water. When maintenance is required, one pump can be serviced while the other is still operational, increasing uptime.
Continental's former head of utilities and sustainable infrastructure, Ingmar Heinze, explains, "We were not only able to significantly reduce noise pollution for our employees but were also able to significantly reduce energy consumption and maintenance effort, and increase the productivity of the system."
Apollo and Tyromer form sustainable material partnership
The tire maker has announced a new agreement with Tyromer. This partnership will source tire-derived polymer (TDP) for new tire production. Tyromer is a Canadian company with sites in the Netherlands and India that specializes in recycling end-of-life tires.
Tyromer's Indian base will supply Apollo with TDP made via non-chemical rubber devulcanization. The patented method is a more sustainable option as it facilitates recycling used tires and consumes less energy than other devulcanization processes.
The system works by injecting supercritical CO2 into the extruder barrel containing rubber crumb. The CO2 causes the rubber to swell, which creates tension and results in the scission of sulfur cross links that form during vulcanization.
This method enables TDP to be added to a masterbatch at up to 20%. Producing new material consumes over 20MWh of energy per ton, whereas TDP requires less than 2MWh. Using one ton of TDP saves the equivalent greenhouse gas emissions of four passenger vehicles a year.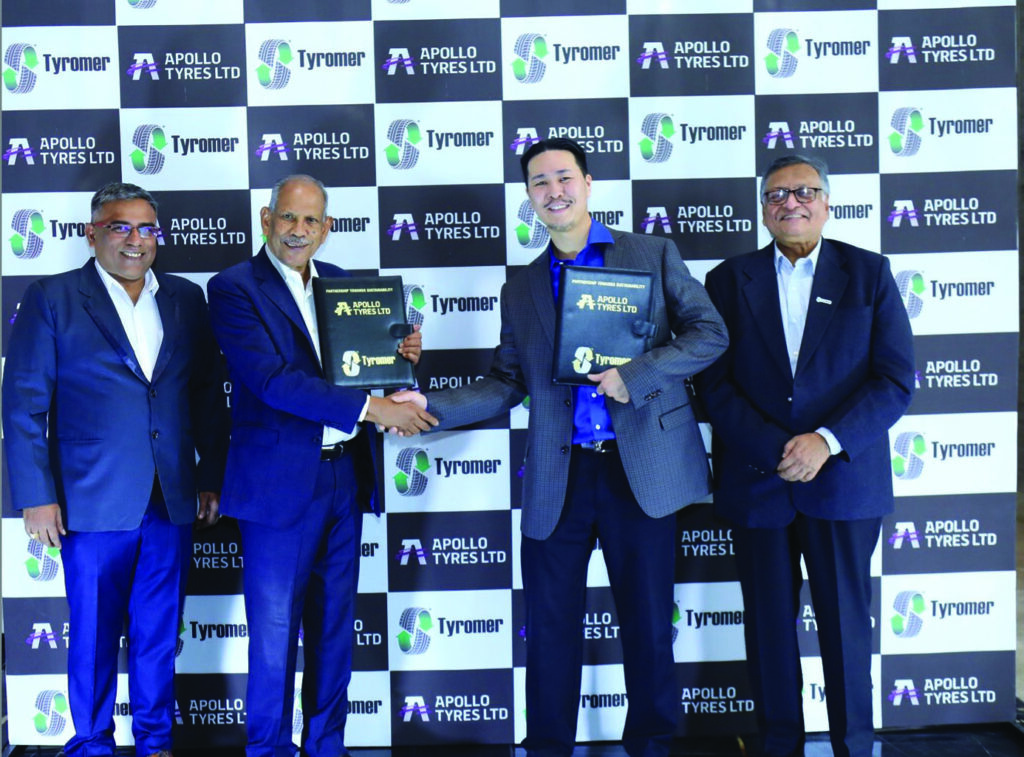 Tyromer estimates as much as 90% of energy is conserved by using TDP rather than virgin rubber compound. Recycling ELTs also diverts tires away from incineration and extends the lifespan of the material.
"This partnership with Tyromer is a step toward achieving our sustainability goals, and it also enables us to honor our extended producer responsibility (EPR)," explains P K Mohamed, Apollo's chief advisor for R&D. "Producing new tires using sustainable raw materials is currently the most efficient path to meet our circular economy goals."
Tyromer's CEO, Dr Sam Visaisouk, adds, "We are thankful to the Apollo team for its support of our vision of direct tire-to-tire recycling to achieve a tire circular economy. In the face of the climate crisis, not using rubber derived from ELTs is no longer an option."
Giti Tire trials new carbon accounting scheme
Giti has completed a four-month pilot of E-Liability, a new carbon accounting scheme. The company implemented E-Liability to measure its Scope 1, 2 and 3 carbon emissions and to more accurately calculate per-tire emissions. E- (environmental) liability was created by professors Robert Kaplan and Karthik Ramanna from Harvard and Oxford universities, respectively. They developed an accounting algorithm to show real-time accurate and auditable data of organizations' direct, supplier and product emissions. Compared with the standard GHG Protocol, E-Liability uses data sourced from suppliers to create a clearer picture of aggregated emissions, and believes working with suppliers to understand their emissions will enable organizations to identify areas where high GHG emissions are passed on.
François Petiot, director of quality assurance at Giti Tire, created an internal team to request emissions data from suppliers. "We found we were buying 'dirty' electricity and 'dirty' carbon black, so the CO2 emissions of our tires were high," he explains.
Giti was able to discuss with its suppliers how they could provide products with lower emissions, including using recycled steel instead of steel sourced from virgin ores. Using the E-Liability method, Petiot's team identified a potential 22% emissions reduction for passenger tire production.
If E-Liability accounting were applied across the tire industry, the hope is that greater transparency with suppliers would force firms to reduce emissions to stay competitive.
Nokian plans first zero-emission factory
In 2023, Nokian will begin construction of its first zero CO2 emission factory in Oradea, Romania. Chosen for its close proximity to customers and other logistical advantages, the site is intended to serve the Central European market.
"The selection of the location was influenced by, for example, logistics connections and infrastructure of the region, industry expertise and availability of a skilled workforce, efficient permitting and construction processes, as well as political, economic and socioeconomic stability," explains Adrian Kaczmarczyk, senior vice president of supply operations at Nokian Tyres.
Once construction is complete, the first tires off the production line are planned for the second fiscal half of 2024, with commercial production commencing in early 2025. Annual capacity will reach 6,000,000 tires with the potential to expand operations in the future.
"The Oradea factory will use several energy sources and we aim to use only zero-emission energy sources for the new site and completely avoid the usage of fossil fuels," Kaczmarczyk adds.
While the new site will increase Nokian's global output, the company's existing sites in Nokia in Finland and Dayton in Tennessee are themselves also expanding to increase capacity.
"We want to be the leaders of sustainability in the tire industry," says vice president of sustainability and quality, Teppo Huovila. "We believe that as the first CO2 emission-free tire factory, the Oradea factory will likely be used as a benchmark for future facilities that want to promote the same level of sustainability."
New Toyo Tires factory with solar farm opens in Serbia
Toyo's first European passenger vehicle tire factory has officially opened in Serbia. At full capacity, this smart factory is set to produce around 5,000,000 tires a year by the second fiscal half of 2023. The new Serbian base will supply passenger tires to Europe and North America and was built with renewable energy in mind.
The factory's solar array has been constructed to make tire production as environmentally friendly and carbon neutral as possible. Anticipated to produce 10.15GWh of electricity a year, the solar farm is intended to reduce CO2 emissions from the location by 7,100 tons annually. This will contribute to Toyo's target to reduce carbon emissions by 46% from 2019 to 2030, and its aim to achieve carbon neutrality by 2050.
The solar facility is designed to provide renewable energy and train a local workforce. The ambition of the project is to provide local workers with the skills required to install and manage the operation of solar power plants. As such, this project will enable the continued installation of solar sites in the wider community.
The new site also benefits from being closer to Toyo Tires' R&D center in Germany. Focusing on research around raw materials, technologies for the design process and market analysis, the factory will employ this information to support its product development of high-performance and electric vehicle tires.
Pyrowave achieves 100% traceable recycled styrene
In partnership with Michelin, Pyrowave has obtained a tested 99.8% pure, recycled styrene monomer from polystyrene waste. Pyrowave's recycling process means the styrene produced is identical to virgin materials and can be used in the same applications. Suitable for packaging and tires, this is a more environmentally friendly method to facilitate the circular economy of plastics.
The recycled monomer can be incorporated into elastomer batches and has a fully traceable lifecycle. Around three tons of recycled styrene has been delivered to Michelin. This will contribute to the manufacture of industrial SBR products.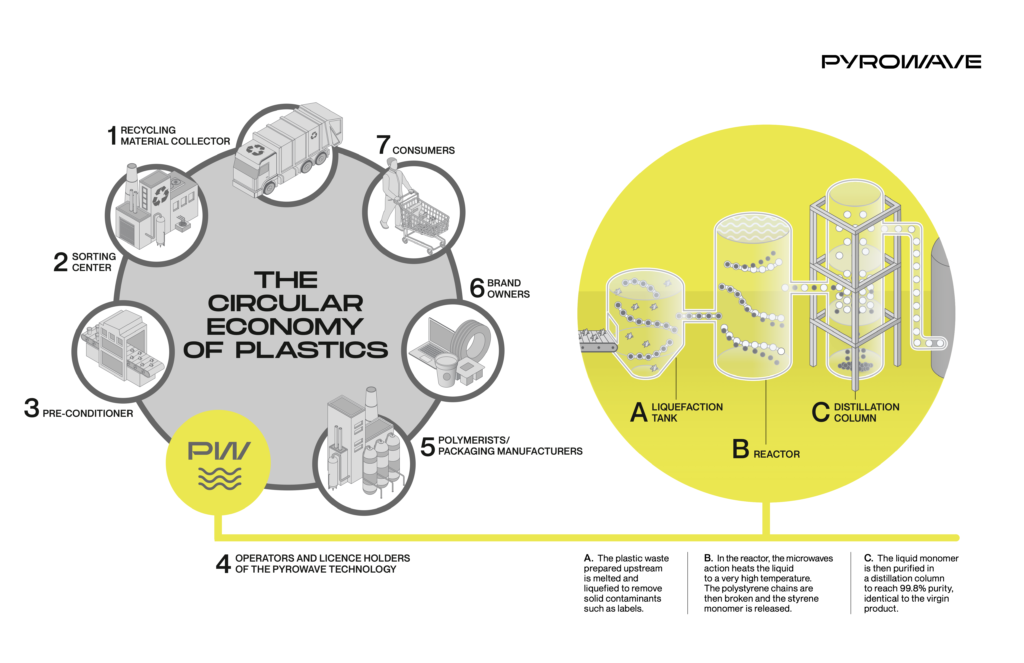 Pyrowave's microwave technology enables waste polystyrene to be reverted to its original styrene monomer form. Instead of traditional thermal and chemical methods, the application of microwaves electrifies the process, making it more energy efficient. The process is powered by renewable energy and reduces the carbon footprint of styrene production by 45%. With Pyrowave technology, Michelin estimates the equivalent of 80,000 tons of polystyrene waste could be recycled into Michelin tires annually.
Christophe Durand, sustainable materials development manager at Michelin, comments, "This unique technology will contribute to our goal of an all-sustainable tire in 2050, which will incorporate 100% recycled or renewable bio-sourced materials while contributing to our carbon neutrality roadmap."
Pyrowave's CEO Jocelyn Doucet adds, "The industry has forever been dreaming of a circular economy with recycled, traceable and segregated content. This achievement confirms once and for all that we can implement a 100% traceable and controlled supply chain in polystyrene recycling. We can now provide recycled content to meet consumer expectations: products can now be made entirely from recycled material, without dilution or degradation."