The 20th edition of Tire Technology Expo and Conference, which was staged at the Deutsche Messe, Hannover, Germany, February 25-27, 2020, once again welcomed visitors from across the global tire design, development and manufacturing communities, with more than 300 exhibitors presenting their latest innovations and solutions at the free-to-attend exhibition, while delegates at the neighbouring conference discussed the topics and themes set to shape the future of the tire industry.
Europe's most important tire manufacturing technology exhibition and conference included the latest developments from major players such as Cimcorp, Siemens, Michelin and VMI Group, while a dedicated Chemicals & Materials Zone included recognized leaders such as Eastman, Versalis and Momentive.
Visitors were able to see the newest automation and 'Industry 4.0' developments, the technologies underpinning a new generation of intelligent tires, enhanced tracking solutions, a diverse range of sophisticated testing solutions and all the latest tire manufacturing equipment, chemicals and materials.
Meanwhile the neighbouring Tire Technology Expo Conference featured over 170 presentations across 12 streams from experts at organizations from Bridgestone, Continental, ExxonMobil, Hankook, Jaguar Land Rover, Lamborghini, Michelin, and Yokohoma, to name just a few.
"I work at the new Nokian factory in Dayton in the US and it's my first time to the show," said Eric Wogomon, quality and tyre technology manager, Nokian Tyres. "My colleagues from Finland and Russia recommended I attend. A couple of presentations on the first day made it worth the visit alone. It was very interesting learning about what some of the other tire manufacturers, automotive companies and suppliers are doing."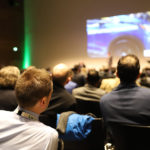 "Tire Technology Expo is a good place to come and share our latest research and innovation with experts working in the tire industry, and there are a lot of interesting topics covered at the conference," added Kozaburo Nakaseko, executive R&D advisor, Sumitomo Rubber Industries.
The show also hosted the annual Tire Technology International Awards for Innovation and Excellence, coordinated by Tire Technology International magazine. The highly anticipated Tire Manufacturing Innovation of the Year award was claimed by VMI for its pioneering Synchro Crown Drum, while Michelin won the Tire Technology of the Year award for its airless mobility solution for passenger vehicles, Uptis, and was also named Tire Manufacturer of the Year, securing a historic double.
2020 product debuts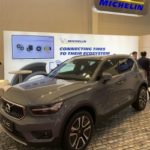 Michelin drew visitors to its booth by displaying a Volvo XC40 fitted with RFID-enabled tires, to demonstrate the efficiency and operational gains offered by more intelligent tire management across the whole tire lifecycle and potential for future predictive maintenance services.
From optimized logistics, better stock management, correct assembly (tire/rim) and ensuring the right tire is fitted to the right car, through to better claim management and better lifecycle management, RFID underpins a number of improvements, according to the tire manufacturer.
"Michelin's aim is to connect all passenger car tires by 2023," confirmed Christophe Duc, project leader for RFID deployment, business venture connected mobility, Michelin. "Volvo is the first customer to order tires for Michelin's original equipment with a RFID tag. The XC 40 on display here at the Expo features Michelin tires with RFID inside."
As the only part of a vehicle in contact with the ground, the tire has the potential to provide unique and plentiful information throughout its entire life. Using RFID technology, Michelin aims to make tires that communicate by linking them to a more global ecosystem, to create infinite potential for innovations and added value for customers.
"For all passenger car tires and truck tires, having RFID inside is a key enabler to ease tire management across the whole life cycle, and to be an enabler of more advanced future predictive maintenance services," added Laure Verdouck, communication manager, business venture connected mobility, Michelin. "RFID also provides a unique identifier throughout the entire lifecycle – it is the only identification technology to track the tires from manufacturing to recycling."
In a further RFID-related development, ATEQ TPMS Tools presented a unique procedure to program RFID tire data into TPMS/TMS sensors. ATEQ and tire manufacturer Michelin have joined forces to demonstrate how to easily link RFID tire data to a TMS/TPMS sensor. The ATEQ tool – in combination with an RFID reader – captures the unique ID number contained in the RFID tag embedded in the Michelin tire, as well as the cloud-based data associated with this tire. Then, by pointing the ATEQ tool toward the TPMS or TMS sensor, the tool wirelessly programs the TPMS/TMS sensor based on the collected tire data. When the tire is fitted to a vehicle, the TPMS or TMS can then transmit the complete data package to the vehicle's ECU.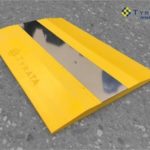 Tyrata Inc also had some RFID-enabled magic up its sleeve: The US company used the 2020 show to demonstrate its new IntelliTread Drive-Over System (DOS) with integrated RFID technology, which enables the DOS to correlate the tread-depth information of each individual tire as part of an asset management system. The DOS fully automates tire tread monitoring, not only eliminating the labor associated with manual tread measurements, but also improving accuracy, enabling scalability and helping to identify significant cost reduction opportunities for fleet managers.
Each tire is properly identified using RFID technology supplied by fellow exhibitor FineLine Technologies; and monitored for tread wear via the DOS. The non-invasive, easy-to-install tire wear monitoring system can measure tread depth on a variety of tire sizes, from passenger and light truck to commercial truck and bus radial (TBR) tires. The real-time measurement is collected when a vehicle drives over the low-profile, speed-bump-like unit, and the data is automatically correlated with each individual tire using the RFID tag. The DOS is based on solid-state sensor technology, and is low maintenance and insensitive to road and tire debris. Customers purchase DOS data for tires on a monthly basis with no upfront hardware costs and no additional maintenance or software fees.
"In addition to providing fleet companies with the capability to automate tire management processes, Tyrata's Drive-Over System is seen as a key enabler of 'Tires as a Service', ride-sharing and other emerging business models," said Luka Lojk, VP of sales and marketing. "Moreover, with no up-front hardware or software costs, DOS should be a natural solution to deploy by any company seeking data-driven process and safety optimization."
"FineLine Technologies is pleased to showcase our state-of-the-art RFID technology integration with Tyrata's IntelliTread Drive-Over System," added Jan Svoboda, director RFID business development, FineLine Technologies. "We believe that the two products provide an unprecedented opportunity to create value for any customer wishing to extend tire-tracking automation with tread-depth data and other tire maintenance information."
The DOS is available for customer testing and is currently being validated with the Durham City Transportation Corporation bus system. The company anticipates expansion of testing to additional transportation service organizations within the Durham, North Carolina area, as well as other customers in the near future.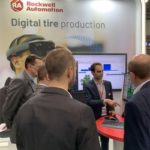 Visitors to Rockwell Automation's booth at the 2020 show were treated to live demonstrations of the company's FactoryTalk Innovation Suite, enabling them to experience first-hand how predictive analytics can aid manufacturers in immediately identifying incidents such as unplanned downtime, and how virtual reality can help them view the status of the curing machine, thereby accelerating production launch and reducing risks. They were also able to discover the company's Global Operations Scorecard, which includes the ability to view corporate KPIs and plant-level performances, and to retrieve data from specific machine levels.
"By accelerating their digitization initiatives, tire makers can build a flexible and agile foundation that will help them implement innovations faster while boosting production," explained Dominique Scheider, automotive and tire industry manager, EMEA at Rockwell Automation. "These pillars include the development and implementation of an enterprise-wide project lifecycle strategy, and the judicious use of digital technologies such as MES and analytics solutions that form the basis of an innovation platform for the future."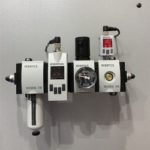 Emerson displayed its impressive portfolio of automation technologies, which provide tire manufacturers with actionable insights to maximize throughput and reduce energy and costs through better diagnostics, sensing and monitoring. The company showcased automation technology from its ASCO, AVENTICS, ROSEMOUNT and BRANSON portfolios, as well as new PACSystems edge devices from its machine automation solutions business.
Emerson's advanced fluid control and pneumatic products, machine safety and ultrasonic rubber cutting solutions deliver precise, reliable control within mixing equipment rubber cutting, calenders and extruders, tire building machines, curing presses and finishing processes. Furthermore, complementary edge technology brings all sensor data together for better real-time accessibility, visualization and analytics. The PACSystems CPL410 is customizable and scalable to adapt to any tire curing product or complete system.
Using a tire curing process application, Emerson demonstrated how its ASCO pressure-operated valves help to minimize energy use and reduce operating costs. These durable devices are designed to function in demanding steam applications and, by enabling rapid cycling and tight shut-off, ensure the curing press operates correctly and efficiently.
Plant operators were able to find out how to improve their production through better diagnostics, sensing and monitoring capabilities delivered by the ASCO and AVENTICS pneumatics technology and IIoT solutions, as well as Emerson's wireless gateway and edge devices. These devices provide tire manufacturers with actionable insights into their tire curing processes, to ensure they operate as efficiently as possible.
"This year, we are particularly focused on the advantages our digitization technologies can bring to the curing application," explained Pascal Lamonerie, business development director, automotive and tire, EMEA, Emerson. "We chose curing because we offer steam valves; but with digitization, we can monitor the traveling time of the steam valve and detect anomalies and set up a predictive maintenance program. From corrosion, steam trap monitoring, vibration – we can set up alarms for the maintenance team, that alert them of deviations and allow them to program a shut-down to fix everything. It's a very effective system for limiting downtime."
Lamonerie also presented a paper titled 'Digital transformation – actionable insights to improve your tire curing' at the Tire Technology Expo Conference, as part of Stream 7 – Tire Manufacturing – Making the Most of New Technologies.
Siemens presented what it described as a 'digital enterprise portfolio' for the whole value chain, especially for tire manufacturers and machine builders. "The digital twin of the tire, the production machines and plants and our totally integrated automation portfolio link the digital and real world of tire production," explained Peter Haan, head of global VMM tire, Siemens AG.
"Visitors to our booth can see a complete tire plant simulation, and they can zoom in and see the benefits of digitization each step of the way," continued Haan. "Take tire building, where digitization can help improve safety, and keep your production running 365 days a year, 24 hours a day. Digitization can also increase production and reduce the cost of the tire. To help illustrate just how effective digitization can be, we've just done a new mixing room automation project for a global tire manufacturer, where we cut the commissioning time by 50%."
LMI Technologies launched the Gocator 2530 – a high-speed, blue laser profiler for 3D scanning and inspection for use in rubber and tire applications – at Tire Technology Expo 2020. The sensor achieves inspection speeds up to 10kHz, at high lateral resolution with a field of view up to 100mm.
A custom 2 MP high-speed imager, advanced optical design, and blue laser light allow the 2530 to generate high-quality 3D data with highly repeatable results, making it ideal for tire sidewall and inner wall inspection, tire uniformity inspection, and tire layer control inspection.
The sensor's speed is also a key advantage in achieving high Y resolution (spacing in direction of travel). Submillimeter X and Z resolutions deliver detailed inspection of small assembly features such as edges or gaps and accurate 3D height measurement of surface geometry and defects (such as scratches and pits).
The Gocator 2530 also has one of the smallest footprints in the industry while maintaining an IP67 rating. This allows the sensor to be mounted in virtually any machine environment.
"The Gocator 2530 builds on the success of our high-speed blue laser 2500 series, now providing customers with a wider field of view option and allowing for even more cost-efficient implementation of 3D inspection systems in RUTI applications," said Terry Arden, CEO, LMI Technologies.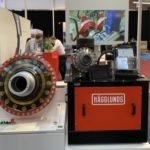 Bosch Rexroth was at the expo to underline the unbeatable power, safety and controllability of its Hägglunds range of direct drive systems for rubber machinery. Built around an impressive line of low-speed high-torque (LSHT) radial piston motors, the original hydraulic direct drive (HDD) delivers instantaneous power straight to the driven shaft without the need for specialized components.
"These drive systems have a very high torque from standstill, making them ideal for when you have cold rubber on the roll mill, for example," explained Daniel Becker, Hägglunds expert and sales engineer, Bosch Rexroth. "These motors can do this much better than electromechanical drive systems. They are also very compact for their power output, lightweight, and they can slow down or accelerate very quickly – a big benefit when it comes to safety."
Hägglunds' drive systems also feature the fastest 'quick stop' solution on the market, according to Becker. "We have a new emergency stop valve at this year's show, which conforms to DIN EN 1417:2015-03, with the shortest response time on the market."
The quick-stop valve provides critical safety in rubber production, most notably at roll mills. The valve stops rollers in 3-10° of rotation – just 1-2cm on a standard mill.
"Naturally, the valve meets the DIN EN 1417:2015-03 standard by fulfilling performance level d, category 3," continued Becker. "However, it offers some new features that we look forward to sharing with the world, such as the potential to boost energy efficiency. Further studies are pending, but early indications show a significant potential for efficiency improvement."
Finally, Kordsa proudly displayed the first example of its collaboration with Continental (also exhibiting at the show) to develop a more sustainable tire featuring its innovative Cokoon dip technology. Cokoon enables the bonding activation of textile reinforcing materials with rubber compounds without the use of resorcinol and formaldehyde in the textile dip.
The two partners have been working together on a new eco-friendly dip technology since 2017. Both recently confirmed that series production of the first of 250,000 passenger car tires featuring their new sustainable adhesive technology began in 2019.
Cokoon is offered to all other tire manufacturers and their suppliers as an open-source solution following Continental and Kordsa's decision to waive development or licensing fees. In return, they expect licensees to make their patents concerning the further enhancement of this technology available to the other partners free of charge via a licensing pool.
"With Cokoon, we want to implement an eco-friendly industry-wide standard for bonding textiles and rubber," explained Devrim Özaydin, global technology director, Kordsa. "We therefore invite all interested parties to join the pool, obtain free licensing, contribute to the enhancement of this new open technology and introduce Cokoon into their mass production."
More than 40 companies (tire manufacturers, converters and textile suppliers) have now expressed an interest in testing the material and are considering joining the licensing pool. Some 20 of these have already received samples.
"We've been attending the expo from its very first edition," added İbrahim Özgür Yıldırım, COO, EMEA, Kordsa. "This is the first time we have shown the prototype. We've had a lot of interest from all the tire makers and the tire reinforcement material producers."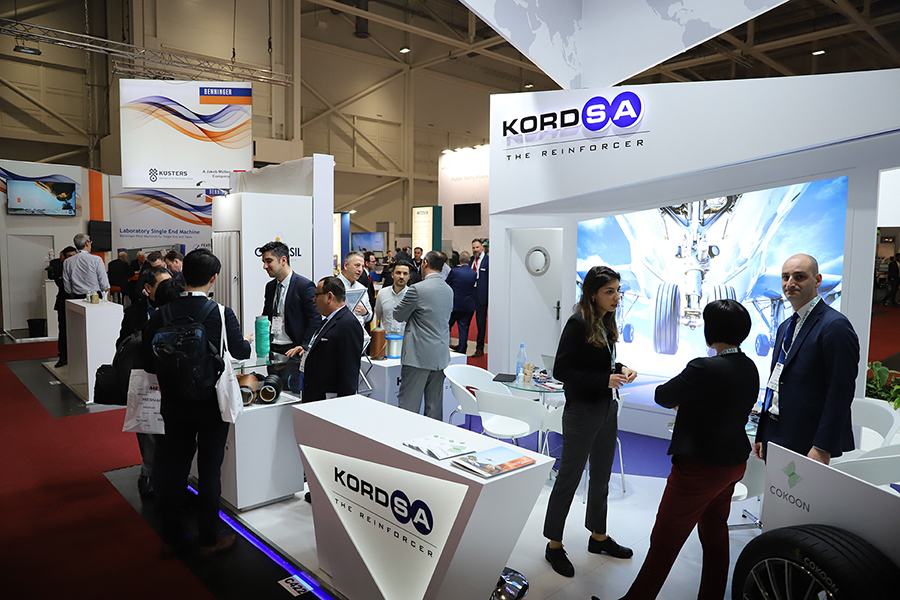 Don't miss next year's show: Tire Technology Expo 2021 will take place March 2, 3, 4, 2021, in Hannover, Germany.