Provider of industrial truck and supply chain solutions Kion Group has selected GRI to supply its Ultimate XT premium plus tire for the company's Linde Material Handling forklift trucks produced in Germany. Presently, GRI's specialty tires are produced using natural rubber sourced primarily from Sri Lanka and are stated to utilize the latest technology and highest quality norms.
GRI notes that the Ultimate XT tire has been created with rigorous 24-hour material handling operations in mind, with its tread pattern enabling excellent stability and traction attributes. Special compounds are stated to have been used that reduce heat build-up, contributing to a lower rolling resistance and a higher run-time for vehicles. The tire features a high abrasion resistance to provide improved comfort and safety, while a higher tread volume, greater lug depth and an optimized aspect ratio aid in extending tire life.
"We have great admiration for Kion and are privileged to have GRI's premium plus tires fitted on Kion brands OEM forklifts," commented Prabhash Subasinghe, MD of GRI. "This partnership testifies to the excellence of GRI's tires, their high-performance in varying conditions and the company's commitment to develop superior forklift tires. We are excited about the possibilities ahead in our partnership with Kion."
Over a two-year period, the tires were tested by the advanced engineering and testing department at Kion Group in Germany, with Kion and GRI engineers working together to ensure the tire met specific and stringent requirements.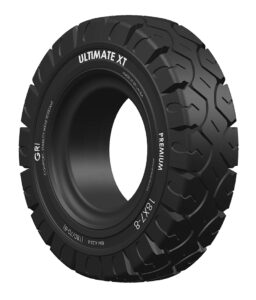 "We deliver high-grade specialty tires, that are built sustainably using pure natural rubber at our advanced production plants in Sri Lanka," stated Mahesha Ranasoma, CEO of GRI. "We believe that forklift operators who move material to supply our needs are noble. We live and work to enhance their lives."
In other GRI news, the company has brought together natural rubber farmers who provide rubber for its tires and crop farmers who use the end product for agriculture through a Green X Circle initiative event held in Monaragala, Sri Lanka. The event was a continuation of a series held by GRI that aims to create a collaboration between the two farming ecosystems and which places an emphasis on sustainability.
"We can support and strengthen the rubber farmers by purchasing the rubber that they produce and manufacture a tire that is of international standards. When the productivity of the machines used by crop farmers increases, it benefits Sri Lanka and rubber farmers. Through the Green X Circle program, collaboration and a mutually beneficial relationship are fostered," said Mahesh Ranasoma.