The Scorpion range of mountain bike tires from Pirelli has expanded with the introduction of the new Scorpion Race Downhill (DH) and Enduro (EN) tire products.
The Scorpion Race DH and EN tires benefit from a new compound called SmartEvo DH which has been developed to ensure a high level of performance during competition. Drawing on the experience of Pirelli's Motorsport compound department, the latest compound has been designed to provide riders with control in all weather conditions, in addition to chemical grip and mechanical support when traveling at high speeds. Pirelli engineers adjusted the tire's static and dynamic parameters to improve safety characteristics and bike control when leaning. The tire maker also took into consideration the predictability and management of overcoming grip, as being able to control drifting is an important aspect for downhill mountain bikers.
The tire's compound is made up of two layers and consists of a super-soft high-performance compound for the outer tread, which provides grip in a wide temperature range and absorption at high frequencies. The second is a support compound under the tread surface which delivers mechanical support to the blocks and absorbs large shocks on uneven terrain. A low rolling resistance also features.
Four new tread patterns are available, consisting of Mixed Terrain (M), Traction (T), Soft Terrain (S) and Mud.
The M tread is highly versatile and can be used on mixed terrains including in bike parks or on overgrown trails. Evenly distributed blocks of differing sizes and heights work to deliver excellent riding feel in several conditions. Pirelli's T tread uses widely spaced and aggressively shaped blocks in addition to a central band which can be cut by removing the central block to make the tire more directional or to enable better mud evacuation. This design offers mechanical grip in a multitude of riding scenarios. A reinforced surface face also helps with braking and cornering. The S tread pattern uses higher, widely spaced blocks to provide grip on terrains including sand, clay, loose soil and undergrowth. The Mud tread, which is Scorpion Race DH specific, has high and widely spaced blocks which can also be cut depending on mud conditions or track. The tire in this design will only be available in size 2.4.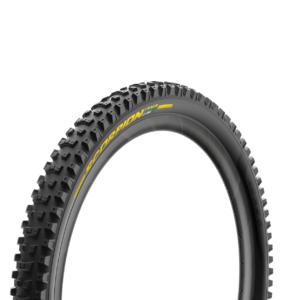 Following a research and development program which lasted nearly two years, Pirelli engineers developed two casing types to suit different terrains, riding styles, bikes and wheel and rim styles.
Firstly, Pirelli's DualWall+ was developed for use within the DH and Enduro Racing disciplines and benefits from a full double-ply, 60tpi rigid casing with a rubber anti pinch-flat insert and an outer layer of fabric to stabilize the tire's sidewall. Each part of the casing works together to ensure protection against punctures, stability at high speeds, and absorption from hard impacts. The DualWall is a race-ready casing suitable for use in Enduro competitions or by lighter riders. Designed to be softer than the DualWall+, the Enduro casing features a 120tpi double-ply with the same rubber insert as the DH casing. The casing is estimated to be 150g lighter than its DH alternative and ensures Enduro riders get maximum terrain feel and reliability.
Designed in collaboration with three-time world champion and seven-time national DH champion Fabien Barel, the tires will be available in the first few months of 2023. To date, the tires have been tested by Pirelli's own in-house testing team along with Pirelli-sponsored athletes in the Enduro World Series and UCI DH World Cup since 2021.
"The completion of the Scorpion line strengthens our offering in the mountain bike segment, which is experiencing significant growth," said Matteo Barbieri, head of Pirelli Cycling. "Now our range of tires covers all the main types of use, from road to off-road, with solutions for professionals and amateurs that focus on high technology, performance and safety. We are also proud that important teams and great champions of the sport, such as Fabien Barel, have collaborated with our technicians and testers on these tires."
"Working with Pirelli has been exciting and I am extremely satisfied with the result," commented Barel. "Having access to Pirelli's extensive know-how and research and development capabilities is what attracted me to the project from the very beginning. The company's testing tools, and commitment, allowed me to explore new solutions, I would say almost limitless. Pirelli's approach is 'Design, Prototype, Test, Repeat', which meant hours and hours of 3D modeling to develop and produce several prototypes of a single tire model. After the theory phase, there was the testing phase, carried out both in indoor labs and in the field with the Canyon CLLCTV Pirelli DH team."