An ultra-compact electric vehicle operated by Idemitsu Kosan at its Chiba Plant in Japan will be fitted with Bridgestone's next-generation tire, the Air Free Concept. As the name suggests, the Air Free Concept does not require any air, thus preventing punctures and negating the need for tire maintenance, such as air pressure management, by supporting the load with specially shaped spokes on the side of the tire.
To improve the tire's sustainability credentials, the rubber area which comes into contact with the driving surface can be retreaded, and to contribute to the efficient use of resources and the realization of a circular economy, Bridgestone will also recycle the resin of the renewable spoke parts.
Demonstration experiments for practical use are scheduled to begin in February 2023. In the future, the pair plan to conduct further verification of the airless concept with a view to equipping an ultra-compact EV (which Idemitsu Kosan is involved in developing) with the Air Free Concept.
"Idemitsu Kosan aims to achieve its 2050 vision of giving shape to innovation, set forth in the medium-term management plan announced in November 2022, and will fulfill its responsibility to support people's lives and protect the future global environment through the social implementation of diverse resource recycling solutions," said Akira Oishi, general manager, mobility strategy office, Idemitsu Kosan.
Oishi continued, "We believe that the Air Free Concept developed by Bridgestone is environmentally friendly and highly compatible with our vision. In addition, no-puncture tires contribute to reducing the risk of vehicle stoppages and are expected to improve the value of use by customers. In the future, we will jointly conduct this demonstration experiment with the aim of installing it on ultra-compact EVs currently under development."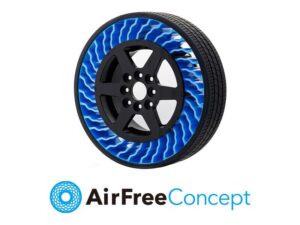 "We are very pleased and able to start a demonstration experiment with Idemitsu Kosan, which aims to become an advanced solution business using next-generation mobility, as a step toward the practical application of the Air Free Concept," explained Takahiro Kawahara, general manager of solution and digital engineering development division, Bridgestone.