Giti Tire is continuing the rollout of its latest Combi Road compound technology with the next generation Giti GDR655+ and GDR665+ drive patterns for regional and long-haul transportation – both of which are said to have a 30% longer mileage now.
The new composite also provides a reduced hysteresis and lower heat generation, which has increased rolling resistance by approximately 10%. It also vastly augments retreadability properties. Furthermore, the tires now wear more evenly.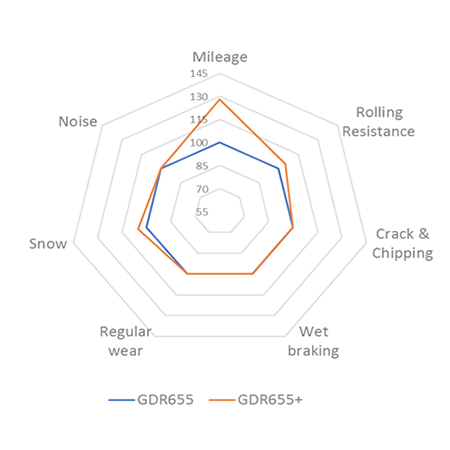 The Giti GDR655+ Combi Road is initially available in sizes 315/80 R22.5 and 315/70 R22.5, while the GDR665+ Combi Road will be offered in size 295/80 R22.5.
Engineers at Giti Tire's European R&D Centre in Hannover, Germany, worked with experts from the central R&D  Centre in Hefei, China to build the tires. The four-year project involved new high-tech raw materials evaluation, lab analysis and extensive road testing with Giti fleet partners in Europe.
The tires are manufactured at the company's facility in Jakarta, Indonesia.
Tony McHugh, TBR sales and marketing director UK at Giti Tire, said, "The new tires, like all those introduced into the Giti range, are designed to maximize the total returned mileage by realizing low fuel consumption with high levels of safety, durability and retreadability.
"In Europe the drive axle tire remains one of the key applications in terms of volume and brand competitiveness, both the GDR655+ & GDR665+ mark a great leap forward in what we can deliver technologically at a competitive midmarket price point."
Graph: Comparative performance of the Giti GDR655+ Combi Road against the predecessor product, the Giti GDR655 Combi Road, based on real-life testing