Employees of the Continental Kaluga plant in Russia recently celebrated five years since the start of production of passenger and light truck tires.
Since operations began, approximately 240m has been invested in the site, where over 1,000 people are employed. Production capacity has been continuously scaled up at the plant and the facility now manufactures more than 300 different product variants.
"We are proud of the plant's achievements over such a short period of time. We are committed to meeting customers' needs, so constant improvement of products plays a key role in the development of the plant. Using cutting-edge technologies in production and with the highly qualified employees, all of the products comply with both Russian and global requirements," said Georgy Rotov, general manager at Continental Kaluga.
Car makers globally are supplied from the factory, including Volkswagen, Renault, Ford, Nissan, Toyota with original equipment products, and many in Russia in the replacement market. Tires produced at the plant are currently also exported to 24 countries in Europe, Asia and North America.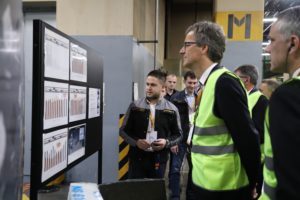 The team at the Kaluga-based business unit has more than doubled over the last five years; in 2013, the plant's workforce was 440. Every year staff attend up to 150 training sessions both on-site and at other company factories.
Continental's Russian plant is also passionate about its green credentials: special equipment helps reduce industrial water consumption, and treatment facilities reuse waste water in production. Under the EcoTyreUnion project, co-founded by Conti in 2017, 8,000+ tons of waste tires have been collected and recycled.
"Our employees are one of the company's key assets. It is their professionalism, commitment to continuous development and changes together with the enterprise that enabled us to achieve these impressive figures," commented Alexandra Lobacheva, human relations director at the Continental Kaluga plant.
"We have fostered a team of truly talented, enthusiastic professionals. Many employees of the Continental tire plant in Russia take part in global projects where they share experience with their peers from other countries, and some of them continue their professional development at foreign companies."