The agricultural tire market is a constantly evolving arena, with farmers having to adapt to changing demands and tire manufacturers having to stay abreast of the latest equipment developments and resulting tire requirements. Here, Gianluca Abbati, vice president of R&D at agricultural tire specialist Trelleborg, provides an overview of some of the development challenges and innovations in this market sector.
How has the agri tires segment evolved over the last five years?
Agriculture is undergoing a period of remarkable change. As more sustainable, ecologically friendly and productive farming systems are demanded, the agri tires industry must respond with emerging and innovative technologies which will reshape our farming operations.
Trelleborg is committed to helping ensure a sustainable future for agriculture while at the same time increasing both the efficiency and productivity of agricultural operations with our range of innovative technologies:
There is our Progressive Traction technology, associated with the VF tire ranges for high power tractors, which has been designed to satisfy the requirements of the latest generation of tractors.
With this new tire pattern design, the tread increases the efficiency of power transmission to the ground while reducing compaction. The double lug of the tread reduces vibration, decreases energy dissipation, minimizes fuel consumption and generally extends the life of the tire.
When applied to the tread this increases traction, while inter-studded facets improve the self-cleaning capacity of the tire. This ensures the tread operates at 100% of its potential. Testing has shown that this helps reduce fuel consumption by up to 3% and its longevity is increased up to 5%.
Using VF technology supports a higher load capacity, up to 40%, compared to a standard tire, or a lower pressure on the ground, up to 40%, thus reducing the compaction of the soil.
Then we have Trelleborg Load Calculator Plus app (TLC Plus), which is an advanced sensor-based control system that measures potential differences between optimal pressure and actual tire pressure. Information is relayed with recommended adjustments, via wireless connectivity to a mobile device or the farmer's computer. Integrated by using cloud technology, the tool also allows the remote management of tractor fleets; farmers can view recommendations about tire pressures from their desks or other location.
This configuration guarantees maximum safety and efficiency for operations on very large farms as well as for agricultural contractors who are working with large fleets of machines.
If you look at our Central Tire Inflation System, that is an intelligent inflation system developed in collaboration with Dana Incorporated. The new, fully OEM-integrated Trelleborg CTIS + system is unlike any other system currently on the market as it has no external parts or hoses sticking out of the wheel.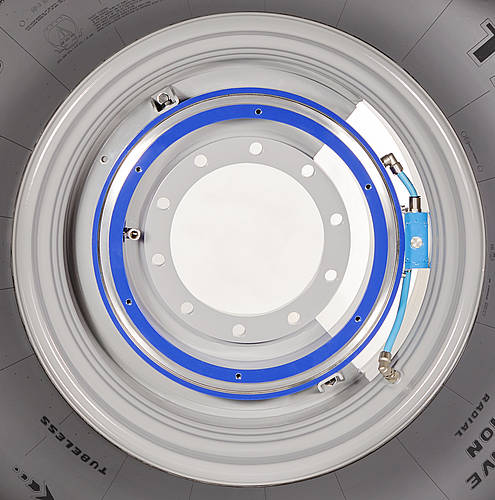 Installation of the rotary collector in the internal rim of front, rear, bar or flange wheels reduces the risk of damaging systems or dangerous accidents during operations to zero. The system enables the tractor driver to vary the tire pressure directly from the tractor cabin, according to the recommended pressure calculated by the advanced Trelleborg Load Calculator (TLC) software.
We also have a hybrid solution tire, called PneuTrac, which combines the efficiency, comfort and handling of a radial tire with the advantages of a large footprint and extra traction provided by the tracks.
It is designed to offer high performance on steep slopes and difficult or muddy terrain while reducing pressure on root systems to preserve crops and increase yields. This is achieved by incorporating the best characteristics of Trelleborg agricultural tires together with CupWheel technology from Galileo; the 'Omega' sidewall design enables the tire carcass to support its load, provide flexibility and produce an extra-wide footprint to limit soil compaction.
For road use, the hybrid nature of PneuTrac guarantees safety, handling and comfort, as well as fuel savings, just like any modern radial tire.
What are the typical applications and how has this changed the requirements for these types of tires?
Agricultural operations and associated farm machinery such as tractors, harvesters, sprayers, trailers and other farm implements have remained much the same over the years.
However, the requirement of the farm machinery to work more effectively, protect soil from compaction and provide better fuel economy, therefore producing higher yields, puts new and additional challenges on the tires used.
How easy/difficult is it to develop compounds that are tough enough for agri tires?
The compounds used for agricultural tires are designed for use in hybrid conditions – asphalt, open fields or various terrains. As machinery has evolved over the last decade to cope with the requirements of the field as well as speed on the road, tires have needed to evolve. The challenge has been to provide an effective balance between these applications.
To achieve this, our research and development team has drastically changed the chemistry of the compounds used in its tires to ensure the highest levels of performance. Our tire compounds are developed to perform in all working conditions, leveraging tear strength and wear resistance and reduce rolling resistance.
Is there any crossover with other segments?
Some industry sectors do cross over and adopt the use of agricultural tires on their machinery, particularly those requiring improved traction due to the needs of a demanding environment.
The most obvious example is represented by agricultural multi-purpose tires, (AMPT tires). These tires feature an agricultural pattern and are used both on industrial and agricultural machines.
A further example of crossover would be the telehandler, equipped with similar tires that are inspired by the two different segments, agriculture and industrial, but demanding similar capabilities of traction and stability.
How important is recyclability in this sector, and how difficult is it to recycle the agri tire components?
We are facing the global challenges of recycling and sustainability with our usual innovative approach. These are based on our three cornerstones of social, economic and environmental impact.
Ongoing research is conducted into the identification of new and alternative materials for use in our compounds and products. These are expected to come from closely associated, existing products and markets. As new materials are developed, these will be utilized in a range of products that have a reduced environmental impact.
The disposal of tires in all sectors is difficult. Recycling plants must be sized to accommodate, treat and manage large products, while transporting recyclable materials represents a further financial and environmental cost. It is therefore crucial to find ways to reduce both the environmental and financial costs involved with recycling tires, by increasing the length of tire life and thereby reducing the frequency of replacement and recycling.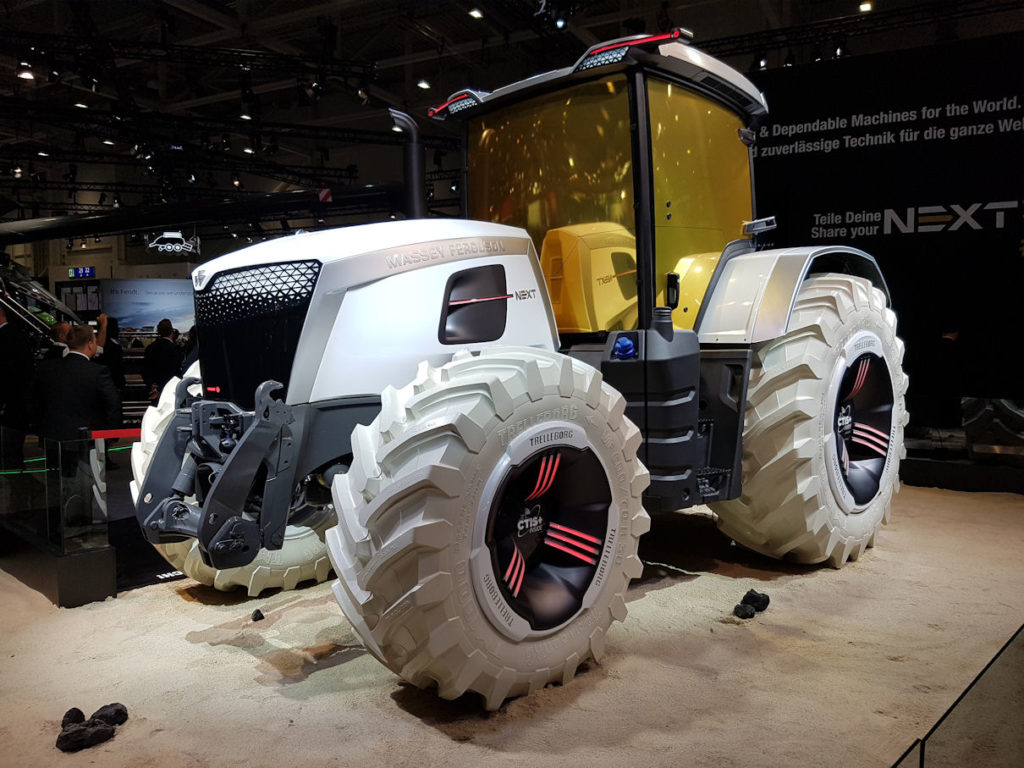 Trelleborg operates a system of scrap tire analysis in conjunction with its customers. By looking at how the scrapped tires performed and why they were replaced, information is provided that allows the customer to choose the most appropriate and long-wearing tire type, pattern and compound for their operation and fleet. This reduces the future frequency of replacing and recycling tires and optimizes the operational cost for the end user. Our service division provides ongoing support in the analysis and collection of this information.
We understand how important the length of a tire's life is in reducing the need to replace and recycle. Therefore, the scrap tire data feeds into our product development process, helping us to plan product improvements to meet our customer needs. Our structured tire failure management system provides additional information to our research and development, quality and production divisions, minimizing the occurrence of production defects.
While a high percentage of tires used in standard applications reach the end of their useful operational lives and others can be repaired following accidental impact, knowing when to replace tires is critical. Replacing tires too early can lead to increased numbers of tires being recycled, unnecessary replacement costs and machinery downtime. Replacing tires too late can lead to higher risks associated with operator and machine safety.
In heavy duty applications such as mining or waste and scrap metal recycling, tires can suffer from premature replacement, typically with 25% of life remaining.
To avoid this early replacement we have developed the Pit Stop Line for their premium range tires, an innovation that enables fleet managers to know with 100% accuracy when tires need replacing.
The orange Pit Stop Line embedded within the tire becomes visible on average 15 working days before the tire needs replacing. Not only does this enable operators to plan their tire changes in advance, eradicating unplanned machinery downtime, it reduces tire changes by 20%. Pit Stop Line also offers a strong environmental benefit, enabling a dramatic reduction in waste and raw material being sent to recycling plants as well as in the carbon footprint associated with packaging and transportation. Replacing tires less often means a reduced environmental impact.
For recycling to be successful, the products created through the process must have some value. Developing new and alternative materials that are already closely associated with our products will enable these recycled materials to have the value of being easily and rapidly assimilated back into our production cycle.
How do you test these tires, both virtually and physically, and does this process differ for road vehicle tires?
Virtual simulation of agricultural tires is normally used to evaluate the performance and characteristics of the tire while in static conditions. This is because in dynamic conditions too many variables take over which would make the simulation unrelated to a real application.
Different soil conditions as well as different tractor setups could create additional discrepancies which we prefer to test physically on the fields. The virtual testing and analysis of agricultural tires is entirely different to road tires due to the variety and differences between the terrain and vehicle setup.
How do you foresee the requirements changing in this segment in the next few years?
The agricultural industry is undergoing remarkable change as emerging technologies reshape farming operations to provide more sustainable and productive systems with an even bigger interest in how to improve farming efficiency.
This is likely to involve more automated, remote-controlled machines together with systems that are capable of optimizing farming operations while minimizing the environmental impact on ecosystems.