We look back at Alex Grant's article from March 2020, where he explores how increasing standardization among monster truck teams could be about to encompass tire design , presenting unique requirements and significant marketing opportunities for manufacturers
Advancing tire technology is often a linchpin for improving motorsport performance, but few racing machines are as influenced by tire choice as monster trucks. Their oversized wheels are as visually definitive as they are an enabler of new capabilities, but truck development has traditionally been dictated by the need to adapt products designed for other uses. That could be about to change.
"We are a drag racer, off-road race truck, NASCAR and show car combined," comments Marty Garza, vice president of the Monster Truck Racing Association (MTRA), which was established in 1987 to set out ground rules for operators. "These are sophisticated machines with 30in of suspension travel, 1,500-2,000bhp and the ability to do repeat backflips and be repaired on the spot. The latest monster trucks are composed almost entirely of monster-specific components, and that's come about as the result of the legitimization of our industry."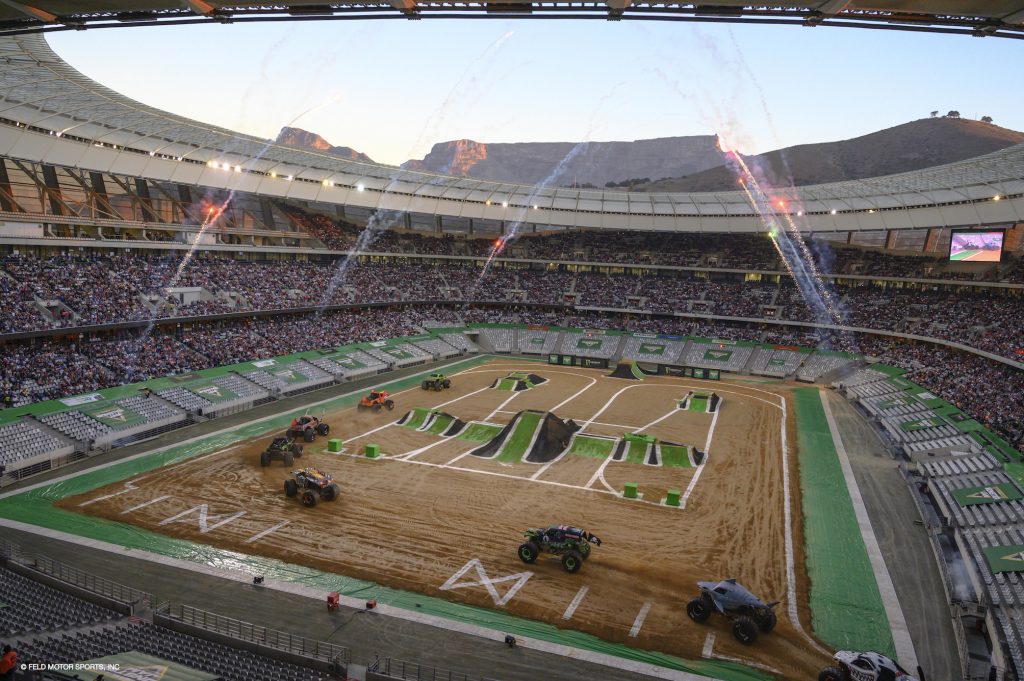 Evolution has been gradual, driven by teams rather than OEMs or suppliers. The characteristic wide, V-tread tires, Garza says, were pioneered by Bob Chandler's first Bigfoot truck in 1979. Its 48/25 Goodyear Super Terra Grip flotation tires, as used on the front wheels of fertilizer sprayers in Chandler's home state of Missouri, offered a large contact patch and relatively lightweight construction, as well as an aggressive new style. Helped by a film cameo in 1981's Take This Job and Shove It, it set a precedent others quickly followed.
More haste, less speed
Bigfoot also began a race for ever-larger wheels. By the early 1980s, teams were experimenting with 66in and 73in agricultural tires, using upgraded frames and axles to cope with the extra weight. This peaked with Bigfoot 5's 10ft Firestone land train tires, originally developed to aid Arctic radar station construction. Trucks were re-engineered to suit the tires and, aesthetics aside, this was enabling ambitious stunts – including crushing cars for the first time.
This was a short-lived trend, and Bill Easterly, vice president of fleet operations for Monster Jam, says priorities began to shift in favor of speed over size. "These tires were very heavy, anywhere from 10- to 16-ply, with a weight of 600-800 lb [270-360kg]. They worked great when trucks only crushed cars, but when the sport started to get faster, the trucks started to get lighter – and so did the tires," he explains.
The pursuit of speed changed monster trucks forever, with the first tubular chassis appearing at the end of the 1980s, and the shortfalls of repurposed agricultural tires coming under the spotlight too. Notably, team owner Jack Willman began sharpening tread bars and grooving his Goodyears to the cords, offering a one-third weight reduction for improved acceleration and braking. Overcoming traditional drawbacks happened at a team level, says Garza, experimenting with products such as the popular but now-obsolete Deproshina EcoWorx (nicknamed Ukraines) or modifying the carcass itself.
"Agricultural tires tend to use much heavier sidewalls than are necessary for what we do, and they have a large top tread bar that is 2.5in or 3in tall. Because these trucks are performing in arena and stadium environments, there was a concern that the trucks would sling dirt into the stands, so the tread bars started getting cut down shorter and shorter," he explains.
Bigfoot 4×4 team vice president and COO, Bob Trent, also says the products haven't changed much, but that they last. "We use the Firestone Flotation 23 Degree Deep Tread tire. It is usually the number of plies that has changed – our current Firestone tire is a 10-ply. These can last up to five years or even longer, usually a tire goes bad when a sidewall is cut by debris from a car, bus, or even a motorhome during an event."
Finding purpose
The first bespoke monster truck tire launched in the early 2000s, developed by the SiR team and weighing 450 lb [204kg] – despite its heavy-duty bead and Kevlar belt. Purpose-built bead-lock wheels, they offered more resilience for off-camber landings. However, the highest-profile partnership came with BKT's sponsorship of Monster Jam, resulting in development of a purpose-built tire supplied to all teams.
For Brian Manson, owner of events organizer MTX Event Productions, it marked a turning point. "For the majority of this industry's lifespan, teams would buy used tires from agriculture businesses and then cut and buff them to desired specs. Generally a good used tire could be bought for US$300 to US$800. Now, it's common to buy new monster-truck specific tires for US$1,500 to $US2,500 each that are ready to run, require no work and are lighter."
The secondary benefit is traceability. Although the MTRA has mandated safety standards for new trucks, tire requirements apply only to size. Age is harder to trace and, with second-hand agricultural tires potentially able to withstand several decades of use on a monster truck, Garza says such application may need to change. Calls to do so have picked up since an association board member received "life threatening" injuries from a tire unseating from its bead during inflation early in 2019.
"The use of flotation tires goes back to at least the late 1960s, for agriculture, so this was probably an early tire," says Garza. "We're coming to terms with the fact that we've existed long enough for the condition of the tires to start becoming an issue. There's no way of knowing how long they sat out in the elements, were exposed to UV, and where they've developed cracks. These cracks can allow moisture to get down into the beads, and the beads rust internally," he adds.
"It may be that tires beyond a certain date will no longer be allowed or may not be allowed to have ever been on agricultural equipment, because there is no way of tracking the history. We don't want to see anyone else injured; we like to be proactive and we want to get ahead of issues. This may ultimately lead to the complete abandonment of the agricultural tire in our industry."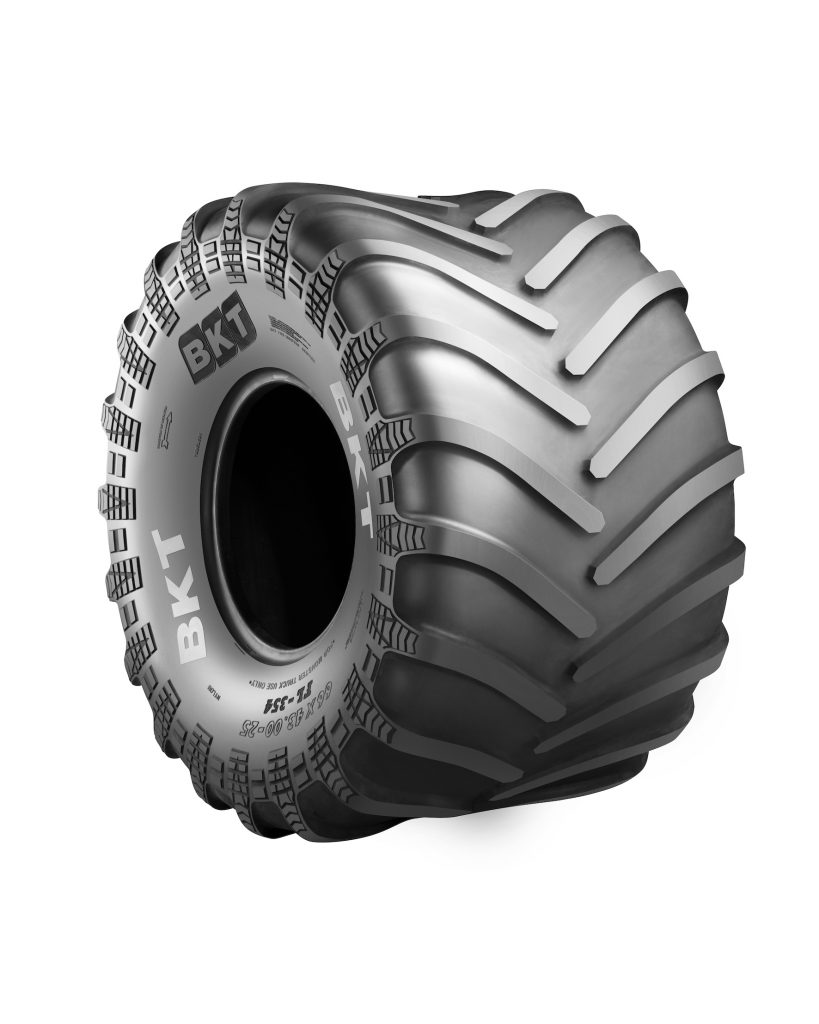 Brand awareness
Ongoing development could further that transition. BKT's second-gen truck tire, the FL 354, launched in 2017 and the company's president and director – technology, Dilip Vaidya, says work is already underway on its successor. "A reduced tire width provides additional braking protection for shock absorbers when landing after a jump from height, and greater tread depth will ensure even longer life. A modified design, featuring extra blocks, will provide enhanced traction even in an inclined position – such as when the truck rides on the edges or corners on the track," he says.
Garza says other tire makers are starting to see potential too. "When Tim Bush developed the SiR tire, they had to fund the development themselves – there was a reluctance because our industry wasn't viewed as being large enough. Now we perform in stadia with 60,000 spectators, week after week, and Monster Jam has multiple events going on all over the country like this. It's a global phenomenon, and we perform in front of millions of fans every year.
"Gradually, manufacturers have gravitated toward us as they started to see these things have power and influence, and maybe they need to associate [themselves] with that. The number and popularity of trucks is increasing, so it stands to reason that the supply line will increase as well."