SAMSON MACHINERY INC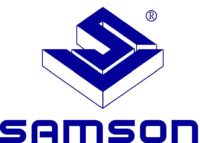 Samson is well-known as a professional tire building machines supplier.
Since founded in 1975, Samson Machinery Inc. has made great effort to develop and improve in tire building equipment field. As a professional tire building machine manufacturer, Samson provides not only equipment but also professional service and technical advice. Samson provides full range of tire building machines for tire factories to manufacture various tires such as bicycles, scooters, and motorcycles; all-terrain vehicles; light truck, truck & bus; radial passenger cars; industrial applications such as agriculture; OTR; and aircraft tires.
Its main products include tire building machines, band building machines, different kinds of servicers, building drums, and related equipment– all of which are manufactured to ISO 9001 (2015 version), EQA, and CE certification. It is a global supplier, with equipment exported to Asia, North America, South America, Europe, Middle East, and even to Africa.
Innovation is the cure value decided since the establishment of Samson, and it's also the motivation source of sustainable development. It continues to carry out a large amount of R&D activity, in order to maintain high level of innovation and provide safer equipment that has become its trademark.
Samson distributes its tire equipment worldwide, the major customers are all over the world. So that Samson can get more experiences in designing different functions of tire building machines to suit customers' demands. Because of the R&D ability, Samson cooperates with many world famous tire factories to design the tire building machines they need. To provide reasonable price but high technology & quality TBM is always Samson's philosophy—Sincerity, Honesty, Service, Quality, and R&D.