COMERIO ERCOLE SPA
COMERIO ERCOLE IS OPERATING SINCE 1885 IN ENGINEERING AND MANUFACTURING OF MACHINES & COMPLETE PLANTS FOR RUBBER PROCESS (CALENDERING & MIXING) WITH 200 PEOPLE IN THE TEAM HAVING A DEEP RECOGNIZED WORLDWIDE COMPETENCE AND KNOWLEDGE IN THE TIRE PRODUCTION FIELD. COMERIO ERCOLE WITH OVER 40.000 M2 WORKSHOP COSTANTLY INVESTS IN R&D ACTIVITIES WITH THE AIM TO CONSOLIDATE AND IMPROVE ITS TECHNICAL/INDUSTRIAL SKILLS IN COMPLIANCE WITH ISO 9001/14000 CERTIFICATIONS AND ISO 26000. COMERIO ERCOLE DESIGNS, BUILDS, TRAINS (WITH ITS ACADEMY TRAINING COURSE PLAN ATHENA®), INSTALLS MACHINES AND PLANTS ON "TURN KEY" BASE PROVIDING MAINTENANCE SERVICES AND SPARE PARTS.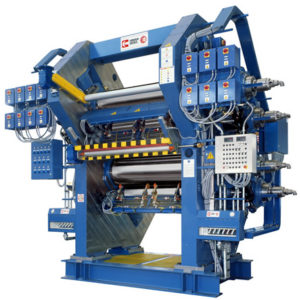 THE MOST INTERESTING INNOVATION FOR AN HIGH PERFORMANCE AND TOP QUALITY PRODUCTION TIRE 4 ROLL CALENDER CONFIGURATION IS THE COMERIO ERCOLE PATENTED HYDROPLUS® CONCEPT WHERE THE INTEGRATION OF DIFFERENCE DEVICES IS GRANTED AS FOLLOWS:
HYDROGAP® AS THE MOST ADVANCED HIGH PRECISION FULLY HYDRAULIC GAP CONTROL DEVICE ON ROLL #1 #4. EACH MOVABLE ROLL IS ACTUATED BY HYDRAULIC PISTONS AND ANY DEVIATION FROM SET POSITION IS RECOVERED IN REAL TIME. OPERATIVE ADJUSTMENT SPEED 1 MM/SEC WITH ACCURACY +/- 5 MICRONS
HYDRONIP® AS THE MOST ADVANCED FORCE CONTROL HYDRAULIC DEVICE INTEGRATED ON ROLL #2. THE DEVICE GIVES THE POSSIBILITY TO CHOOSE THE BEST PROCESS CONDITIONS FOR HIGH QUALITY PRODUCTS OPTIMIZING THE COUPLING OF FABRIC/STEEL CORD WITH THE RUBBER LAYERS BETWEEN ROLL #2 AND #3. WITH HYDRONIP IT IS POSSIBLE TO HAVE SPLICE JOINT PASSAGE MAINTAINING THE SYSTEM FREELY FLOATING IN PRESSURE ADAPTING TO THE SPLICE JOINT DIMENSION SO REDUCING ALL SCRAPS. IN ADDITION THE REAL LOAD VALUES THAT BECOME THE NEW SET-POINTS ARE AUTOMATICALLY KEPT CONSTANT BY THE CONTROLLER. THE MAIN ADVANTAGES ARE THE STABILITY IMPROVEMENT WITH EASIER TRIMMING EDGE PERFORMANCE AS WELL AS A COSTANT PENETRATION WITH COST SAVING
HYDROSAFE® AS THE MOST SAFETY DEVICE FOR EMERGENCY SEQUENCE CONTROL AND/OR ANTICOLLISION DEVICE FOR ROLL DAMAGE PREVENTION. COMERIO ERCOLE HAS ENGINEERED, AS GENERAL STANDARD, A BASIC CONFIGURATION GRANTING AN EMERGENCY SEQUENCE BASED ON A MAX GAP OPENING SPEED OF 10 MM/SEC FOR OPERATOR AND MACHINE SAFETY AS WELL AS TWO OPTIONAL PACKAGES FOR CALENDER ROLL INTEGRITY AND PROTECTION AVOIDING POSSIBILE COLLISION.
THE TOP CONFIGURATION INTEGRATES A REVOLUTIONARY RUBBER ROLLING BANK AUTOMATIC CONTROL ENGINEERED WITH CCD DIGITAL CAMERAS NAMED BANCO PLUS®

IN ADDITION COMERIO ERCOLE HAS RECENTLY DEVELOPPED SEVERAL INTERESTING TECHNOLOGICAL IMPROVEMENTS IN THE RUBBER CALENDERING PROCESS ESPECIALLY IN ALL WINDING UP AND CUTTING AREA.
IN THE RUBBER MIXING PROCESS COMERIO ERCOLE HAS DEVOPPED A QUALITY PERFORMANCE ONE STEP AUTOMATIC MIXING PROCESS NAMED ROLL MILL MATIC® WHERE, WITH NO OPERATORS INTERVENTION, AN HIGH PRODUCTIVITY IS ACHIEVED WITH PERFECT REPEATABILITY OF DIFFERENT COMPOUNDS GRANTING SIGNIFICANT REDUCTION OF BATCH TEMPERATURE WITH BEST VISCOSITY UNIFORMITY AND INGREDIENT DISPERSION.
COMERIO ERCOLE PAYS GREAT ATTENTION TO THE R&D ACTIVITIES INVESTING YEARLY MORE THAN 2.5% OF ITS SALES BASED TO A HYGHLY QUALIFIED TEAM OF ENGINEERS AND A 350 M2 FACTORY LABORATORY. COMERIO ERCOLE TEAM IS AWALAYS AT DISPOSAL FOR ANY TECHNICAL DETAILS BEEING A QUALIFIED INTEGRATED SOLUTION PROVIDER.